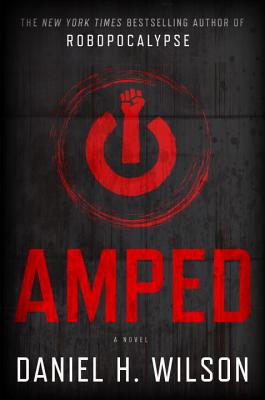 Amped
Hardcover

* Individual store prices may vary.
Other Editions of This Title:
Digital Audiobook (6/4/2012)
Paperback (2/12/2013)
Compact Disc (6/5/2012)
Paperback (9/12/2013)
Description
Technology makes them superhuman. But mere mortals want them kept in their place. The New York Times bestselling author of Robopocalypse creates a stunning, near-future world where technology and humanity clash in surprising ways. The result? The perfect summer blockbuster.

As he did in Robopocalypse, Daniel Wilson masterfully envisions a frightening near-future world. In Amped, people are implanted with a device that makes them capable of superhuman feats. The powerful technology has profound consequences for society, and soon a set of laws is passed that restricts the abilities—and rights—of "amplified" humans. On the day that the Supreme Court passes the first of these laws, twenty-nine-year-old Owen Gray joins the ranks of a new persecuted underclass known as "amps." Owen is forced to go on the run, desperate to reach an outpost in Oklahoma where, it is rumored, a group of the most enhanced amps may be about to change the world—or destroy it.

Once again, Daniel H. Wilson's background as a scientist serves him well in this technologically savvy thriller that delivers first-rate entertainment, as Wilson takes the "what if" question in entirely unexpected directions. Fans of Robopocalypse are sure to be delighted, and legions of new fans will want to get "amped" this summer.
Praise For Amped…
PRAISE FOR DANIEL H. WILSON'S AMPED:

"A fast-paced narrative, not too far away at all from everyday experience, that treats an unsettling question: How long will tolerance last once you can buy a better brain? Mr. Wilson recognizes that, in the modern world, the battlegrounds would be legal and political, not just physical."
The Wall Street Journal

"Wilson's latest novel is AMPED, a post-apocalyptic high-tech apocalypse set in the same mold as his spectacular debut, Robopocalypse.  Wilson is a roboticist by trade and he combines his background in space and engineering with a knack for fast-paced narrative.  Wilson has done a very good job with AMPED.  [He] taps into something primal with AMPED, some of the deep questions about medical ethics, the social effects of technology, and the way that class and politics make technological questions much harder to resolve."
Cory Doctorow, Boing Boing

"With AMPED, Wilson has taken another step to claiming the late Michael Crichton's crown as the public's sci-fi thriller writer of choice.  Wilson hits all the notes in the right order and the book's pace is relentless.  And perhaps best of all, he leavens his cautionary message with good-sized dollops of fistfights and gunfire.  AMPED might have a commendable message about tolerance and civil rights, but Wilson doesn't let the message get in the way of our fun."
Richmond Times-Dispatch

"Fast-paced…fascinating…for hardcore sci-fi readers, AMPED offers plenty of juicy details to savor.  As he showed in his bestselling thriller Robopocalypse, Daniel H. Wilson can write.  The Carnegie Mellon-trained roboticist has a voice and style very much like Stephen King.  But unlike King, Wilson also has the chops to base the weird beings in his stories on hard science. "
Wired's Geek Dad

"Entertaining…propulsive… AMPED [is] a gripping story of a community of Amps trying to make it in the middle of a prejudiced Oklahoma, where regular humans strike back at anyone with a telltale port on their temple.  A piece of trenchant political science fiction about how we mistreat those who are different. "
The Onion A.V. Club

"Thrilling…First he gave us helpful advice for the robot uprising, then he wrote the robot war novel Robopocalypse.  Now Daniel H. Wilson is turning his attention to the plight of cyborgs and posthumans with his dystopian new novel AMPED."
I09.com

"Wilson's newest novel, AMPED, shares with its predecessor [Robopocalypse] a solid basis in current scientific technology – in this case, neural implants that treat a variety of conditions.  AMPED imagines a not-too-distant world, when these 'superabled' people – made stronger, smarter, faster by the devices in their heads – are perceived as a threat to unaltered or 'pure' humans. "
Tulsa World

"A fast-paced, futuristic thriller that'll make you think, especially about the dangers of us-versus-them demagoguery."
Fredericksburg Free-Lance Star
 
"This is a terrific book on any number of levels, doing what sf has always been able to do best: showing us a possible future so that we can not only attempt to avoid it, but we can also look at its echoes as they already exist in our own time."
Fantasy & Science Fiction

"Wilson keeps the action and fear-based prejudice ever-present without sacrificing depth.  The story's heart is the moral quandary Owen faces once he knows his implant only responds to his deepest thoughts, keeping the reader wondering how far he will go and how much he is willing to sacrifice."
Publishers Weekly
 
"Provocative…A thoughtful, well-written novel which deals with the often tense interplay between machines and humans.  Wilson, whose prose is always a step above the norm, is at his strongest creating amp augmented action sequences and in conjuring situations which explore the boundaries between humankind and its technological creations."
Kirkus Reviews
 
"Absorbing…Wilson is no stranger to exploring the intersection of technology and humankind.  In AMPED, certain individuals have technology embedded under their skin.  These humans are smarter and faster than norms – and because most of the federally funded upgrades went to the needy, the formerly dumb and afflicted 'amps' are scaring the 'pure' humans.  The not-so-distant future is a hotbed of class war and civil unrest."
Portland Mercury
Doubleday, 9780385535151, 288pp.
Publication Date: June 5, 2012
About the Author
DANIEL H. WILSON is the author of the "New York Times" bestseller "Robopocalypse" and the nonfiction titles "How to Survive a Robot Uprising," "Where's My Jetpack?," "How to Build a Robot Army," "The Mad Scientist Hall of Fame," and "Bro-Jitsu: The Martial Art of Sibling Smackdown."
or
Not Currently Available for Direct Purchase