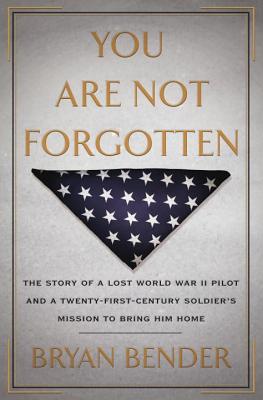 You Are Not Forgotten: The Story of a Lost World War II Pilot and a Twenty-First-Century Soldier's Mission to Bring Him Home (Hardcover)
The Story of a Lost World War II Pilot and a Twenty-First-Century Soldier's Mission to Bring Him Home
Doubleday Books, 9780385535175, 336pp.
Publication Date: October 29, 2013
* Individual store prices may vary.
or
Not Currently Available for Direct Purchase
Description
An inspiring and epic tale of loss and redemption about two American servicemen: a Marine Corps pilot who was shot down in WWII and the modern-day soldier determined to bring home his remains six decades later
Major George Eyster V comes from a long line of military officers, dating back to the Revolutionary War. Army service was George's family legacy, but his tour of duty in Iraq left him disillusioned and questioning. He was making plans to end his army career but was offered a posting to J-PAC, an elite division armed with the latest detection and forensic technology. J-PAC's sole mission is to fulfill a solemn promise at the heart of the military code: bring all fallen soldiers home to the country for which they gave their lives.
In 1944 Captain Ryan McCown, a dashing young Marine aviator assigned to the "USS Nassau, " was shot down over the jungles of Papua, New Guinea. McCown's diaries and letters home to his family and fiancee provide a moving, powerful portrait of the fears and costs of a very different war and underscore the pathos of the ultimate cost of duty.
Eyster's mission with J-PAC eventually took him and his team deep into the sweltering interior of New Guinea in search of McCown's remains. It would be a fraught mission, complete with tropical diseases and black magic, at the end of which Eyster would not only repatriate a fallen veteran and fulfill a promise to deliver him to his loved ones but would also uncover something lost in himself-a sense of purpose in a promise between soldiers that is still worth fighting for.
About the Author
BRYAN BENDER got his start in journalism as a writer for "Inside the Army" and as a military correspondent for publications such as "Jane's Defense Weekly." He is the national security reporter for "The Boston Globe," a job for which he has traveled the globe covering operations at military outposts and training bases, aboard submarines and warships, and in combat aircraft over hostile territory.
Praise For You Are Not Forgotten: The Story of a Lost World War II Pilot and a Twenty-First-Century Soldier's Mission to Bring Him Home…
"[A] master-work of war and remembrance."
--The Washington Times

"The endlessly complex mechanics of each of JPAC's missions -- which can involve dozens of soldiers, specialists, anthropologists, and scientists, as well as local laborers to sift through dirt for dog tags, fragments of bone, and other pieces of evidence -- makes for transfixing reading...[A] unique, uplifting war story about sacrifce, dedication, and hope strung across decades and generations."
--The Boston Globe

"[Bryan Bender's] reporting is impressive, but the storytelling is what distinguishes this account of identifying the remains of military casualties decades after they died in war...Any reader who wonders about the significance of such a mission will have no reservations by the end of this well-structured, well-written book."
--Kirkus Reviews, starred review

"Anyone who cares about honor and sacrifice should read this book. You Are Not Forgotten eloquently captures what it means to serve a purpose larger than oneself, and how that service ennobles us all. In his powerful and insightful telling of the twinned stories of George Eyster V and Ryan McCown Jr., Bryan Bender has delivered a gripping, at times wrenching, portrait of two heroes and of the nation that forged them."
—Mitchell Zuckoff, author of Frozen in Time and Lost in Shangri-La

"Boston Globe national security reporter Bryan Bender takes readers through multiple generations of military history in this proud story about honoring the country's defenders...Through interviews, journals, logs, letters, emails, and even instant message transcripts, Bender narrates the complex drives that drew both men to serve, the grueling demands of their time at war, and the twists of fate that ultimately bring their stories together."
--The Daily Beast

""Bryan Bender has written an epic drama of the journey men make back into the world, to their families, and to themselves, after great loss. This is poignant, exhilarating storytelling, reminiscent of the wrenching -- and redemptive -- search by James Bradley for his father in Flags Of Our Fathers, and Louis Zamperini's own homecoming in Unbroken. You Are Not Forgotten is gritty and emotional, bringing to life at least two major wars and speaking as much to a World War II generation as it does to all of us, men and women, today. This gripping tale reaches across decades with this offering: "Come home. Welcome home." This is history and reporting at its most engrossing."
--Doug Stanton, author of In Harm's Way and Horse Soldiers
 
"Bryan Bender's You Are Not Forgotten is destined to be a classic. It tells an astonishing story of war, then and now, held in place by the pilot's code. When a Charleston boy, Major Marion "Ryan" McCown, is lost during a terrible air battle over the island of New Guinea, his remains lie undiscovered on a jungle hillside until George Eyster V receives orders to find them. Ryan's fate could have easily been that of the Great Santini; and George Eyster's story is the story of all of us who have ever been touched by the storms of war. The morning after I finished this book, I drove to Charleston to place flowers on Ryan McCown's grave. Bryan Bender has written a book for all seasons."
– Pat Conroy, author of The Great Santini and Prince of Tides

"A spellbinding, inspirational tale of two impressive military officers -- one, a pilot who was shot down in the jungles of New Guinea in WWII, the other, an Army captain and Iraq War veteran who helps find the pilot's remains and, in so doing, discovers something in himself."
—David Petraeus, General, U.S. Army (Ret.)
 
"Bryan Bender has done a masterful job of binding together the stories of two warriors -- a Marine Corps pilot missing in action for 64 years, and a modern-day Army officer whose passion for his family's long history of military service is faltering after a wrenching tour in Iraq. By leading a team of men and women to the ends of the earth to recover the remains of World War II aviator Captain Marion "Ryan" McCown, Jr., Major George Eyster V rediscovers why generations of his forebears volunteered to serve and sacrifice for our country. You Are Not Forgotten is a gripping tale of combat and commitment that translates a sacred military code at a critical time: when our wars are longer than ever but fewer and fewer Americans shoulder the burden."
—Joseph L. Galloway, co-author of We Were Soldiers Once...and Young and We Are Soldiers Still

"A great read, linking two wars, and young men two generations apart. The tragedies of war, promise unfulfilled, and lives thrown off course have seldom been so sensitively portrayed and skillfully examined. One of the best of the Iraq War vintage books."
--General Wesley K. Clark, US Army retired and author of A Time to Lead: For Duty, Honor and Country
 
"You Are Not Forgotten tells the riveting tale of two American heroes joined by fate to fulfill a solemn promise. But it does more than that. Bryan Bender has vividly illuminated the commitment and sacrifice – often at heartbreaking cost – of the mothers and fathers, sisters and brothers, and hometown sweethearts of the men and women who don the uniform. The journeys of George Eyster and Ryan McCown underscore the full measure of devotion of the warriors but also military families, who often also pay the high price of war."
--Rita Cosby, author of Quiet Hero: Secrets From My Father's Past

"An amazing story of faith and redemption across the generations -- one that connects the Greatest Generation of World War II with the new Greatest Generation that has served in Iraq and Afghanistan since 9/11. It puts real meaning behind what "leave no man behind" means in practice to those tasked with recovering the remains of U.S. service members lost in our nation's wars."
--Col.(Ret.) Peter Mansoor, PhD, General Raymond E. Mason, Jr. Chair of Military History, Ohio State University
Advertisement