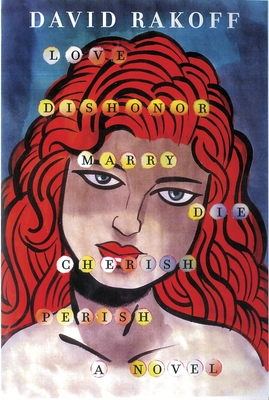 Love, Dishonor, Marry, Die, Cherish, Perish
A Novel
Hardcover

* Individual store prices may vary.
Other Editions of This Title:
Digital Audiobook (7/15/2013)
CD-Audio (7/16/2013)
Description
From the incomparable David Rakoff, a poignant, beautiful, witty, and wise novel in verse whose scope spans the twentieth century

Through his books and his radio essays for NPR's This American Life, David Rakoff has built a deserved reputation as one of the finest and funniest essayists of our time. Written with humor, sympathy, and tenderness, this intricately woven novel proves him to be the master of an altogether different art form.

LOVE, DISHONOR, MARRY, DIE, CHERISH, PERISH leaps cities and decades as Rakoff sings the song of an America whose freedoms can be intoxicating, or brutal. 

The characters' lives are linked to each other by acts of generosity or cruelty. A daughter of Irish slaughterhouse workers in early-twentieth-century Chicago faces a desperate choice; a hobo offers an unexpected refuge on the rails during the Great Depression; a vivacious aunt provides her clever nephew a path out of the crushed dream of postwar Southern California; an office girl endures the casually vicious sexism of 1950s Manhattan; the young man from Southern California revels in the electrifying sexual and artistic openness of 1960s San Francisco, then later tends to dying friends and lovers as the AIDS pandemic devastates the community he cherishes; a love triangle reveals the empty materialism of the Reagan years; a marriage crumbles under the distinction between self-actualization and humanity; as the new century opens, a man who has lost his way finds a measure of peace in a photograph he discovers in an old box—an image of pure and simple joy that unites the themes of this brilliantly conceived work.

Rakoff's insistence on beauty and the necessity of kindness in a selfish world raises the novel far above mere satire.  A critic once called Rakoff "magnificent," a word that perfectly describes this wonderful novel in verse.
Praise For Love, Dishonor, Marry, Die, Cherish, Perish: A Novel…
"An extraordinarily and deliriously entertaining work....hearfelt, charmingly profound....[a] giddy, wistful triumph"
--Paul Rudnick, The New York Times Book Review

"Suffused with joyful invention. Readers may come to the book to pay their respects, but they will leave rejuvenated by the splendor of the warmth and wordplay. Composed a hand-span's distance from death, it feels death-defying….irrepressibly funny, and even strangely uplifting, in jubilant verse….If this book must serve as his memorial, it's at least as life-affirming as any that a writer has left behind"
—Wall Street Journal

"Sly, bravura....a marvel of gamesmanship, Mr. Rakoff describes hardship, illness, death and depravity, knowing how ingeniously his book's style and substance would fight each other....gift for balancing truth telling and humor....future readers can turn to this book to remember why he was so widely appreciated and is sorely missed"
--Janet Maslin, The New York Times
 
"The literary rhythm captures the steady momentum of American progress….poignant….beautiful and melancholy….with a final image that made my eyes well up….funny and heartbreaking and, like Rakoff himself, not easy to forget"
--Entertainment Weekly, A
 
"Ingenius, delicately haunting…..probing, poignant, and wickedly funny….illuminate[s] the many stages of life"
--O Magazine

"It's terrific: a sweeping narrative of the 20th century that encompasses personal tragedy, family secrets and broad social movements while going down as easy as a bite of crème brûleé"
—Gregory Cowles, The New York Times Book Review


"Reading the new novel in verse by David Rakoff, you can hear his voice again, wordy, so witty, a little worried, and always wise…..His mordant humor, his compassionate vision, his moral questioning, his sharp honesty, they're all intimately wedded to the meter and the zestful diction of the book…..But the new direction he takes in "Love, Dishonor, Marry, Die, Cherish, Perish" brings out the best in him, too, as he fits his voice into a tighter form without ever becoming a slave to that form. He is as vital, as blackly comic, as bursting forth with detail, as vernacular, and as poignant in metered verse as he is in his effortlessly long prose sentences. Each couplet here equally serves the structural rules, the story, and Rakoff's matchless sensibility….The narrative is ambitious and has sweep…Agile, vivid, and entertaining"
—Boston Globe

"Even at six vivid verbs, the title doesn't do justice to the breadth of this short, acrid, elusive, entrancing book."
--Bloomberg

"Inspired...accessible, delightful....powerful.... alluringly designed by Chip Kidd and illustrated by the cartoonist Seth, is filled with the sly, sharp social commentary that made Rakoff such a favorite....What shines through in this novel, even more than in his nonfiction, is a piercing, wistful appreciation for life, love and art....deserves to become a classic.....a rare bird: moving, amusing, lilting, crushing."
--Heller McAlpin, NPR

"I just marveled at his words….What he's created in this book is Seussian"
—Ira Glass, in an interview with O Magazine

"Beautiful and heartbreaking....delightful.... hilarious and lewd and shot through with a longing for life"
--New York Times


"A novel in rhyming couplets narrated in iambic tetrameter? Why not?... Along the way, you can have a lot of fun, no matter how serious the subject — family, sometimes alienating, sometimes consoling — because of the rhymes. Rakoff makes such pairings as virago and Chicago, ceases and paresis, skittish and Yiddish, antelope and envelope, horas and Torahs, Alzheimer's and climbers, for 100 cleverly rendered and entertaining pages."
—Alan Cheuse, NPR.org

"[A] tour de force novel-in-verse....It is hard not to feel celebratory over its heart-singing smarts, its existence as a fist raised against a life ending. What melancholia is there is confined to its characters — it's a triumphant, moving work of true craft and wit."
--Austin American-Statesman

"Truly singular....There is so much bound up in the novel's singsong verse: stories about AIDS and Alzheimer's, altruism, art, lives linked together by buried incidents that spring up again to bear unexpected fruit."
--Ira Glass, The Atlantic

"Rakoff marries deft, humane observation with jauntily tripping verse structure — in places, you'll find yourself thinking of Dr. Seuss — to create a series of jewel-toned interlocking miniatures."--NPR.org 

"[A] marvelously barbed novel in verse."
–Elissa Schappell, Vanity Fair's "Hot Type"
 
"Mesmerizing....Combines his wit and his gravity....Astounding"
--Publishers Weekly

"A fitting memorial to a humorist whose embrace of life encompassed its dark side....[the book] retains a spirit of sweetness and light, even as mortality and inhumanity provide a subtext.....Strong work. It deepens the impact that this was the last book completed by the author."
--Kirkus Reviews
Doubleday, 9780385535212, 128pp.
Publication Date: July 16, 2013
About the Author
David Rakoff was the New York Times bestselling author of the books Fraud, Don't Get Too Comfortable, and Half Empty. A two-time recipient of the Lambda Literary Award and winner of the Thurber Prize for American Humor, he was a regular contributor to This American Life. He died in August 2012 at the age of forty-seven, shortly after finishing this book.
Coverage from NPR