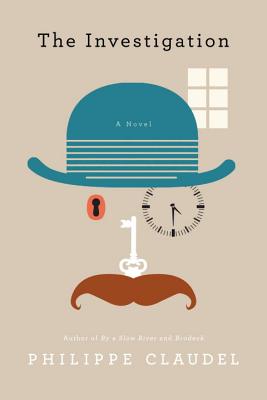 The Investigation
Hardcover

* Individual store prices may vary.
Description
A wild, Kafka-esque romp through a dystopian landscape, probing thedarkly comic nature of the human condition.

The Investigator is a man quite like any other. He is balding, of medium build, dresses conservatively—in short, he is unremarkable in every way. He has been assigned to conduct an Investigation of a series of suicides (twenty-two in the past eighteen months) that have taken place at the Enterprise, a huge, sprawling complex located in an unnamed Town. The Investigator's train is delayed, and when he finally arrives, there's no one to pick him up at the station. It is alternating rain and snow, it's getting late, and there are no taxis to be seen. Off sets the Investigator, alone, into the night, unsure quite how to proceed.

So begins the Investigator's series of increasingly frustrating attempts to fulfill his task. In the course of hours of wandering looking for the entrance to The Enterprise, he bumps into a stranger hurrying past and spills open his luggage, soaking his clothes. When he finally reaches the Enterprise, he is told he does not posses the proper authorization documents to enter after regular hours. Asking for directions to a hotel, he is informed "We're not the Tourist Office," and must set off to find one himself. Time and time again, regulations hamstring him, street layouts befuddle him, and all the while he senses someone watching him, recording his every movement.

In a highly original work that is both absorbing and fascinating, Claudel undertakes a sweeping critique of the contemporary world through a variety of modes. Like Kafka, Beckett, and Huxley, he has crafted a dark fable that evokes the absurdity and alienation of existence with piercing intelligence and considerable humor.
Praise For The Investigation…
"French writer Philippe Claudel begins The Investigation with a postmodernist wink and nod ... The novel is frequently very funny, but it also skillfully evokes the insidious, modern fear that we, like the Investigator, are playing bit parts in some vast, incomprehensible system."
—The Wall Street Journal

"Amusing and affecting ... Despite its far-from-realist mode and its parable of life under late capitalism, The Investigation is no allegory. It's too sharp and too funny. And despite its setting in a city that deliberately evokes all cities and no particular city, The Investigation resists every tendency toward ponderous moralism, instead marking each apparent injustice with a light, but never unsympathetic, touch."
—Bookslut.com

Praise for Brodeck

"Arrives like a fresh, why-haven't-we-known-him discovery, revealing Philippe Claudel to be as dazzling on the page as he is on the screen."
—The New York Times Book Review

"A haunting, intensely claustrophobic allegory about intolerance, trauma, and guilt."
—San Francisco Chronicle

"Deeply wise and classically beautiful . . . It is a modern masterpiece."
—The Daily Telegraph

"Original, brilliant, and disturbing . . . Claudel is a novelist of ideas, in the French tradition."
—The Times (London)

"In John Cullen's deft translation, Claudel's writing is lucid and passionate. . . . An excellent novel."
—The Guardian
Nan A. Talese, 9780385535342, 240pp.
Publication Date: July 10, 2012
About the Author
PHILIPPE CLAUDEL is the author of many novels, among them "Brodeck, " which won the Prix Goncourt des Lyceens in 2007 and the Independent Foreign Fiction Prize in 2010. His novel "By a Slow River" has been translated into thirty languages and was awarded the Prix Renaudot in 2003 and the Elle Readers' Literary Prize in 2004. Claudel also wrote and directed the 2008 film "I've Loved You So Long," starring Kristin Scott Thomas, which won a BAFTA Award for Best Film Not in the English Language.
or
Not Currently Available for Direct Purchase