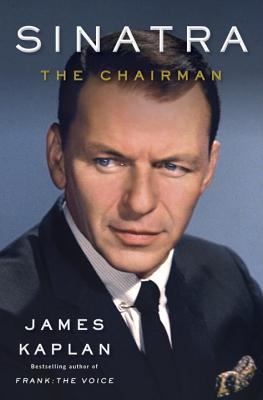 Sinatra
The Chairman
Hardcover

* Individual store prices may vary.
Other Editions of This Title:
Digital Audiobook (10/26/2015)
Paperback (10/25/2016)
Description
Just in time for the Chairman's centennial, the endlessly absorbing sequel to James Kaplan's bestselling Frank: The Voice—which completes the definitive biography that Frank Sinatra, justly termed the "Entertainer of the Century," deserves and requires. Like Peter Guralnick on Elvis, Kaplan goes behind the legend to give us the man in full, in his many guises and aspects: peerless singer, (sometimes) accomplished actor, business mogul, tireless lover, and associate of the powerful and infamous.
     In 2010's Frank: The Voice, James Kaplan, in rich, distinctive, compulsively readable prose, told the story of Frank Sinatra's meteoric rise to fame, subsequent failures, and reinvention as a star of live performance and screen. The story of "Ol' Blue Eyes" continues with Sinatra: The Chairman, picking up the day after he claimed his Academy Award in 1954 and had reestablished himself as the top recording artist. Sinatra's life post-Oscar was astonishing in scope and achievement and, occasionally, scandal, including immortal recordings almost too numerous to count, affairs ditto, many memorable films (and more than a few stinkers), Rat Pack hijinks that mesmerized the world with their air of masculine privilege, and an intimate involvement at the intersection of politics and organized crime that continues to shock and astound with its hubris. James Kaplan has orchestrated the wildly disparate aspects of Frank Sinatra's life and character into an American epic—a towering achievement in biography of a stature befitting its subject.
Praise For Sinatra: The Chairman…
Praise for Sinatra: The Chairman:

"Fifty pages from the end of Sinatra: The Chairman, the second and concluding volume of James Kaplan's magisterial biography of Frank Sinatra, I guarantee you'll begin to weep. Not because you've finished a 900-plus-page book (though you will feel relief), or because Kaplan so persistently details the ugly truth about Sinatra... No, you will weep over the death of a massive and unforgettable talent whose style of living helped define post-war America, and you will weep for an America that no longer exists, whether you lived during those years or just yearn for their return."
—Sibbie O'Sullivan, The Washington Post

"Kaplan's second volume is a hand-stitched tapestry with many, many recurring motifs... The remarkable thing is that Sinatra's career is such a compelling transit of the 20th century in American entertainment and politics—and an early and prophetic blending of the two—that the endless Kaplan book is endlessly engaging. His Sinatra is a magnificent monster—imperious and callow, thuggish and tender, an exquisitely lonely man forever surrounded by a posse of hangers-on."
—Edward Kosner, Wall Street Journal

"Do not be deterred by the book's heft. Sinatra: The Chairman is a riveting read—a juicy, painstakingly researched, excitingly written examination of a brilliant musician, an uneven and temperamental actor, and a charming, erratic, deeply flawed man."
—Julia M. Klein, The Boston Globe

"Definitive, and irresistibly engrossing…Kaplan is terrific dissecting Sinatra and the mob. His elucidation of Sinatra's contribution to the shadowy Kennedy presidential campaign is exemplary. He is at his best reporting 'the less than sublime goings-on,' as he terms them, that "always in Frank's life…bracketed sublime music."
—Barry Singer, USA Today

"The degree to which that brutality is from reality and not just comic mythology in Vegas lounges can be read about in full glorious technicolor detail in one of the huge, and hugely compelling, books of 2015, Sinatra: The Chairman, the second volume of James Kaplan's wildly readable doorstop biography that began with the near-definitive Frank: The Voice."
—Jeff Simon, The Buffalo News

"Hugely readable, vastly entertaining, a page-turner."
—Adam Gopnik, The New Yorker

"I think James Kaplan's two volume set is the definitive word on Frank Sinatra, as definitive as any biography of any public figure can be. It's jammed with something juicy on almost every page. It has been written with integrity and affection. It neither sugar coats or demonizes. It presents what all stars are—ordinary mortals with ordinary cares, writ large by fame, and in Sinatra's case, a peerless talent. Sinatra concocted a towering life on the American landscape."
—Liz Smith

"Such a book stands or falls on its author's storytelling ability. In that regard, Kaplan does admirably, with a sense of momentum and a fair, balanced tone."
—James Gavin, Newsday

"In the first volume of his Sinatra biography…James Kaplan provided a gripping, novelistic account of the singer's roots and the development of his craft, deftly mapping his assimilation of early influences and his discovery of his own voice. "Sinatra: The Chairman," the concluding volume to that biography, does a similarly nimble job of tracing the singer's continued rise to international fame, and credibly explicates the alchemy behind the singer's collaboration with Nelson Riddle and their amazing achievement during the Capitol Records years with masterpieces like "Frank Sinatra Sings for Only the Lonely" and "Songs for Swingin' Lovers!"
—Michiko Kakutani, The New York Times

"Engaging to the point of addiction, The Chairman provides a spirited romp through the prime times of Sinatraland and the September of his years. It also reminds us why Kaplan grew enchanted enough with Sinatra to spend 10 years writing about him… But oh, that voice. It made up for so much. It cut through the clutter of everything else. Before Sinatra, there was really no such thing as a standard. Before Sinatra, you'd be hard-pressed to associate the Great American Songbook with any particular singer. Such was his impact. So bring on the tributes. And start with The Chairman."
—Chris Vognar, The Dallas Morning News

"The book is detailed enough about Sinatra's music, movies and complicated personal life to satisfy completists, but Kaplan always has his eye on the big picture."
—Lloyd Sachs, Detroit News

"Kaplan's Frank came out in 2010—do we need 900 more pages on Ol' Blue Eyes? This intriguing bio, timed to his 100th birthday, will convince you we do."
—People Magazine

"If you ever wanted to know exactly what Frank Sinatra was doing on every single day of his life, Kaplan is your man. The Chairman is rich with fascinating detail, much of which I'd never heard…. When Kaplan describes Sinatra the singer, The Chairman soars: 'a flawless legato, perfect diction, and graceful phrasing based on a total mastery of breath control.'"
—Allen Barra, The Daily Beast.com

"Scrupulous, entertainingly eye-opening…You'll dig Kaplan's highbrow down-low of Ol' Blue Eyes…during his controversial and powerful reign in the 1950s and '60s."
—Elle Magazine

"...[R]emarkably insightful, gracefully, often eloquently, written history of popular music and celebrity culture in twentieth-century America—all viewed through the lens of an iconic singer and undervalued actor whose wildly contradictory personality and tempestuous personal life built the legend but detracted from the man's genius as an artist.... As astute in his psychological analysis as in his music criticism, Kaplan makes sense of the singer's insistence on taking way too many encores by noting Sinatra's need forconstant movement: 'He was like a whole body case of restless leg syndrome.' That restlessness finally shook itself out, but, along the way, it drove a skinny kid from Hoboken to live a life that, as Kaplan concludes, 'touched almost every aspect of American culture in the twentieth century.' That's a bigstatement, but this big book makes us believe it."
—Booklist, starred review 

"The great singer-actor contains multitudes in this vast, engrossing biography of Frank Sinatra's mature years... Kaplan's sympathetic but unflinching narrative revels in the entertainer's scandalous private life while offering rapt, insightful appreciations of his sublime recording and stage performances. It situates him and his Rat Pack at the Vegas headquarters of a postwar American culture that yoked mobsters and prostitutes to Kennedys and other luminaries. His Sinatra is often appalling, sometimes inspiring, and always a fascinating icon of an energetic, resonant, yet doomed style of masculinity."
—Publishers Weekly, starred review 

"The meatiness of the material justifies the length of the author's second (and concluding) volume of his biography of Frank Sinatra (1915-1998). Just as his subject matured into a far more compelling artist than the one who had elicited squeals from bobby-soxers, the follow-up to Kaplan's Frank: The Voice (2010) is far more substantial than that initial volume.... An appropriately big book for an oversized artistic presence."
—Kirkus Reviews, starred review
Doubleday, 9780385535397, 992pp.
Publication Date: October 27, 2015
About the Author
JAMES KAPLAN's essays, stories, reviews, and profiles have appeared in numerous magazines, including The New Yorker, The New York Times Magazine, Vanity Fair, Esquire, and New York. His novels include Pearl's Progress and Two Guys from Verona, a New York Times Notable Book for 1998. His nonfiction works include The Airport, You Cannot Be Serious (co-authored with John McEnroe), Dean & Me: A Love Story (with Jerry Lewis), and the first volume of his definitive biography of Frank Sinatra, Frank: The Voice. He lives in Westchester, New York, with his wife and three sons.
or
Not Currently Available for Direct Purchase