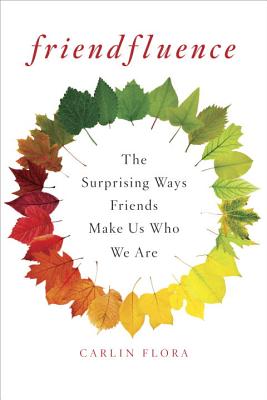 Friendfluence
The Surprising Ways Friends Make Us Who We Are
Hardcover

* Individual store prices may vary.
Other Editions of This Title:
Digital Audiobook (1/28/2013)
MP3 CD (1/29/2013)
Compact Disc (1/29/2013)
Paperback (10/8/2013)
Description
Discover the unexpected ways friends influence our personalities, choices, emotions, and even physical health in this fun and compelling examination of friendship, based on the latest scientific research and ever-relatable anecdotes.
Why is dinner with friends often more laughter filled and less fraught than a meal with family? Although some say it's because we choose our friends, it's also because we expect less of them than we do of relatives. While we're busy scrutinizing our romantic relationships and family dramas, our friends are quietly but strongly influencing everything from the articles we read to our weight fluctuations, from our sex lives to our overall happiness levels.
Evolutionary psychologists have long theorized that friendship has roots in our early dependence on others for survival. These days, we still cherish friends but tend to undervalue their role in our lives. However, the skills one needs to make good friends are among the very skills that lead to success in life, and scientific research has recently exploded with insights about the meaningful and enduring ways friendships influence us. With people marrying later--and often not at all--and more families having just one child, these relationships may be gaining in importance. The evidence even suggests that at times friends have a greater hand in our development and well-being than do our romantic partners and relatives.
Friends see each other through the process of growing up, shape each other's interests and outlooks, and, painful though it may be, expose each other's rough edges. Childhood and adolescence, in particular, are marked by the need to create distance between oneself and one's parents while forging a unique identity within a group of peers, but friends continue to influence us, in ways big and small, straight through old age.
Perpetually busy parents who turn to friends--for intellectual stimulation, emotional support, and a good dose of merriment--find a perfect outlet to relieve the pressures of raising children. In the office setting, talking to a friend for just a few minutes can temporarily boost one's memory. While we romanticize the idea of the lone genius, friendship often spurs creativity in the arts and sciences. And in recent studies, having close friends was found to reduce a person's risk of death from breast cancer and coronary disease, while having a spouse was not.
"Friendfluence" surveys online-only pals, friend breakups, the power of social networks, envy, peer pressure, the dark side of amicable ties, and many other varieties of friendship. Told with warmth, scientific rigor, and a dash of humor, "Friendfluence" not only illuminates and interprets the science but draws on clinical psychology and philosophy to help readers evaluate and navigate their own important friendships.
Praise For Friendfluence: The Surprising Ways Friends Make Us Who We Are…
"Friendfluence provides a charming and informative examination of the impact of friendship at a time in which family relations and social structures have been scrambled.....awash in arresting insights with practical implications, many of them counter-intuitive.... timely, savvy, and judicious"
--The Huffington Post

"If you've been thinking of starting a book club with your BFFs, here's your first assignment."
--Book Page

"Intriguing...A convincing case for nurturing friendships in many of the same ways we nurture relationships with partners and other family--both online and off"
--Kirkus Reviews

"[Flora's] interdisciplinary discussion draws on scientific research, philosophy, and anecdotes to examine friendship across a lifespan, from playground pals to adolescent and adult relationships....Compelling....Discloses many of friendship's secrets"
--Publishers Weekly

"Contemporary scientists and ancient philosophers agree: friendship is a key to happiness, and FRIENDFLUENCE is a fascinating and thought-provoking examination of the new science that explores this crucial element of our lives. FRIENDFLUENCE is so persuasive that the minute I put the book down, I made three dates to see friends."
--Gretchen Rubin, New York Times bestselling author of THE HAPPINESS PROJECT

"Carlin Flora has written a delightful book on the power of friendship.  Combining the latest research with engaging stories, Friendfluence shines with authenticity and is a must-read for anyone who wants to know more about our ancient human desire to connect."
-- James H. Fowler, co-author of CONNECTED and Professor of Medical Genetics and Political Science at the University of California, San Diego 

"We tend to think of friends as relationships we simply have, when in profound ways, friends both reflect and determine who we actually are.  Happiness and success begin with self-knowledge, and as Carlin Flora shows us in her compelling and delightful book Friendfluence, the key to understanding yourself may well lie in your friendships, past and present.  This is a must-read for anyone looking to experience greater well-being... in other words, for everyone."
--Heidi Grant Halvorson, Ph.D., author of Succeed and Director of the Motivation Science Center, Columbia Business School.

"A captivating read about an eternally fascinating subject--friendship.  Flora's easy-to-read prose blends narrative and scientific research seamlessly.  You will finish the book with a better understanding of why good friends are worth keeping."
-Jane Gradwohl Nash, Professor of Psychology and one of the "GIRLS FROM AMES"

"In our changing social world of flexible networks, shifting families and blurred boundaries, many of us sense that friends and friendships have increased in importance, but we can't say why.  In Friendfluence, Carlin Flora tells us precisely why in her lively account of both the science and poetry of friendship.  Worthy reading for anyone who is not a hermit in the woods--or, perhaps, especially by the friendless."
--Dalton Conley Ph.D., author of THE PECKING ORDER and Professor of Sociology at New York University

"Friendfluence offers a penetrating look at our most taken-for-granted relationship. Carlin Flora's observations, backed up by the latest research, will not only prompt you to dissect every key friendship you've had since kindergarten, but inspire you to become a better friend."
--Sally Koslow, author of Slouching Toward Adulthood: Observations from the Not-So-Empty Nest and the novel, With Friends Like These

"I don't know about you, but I wouldn't be who I am without my dear friends. Now Carlin Flora explains why and how friends matter so much. A fascinating read!"
--MJ Ryan, author of THIS YEAR I WILL: How to Change a Habit, Keep a Resolution or Make a Dream Come True

  
Doubleday Books, 9780385535434, 276pp.
Publication Date: January 15, 2013
About the Author
Carlin Flora was on the staff of "Psychology Today" for eight years, most recently as features editor. She is a graduate of the University of Michigan and Columbia University School of Journalism and has written for "Discover," "Glamour," "Women's Health," and "Men's Health," among others. She has also appeared on "The Oprah Winfrey Show," CNN, Fox News, and "20/20." She lives in Queens, New York.
or
Not Currently Available for Direct Purchase