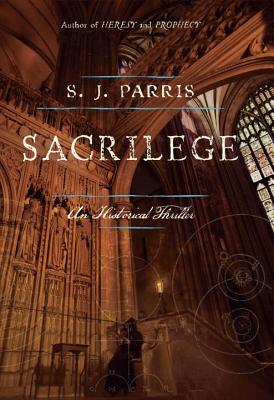 Sacrilege (Hardcover)
Doubleday, 9780385535472, 432pp.
Publication Date: April 10, 2012
Other Editions of This Title:
Digital Audiobook (4/9/2012)
Paperback (2/12/2013)
Compact Disc (4/1/2012)
* Individual store prices may vary.
Description
A gripping historical thriller set in sixteenth-century England and centered on the highly secretive cult of Saint Thomas Becket, the twelfth-century archbishop murdered in Canterbury Cathedral.
 
London, summer of 1584: Radical philosopher, ex-monk, and spy Giordano Bruno suspects he is being followed by an old enemy. He is shocked to discover that his pursuer is in fact Sophia Underhill, a young woman with whom he was once in love. When Bruno learns that Sophia has been accused of murdering her husband, a prominent magistrate in Canterbury, he agrees to do anything he can to help clear her name.
    
In the city that was once England's greatest center of pilgrimage, Bruno begins to uncover unsuspected secrets that point to the dead man being part of a larger and more dangerous plot in the making. He must turn his detective's eye on history—on Saint Thomas Becket, the twelfth-century archbishop murdered in Canterbury Cathedral, and on the legend surrounding the disappearance of his body—in order to solve the crime.
    
As Bruno's feelings for Sophia grow more intense, so does his fear that another murder is about to take place—perhaps his own. But more than Bruno's life is at stake in this vividly rendered, impeccably researched, and addictively page-turning whodunit—the stability of the kingdom hangs in the balance as Bruno hunts down a brutal murderer in the shadows of England's most ancient cathedral.
About the Author
S. J. PARRIS is the pseudonym of Stephanie Merritt. Since graduating from Cambridge she has worked as a critic and feature writer for a variety of newspapers and magazines as well as for radio and television. She currently writes for "The Observer" and "The Guardian" and is the author of five books.
Praise For Sacrilege…
"Parris interweaves historical fact with psychological insight as Bruno, a humanist dangerously ahead of his time, begins his quest to light the fire of enlightenment in Europe." —Publishers Weekly, starred review
Early in the novel, Bruno observes that Sophia Underhill's "independent spirit and determination to shape her own life" have been the cause of her disgrace. Is this true? Did the book give you a sense of why an independent spirit was a dangerous thing for a woman in that society?
Early on, Sophia tells Bruno that they are "in the same boat." Later, he realizes that one of the reasons he finds her attractive is because she reminds him of his younger self. In what ways are the characters alike? Does this explain Bruno's feelings for her?
As a stranger and a foreigner, Bruno is regarded as an outsider in Canterbury. In what ways does this give him an advantage as an investigator and a spy? Did he remind you of any other fictional detectives or spies in this regard?
Bruno has grown used to living a double life while working as a spy for Sir Francis Walsingham. In Canterbury he even travels under a false name. A number of other characters in the novel also live under false names and false pretenses, for various reasons. Are there "good" and "bad" kinds of deceit? Are some characters obliged to present a false face to the world to survive—especially the women—and does this have any resonance with our own lives?
The Huguenot community in Canterbury is regarded with suspicion because they keep to themselves and maintain their own religion and customs. The novel also mentions the English people's fear of foreigners in a time when work and resources are scarce. In what ways does this reflect the experience of immigrant communities in our own society? Why does this fear of strangers persist?
Sophia is skeptical about the power of relics to miraculously heal the sick, but Bruno is more open-minded—though he thinks it is the power of the human mind—the belief itself—that makes the miracle, rather than divine intervention. This would have been a radical, not to say heretical view at the time. What do you think? Does faith in itself have the power to heal? Is this the same as the placebo effect? Does it explain the widespread belief in relics in the middle ages and renaissance?
Faced with arrest, Bruno says "justice here was a cursory affair; dependent upon whether you happened to be in the wrong place with the wrong face or accent." He also sympathizes with the idea that the poor and marginalized might feel the need to take justice into their own hands if the law denies it to them. Is revenge ever a true kind of justice—even if it means murder? Most of us put our trust in the law to deliver justice to us—how might we feel differently if we lived in a society (like 16th Century England) where the law is overtly corrupt?
Perhaps the hardest part about imagining the past is putting one's self into the minds of people for whom religion and politics are inextricably entwined. Did you feel the book brought to life the way people would have felt about their loyalty to their country and their religion, and the fear they might have felt about a different religion? Are there any parallels with our own age?
In a sense, the historical murder mystery is an anachronism—the idea of a "murder investigation" as we think of it today would not have existed in the 16th century. Does this allow the author greater freedom to imagine how a 16th century "detective" might go about solving a murder? What does the historical crime novel offer readers that is different from modern-day police procedurals? Does it allow the author to bring back the idea of the amateur sleuth (as opposed to the professional police investigator), and why might such a character appeal to readers?
Towards the end of the novel, Sidney accuses Bruno of turning the girl (Sophia) and the lost book of Hermes Trismegistus into the same obsession in his mind—"something you can't quite possess, but you won't rest until you do." What are the parallels between Bruno's interest in Sophia and in the book? Is it an obsession with what is forbidden? Do you have any experience of that kind of obsession? Where do you predict it will lead for Bruno?
or
Not Currently Available for Direct Purchase