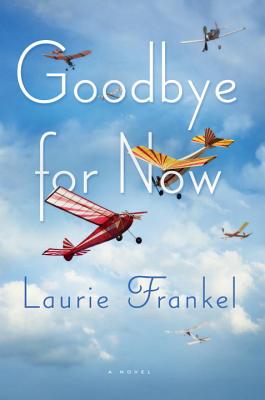 Goodbye for Now (Hardcover)
Doubleday, 9780385536189, 304pp.
Publication Date: August 7, 2012
* Individual store prices may vary.
or
Not Currently Available for Direct Purchase
Description
In the spirit of ONE DAY, comes a fresh and warmhearted love story for the 21st century. Sometimes the end is just the beginning . . .

Sam Elling works for an internet dating company, but he still can't get a date. So he creates an algorithm that will match you with your soul mate. Sam meets the love of his life, a coworker named Meredith, but he also gets fired when the company starts losing all their customers to Mr. and Ms. Right.

When Meredith's grandmother, Livvie, dies suddenly, Sam uses his ample free time to create a computer program that will allow Meredith to have one last conversation with her grandmother. Mining from all her correspondence—email, Facebook, Skype, texts—Sam constructs a computer simulation of Livvie who can respond to email or video chat just as if she were still alive. It's not supernatural, it's computer science.

Meredith loves it, and the couple begins to wonder if this is something that could help more people through their grief. And thus, the company RePose is born. The business takes off, but for every person who just wants to say good-bye, there is someone who can't let go.

In the meantime, Sam and Meredith's affection for one another deepens into the kind of love that once tasted, you can't live without. But what if one of them suddenly had to? This entertaining novel, delivers a charming and bittersweet romance as well as a lump in the throat exploration of the nature of love, loss, and life (both real and computer simulated). Maybe nothing was meant to last forever, but then again, sometimes love takes on a life of its own.
About the Author
LAURIE FRANKEL is the author of one previous novel, "The Atlas of Love." She lives in Seattle with her husband and young son.
Praise For Goodbye for Now…
Praise for Goodbye For Now

"Like the film The Eternal Sunshine of the Spotless Mind, Frankel's clever and well-considered second novel extends the reach of technology just beyond our fingertips, where it feels possible. In this slightly magical world, her characters remain simple, which allows her to lavish attention on RePose and its implications."
- The New York Times Book Review

"Frankel presents a fascinating concept as she keenly and sensitively explores themes of love and loss in this tearjerker centered on technology that pushes the boundaries of artificial intelligence. A compelling novel that tugs at the heartstrings; keep tissues handy."
—Booklist (Starred)

"The Social Network meets One Day in an attractive love-and-loss story that applies new technology to the job of soothing broken hearts…There's no denying Frankel's warmth, wit and ingenuity in this cleverly conceived charmer."
—Kirkus Reviews

"Frankel tells a touching story of how this young couple deals with a new love in a world full of loss and sadness. Her first novel, The Atlas of Love,  was a wonderful, heartfelt read, and while this book has a completely different story line, it retains that emotional core. Frankel is an author to watch and definitely to keep in stock."
—Library Journal (Starred)

"If you like your love stories modern, clever, and a little weepy (think One Day), you will adore this."
—Redbook's Sizzling Summer Reading List

"Computer science flirts with sci-fi when a programmer creates software that (almost) lets the living talk with the departed."
—Sacramento Bee   

"Clever, funny, moving, intelligent, Goodbye For Now is about love and loss, real live emotions and human relationships in a cyber world taken to its extreme. Will Laurie Frankel's wonderful book capture your heart and imagination? Absolutely. You will laugh; you will cry. And you will probably start video chatting with your loved ones daily, just in case an inspired computer genius jumps on Frankel's idea."
—Garth Stein, New York Times bestselling author of The Art of Racing in the Rain

"Goodbye For Now is a fabulous, original read—very funny, yet so sad and thought-provoking too. I couldn't put it down."
—Liane Moriarty, bestselling author of What Alice Forgot
 
"Somewhere in the middle of Goodbye For Now, I found myself getting angry at Laurie Frankel for moving so seamlessly between hilarious and devastating, and for making me feel so deeply for her characters. I offer this as both recommendation and warning: this book will engross you and affect you, and you should know that you won't be putting it down unchanged."
—Carolyn Parkhurst, New York Times  bestselling author of The Dogs of Babel and The Nobodies Album
Book Videos
RePose takes heat from the press and from religious groups. What do you think those groups' reactions would be if this technology existed? Are their concerns legitimate?
Why does Meredith start to become disillusioned with the virtual Livvie?
For which of their clients does RePose seem to work best? And for whom does it work less well? What seems to make the difference?
Do Dash and Meredith seem like family? They're very different, but what do they have in common?
There's a lot of loss in this book, but there's a lot gained as well, especially in the way of new and sometimes surprising family. What's gained here? What new love does RePose bring about?
Why does Sam tell Julia she can't RePose? Is he right or wrong to deny her the chance to speak with her daughter again?
Meredith is really our own Dead Loved One, the only projection we know both before and after death, so she's our chance to see whether RePose really works. Does it? Is Meredith's projection a good likeness of her? A satisfying one? When she says things she's said before, do you feel more joy at remembering or despair at her loss?
Penny and Josh both argue that RePose is for the dying. Who benefits most from RePose -- the dying, the living, or the dead? How does it help each of those groups?
Sam feels that he's been forgiven at the very end of the novel.What sins does he think he's committed, and do you agree? Should he be sorry? How can he make amends?
Why does Meredith get the last word? What hope does she offer?
Does the technology in this book seem plausible?
How much of your identity is online?If RePose existed, how well do you think you could be recreated based on your online archive? How is the picture of you presented on Facebook or Twitter or other social media sites an accurate one, and how is it less accurate?
If RePose existed, would you use it? Who would you contact? Would you video chat or just email? What would you say if you could?
What should happen to our online identities—our Facebook pages and old emails and video chats and Twitter feeds and archived texts and blogs, etc.—after we die? How can social media help the loved ones we leave behind?
Advertisement