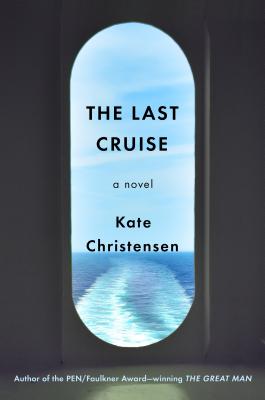 The Last Cruise (Hardcover)
A Novel
Doubleday, 9780385536288, 304pp.
Publication Date: July 10, 2018
Other Editions of This Title:
Digital Audiobook (7/9/2018)
Paperback (6/4/2019)
* Individual store prices may vary.
Description
The 1950s ocean liner Queen Isabella is making her final voyage—a retro cruise from Long Beach to Hawaii and back—before heading to the scrapyard. For the guests on board, it's a chance to experience a bygone era of decadent luxury, complete with fine dining, classic highballs, string quartets, and sophisticated jazz. Smoking is allowed but not cell phones—or children, for that matter. But this is the second decade of an uncertain new millennium, not the sunny, heedless mid-twentieth century, and certain disquieting signs of strife and malfunction above and below deck intrude on the festivities, throwing a trio of strangers together in an unexpected and startling test of character.
About the Author
Kate Christensen is the author of six prior novels, most recently The Astral, and the memoir Blue Plate Special. The Great Man won the 2008 PEN/Faulkner Award for Fiction. She has written reviews and essays for numerous publications, including The New York Times, Vogue, Elle, The Wall Street Journal, and Food & Wine. She lives with her husband in Portland, Maine. www.katechristensen.net
Praise For The Last Cruise: A Novel…
"Entertaining and elegantly written... Kate Christensen demonstrates there's life to be found in what may appear to be the creakiest of fictional premises... [She] is a sharp observer, not only of the layered social world of the Queen Isabella but of the shifting relationships between her characters...I kept thinking of Barbara Pym, another novelist who wrote astute novels about contained worlds. Like Pym — who has been described as the most under-rated writer of the 20th century — Christensen is easy to misjudge, but, as she demonstrates in The Last Cruise she's quite capable of navigating deep waters." —Maureen Corrigan, NPR

"A smart, fast-paced adventure story, two poignant love stories, and a shrewd and chilling warning to us all. What is not to love about The Last Cruise?" 
—Lily King, author of Euphoria

"Christensen is a master at drawing us into the interior lives of her characters, toeing the line between satire and sympathy... comedy and humiliation... Having gathered these disparate people together, Christensen gently rolls and pitches the stage, dislodging stones of sadness that had been safely stuck in the crevices of their everyday lives. That discombobulation is the key to the story's appeal, its unstable mix of romantic comedy, class oppression and spiritual angst — as though Cynthia Ozick wrote an episode of "The Love Boat." Christensen also deconstructs the aura of the cruise ship... Mysterious and existential... She's interested in the most intimate and profound changes we're willing to make only when tossed by the tempest of life."
—Ron Charles, The Washington Post 

"Excellent... Above deck are wealthy vacationers dining on caviar and Lobster Thermidor. But below, conditions are hardly different from a Third World factory. Christensen gamely traverses both worlds in this waterborne upstairs-downstairs drama." 
—Sam Sacks, The Wall Street Journal 

"In The Last Cruise Kate Christensen has given us a smart literary thriller whose ambitions extend well beyond its genre. It's terrifying in ways you don't expect." 
—Richard Russo, author of Nobody's Fool and Empire Falls

"Excellent...The Last Cruise plays out a lot like a '50s disaster movie, and that's a good thing. It's a tremendously entertaining novel that never asks readers to turn their brains off — there's plenty of slow-burn suspense, but it doesn't come at the expense of unrealistic characters, which is a trade-off many authors are too willing to take... [Christensen] inhabits all of her characters beautifully... The Last Cruise is a captivating voyage." —Michael Schaub, NPR

"Perceptive, sophisticated, propulsive. The Last Cruise is surely not the last word on this kind of novel, but it's a bracing example of popular storytelling with a literary twist... Christensen steers the story, streamlined yet substantial, through turbulent waters, but never loses track of its current of humanity."
—Michael Berry, Portland Press Herald 

"Brilliant... The Last Cruise moves swiftly, with welcome bits of dark humor (after disaster strikes, someone's first question is whether there'll be a midnight buffet that evening) and vivid character detail... Is it a literary thriller, or a novel that just happens to contain some thriller elements? Either way, it reads just fine." 
—The Seattle Times 

"[A]n exciting story of human nature, love at all ages and in the face of insurmountable difficulties." —USA Today 

"This sly novel from Christensen (winner of the Pen/Faulkner Award for The Great Man) begins as a casual romp and then heads inexorably into darker territory. The book steadily gains power as the boat loses its, and the portrayal of a small society on the edge of chaos is haunting. Christensen has crafted a Ship of Fools for an era of environmental concerns and social unrest."
—Publishers Weekly

"'The Love Boat' meets 'Lord of the Flies'... Here you are on a two-week cruise from California to Hawaii on the elegant, 1950s-era Queen Isabella... Readers of novels know very well that such extravagant expectations are likely to be exploded, and The Last Cruise deftly obliges.  Christensen, author of such fine novels as "The Great Man" and "The Epicure's Lament," escorts us on this cruise via three very different protagonists. This is the final cruise for the aging Isabella [a]nd for each of the three main characters, the trip signals both endings and possibilities... Christensen maneuvers adroitly among these various conundrums while highlighting her characters' strengths and flaws." —Newsday

"[A] wry and ebullient, gradually catastrophic ship-of-fools-tail... Christensen's gripping and insightful novel dramatizes with stealth and daring the dangerous contrariness of human nature." 
—Donna Seaman, Booklist (starred review)  

"Kate Christensen has written a tale that is not just a gleefully nightmarish cruise, but a keenly observed microcosm of our disintegrating society and planet. You the reader are SO glad not to be on the Queen Isabella, but you find yourself there — and you hang on with grim delight. Wincingly real and blackly funny all at once." 
—Peter Nichols, author of The Rocks and A Voyage for Madmen

"In her tale of a harrowing voyage at sea, [Kate Christensen] weaves together a perfect microcosm of the world today — overwhelming greed paired with selflessness and community; tribalism at its worst, and humanity at its best. At times hysterical, at times heartbreaking... This is a book that lingers with long after you've finished reading." —Portland Press Herald 

"As tribulation after tribulation hits the ship, the past and present lives of the three main characters are opened up to the reader...  These three lives, suspended in the limbo of a sea voyage, broaden and deepen as conditions aboard the ship worsen and bring this splendid novel to a dramatic and enigmatic close, one I encourage you to encounter for yourself."
—Barnes & Noble Review

"Christensen weaves a diverse cast of characters, each from a detailed and highly sensual world, into a grip-your-seat plot in this important, enlightening, utterly contemporary book about a world that hangs on the edge of something bigger than all of us. A must-read for our times."
—Cathi Hanauer, author of Gone and The Bitch is Back

"From the first page of The Last Cruise, it's clear that you're in the hands of a masterful storyteller. With wit and precision, Kate Christensen wrangles a large cast of characters on a cruise in Hawaii that undergoes a disastrous series of calamites, deftly turning what appears to be a comedy of manners into an intimate and moving story about how human beings relate to each other in times of stress and upheaval — with plenty of sensuous details about food, sex, and drink along the way. This novel is a delight."
—#1 NYT-bestselling author Christina Baker Kline, author of Orphan Train

"A quietly stunning book about power: the abusive power of ego; the generationally-channelled power of anger; the mighty and physical power of the ocean; the reinforcing, embracing power of lifelong relationships; the survivalist power of deeply-embedded training; and the redeeming, soul-quenching power of music and words and love. Excellent." —Seattle Review of Books

"Stunning... Christensen delivers another engrossing tale rich in character and social mores that reveals the fragile veneer of civilization." —Shelf Awareness
Coverage from NPR
or
Not Currently Available for Direct Purchase