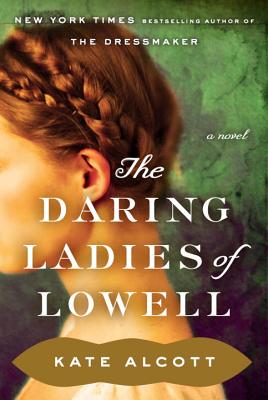 The Daring Ladies of Lowell
Hardcover

* Individual store prices may vary.
Other Editions of This Title:
Digital Audiobook (2/24/2014)
Paperback (10/28/2014)
Compact Disc (2/25/2014)
Library Binding, Large Print (4/1/2014)
Description
Alice is cast in the mold of a character created by an earlier Alcott, the passionate and spunky Jo March. A refreshingly old-fashioned heroine, she makes THE DARING LADIES OF LOWELL appealing
"--The New York Times Book Review
"
Offers up a compelling slice of both feminist and Industrial Age history --"Christian Science Monitor"
From the "New York Times" bestselling author ofTHE DRESSMAKER comes a moving historical novel about a bold young woman drawn to the looms of Lowell, Massachusetts--and to the one man with whom she has no business falling in love.
Eager to escape life on her family's farm, Alice Barrow moves to Lowell in 1832 and throws herself into the hard work demanded of the mill girls. In spite of the long hours, she discovers a vibrant new life and a true friend a saucy, strong-willed girl name Lovey Cornell.
But conditions at the factory become increasingly dangerous, and Alice finds the courage to represent the workers and their grievances.Although mill owner, Hiram Fiske, pays no heed, Alice attracts the attention of his eldest son, the handsome and reserved Samuel Fiske. Their mutual attraction is intense, tempting Alice to dream of a different future for herself.
This dream is shattered when Lovey is found strangled to death. A sensational trial follows, bringing all the unrest that's brewing to the surface. Alice finds herself torn between her commitment to the girls in the mill and her blossoming relationship with Samuel.Based on the actual murder of a mill girl and the subsequent trial in 1833, THE DARING LADIES OF LOWELL brilliantly captures a transitional moment in America's history while also exploring the complex nature of love, loyalty, and the enduring power of friendship.

Praise For The Daring Ladies of Lowell…
Praise for THE DARING LADIES OF LOWELL

"Offers up a compelling slice of both feminist and Industrial Age history"
 --Christian Science Monitor

"Alice is cast in the mold of a character created by an earlier Alcott, the passionate and spunky Jo March. A refreshingly old-fashioned heroine, she makes THE DARING LADIES OF LOWELL appealing to girls of all ages"
--The New York Times Book Review

"Both inspiring and thought-provoking. Ms. Alcott's interweaving themes of strength, courage, love, loss and betrayal will keep the reader captivated for hours"
--Fredericksburg Free-Lance Star

"The storytelling is lively."
--The New York Times 
 
"A riveting historical novel… In this book, and in real life, there's no story--or change--if people don't push the boundaries of what is acceptable, or give voice to uncomfortable truths."
–Huffington Post

"Alcott draws from dramatic events indelibly etched in history and offers a fresh perspective…. Alcott's work will attract historical romance fans who will be entertained by the antics of the daring ladies who leave everything they know and embrace less-than-ideal conditions to gain their freedom."
--Library Journal, starred review
 
"Alcott draws on a real-life trial to lend authenticity to her romantic story….the book will illuminate and satisfy."
--Publishers Weekly
 
"This spirited story of young working women making hard choices has a compelling core"
--Kirkus Reviews

"Set against an authentically detailed mill-town backdrop, this novel interweaves the industrial ­revolution, feminism, and workers' rights into an engrossing narrative with a love story at its core."
--Booklist


 "Rendered in vivid, authentic period detail, The Daring Ladies of Lowell is a suspenseful, compelling tale of courageous young women fighting for justice—and sometimes their very lives—in the cotton mills of mid-nineteenth century Massachusetts."
—Jennifer Chiaverini, New York Times bestselling author of Mrs. Lincoln's Dressmaker
  
"Set during the turbulent days of America's industrial revolution, The Daring Ladies of Lowell captures the spirit and courage of the young women who dared to work at factory jobs. Kate Alcott draws on the true story of a murdered mill girl for this captivating story of loyalty, friendship, and love—most of all, love."

--Sandra Dallas, New York Times bestselling author of Alice's Tulips and Fallen Women

"The Daring Ladies of Lowell are as complicated and flawed as any contemporary heroines, and they shine in this gripping 19th century tale about a small group of "factory girls" who refuse to be silenced when one of their own is murdered. Kate Alcott has woven industrial history, small-town politics, and pure invention into a nuanced gem of a novel about friendship, sacrifice, and love that will keep you turning its pages until the very end."
--Amy Brill, author of The Movement of Stars  
 
 
Praise for THE DRESSMAKER
 
Historical figures become intricate characters in Alcott's hands." —Seattle Post Intelligencer
 
"Seamlessly stitching fact and fiction together, Alcott creates a hypnotic tale." —USA Today
 
 "Offers a heroine you can really root for." —NPR, "All Things Considered"
  
"From the minute Tess sets foot on the Titanic, this is the kind of novel you simply cannot put down and cannot forget." —Tatiana de Rosnay, author of Sarah's Key 
Doubleday Books, 9780385536493, 287pp.
Publication Date: February 25, 2014
About the Author
Kate Alcott is the pseudonym for journalist Patricia O Brien, who has written several books, both fiction and nonfiction. As Kate Alcott, she is the author of"The Dressmaker," a"New York Times "bestseller. She lives with her husband in Washington, D.C."
How is the treatment of the "factory girls" different from the way women are treated in today's work place?How is it similar?
Did the descriptions of how much work went into creating simple piece of cotton cloth surprise you?
When Alice first meets Lovey, she doesn't quite know what to make of Lovey's frankness and her high spirits.What was your initial reaction to Lovey?Do you think she is reckless or a woman ahead of her time?
The Daring Ladies of Lowell takes place in 1832, ten years before the landmark decision in Commonwealth v. Hunt held that workers have the right to organize and strike, and more than one hundred years until federal law was passed prohibiting child labor.Why do you think progress has been so slow in protecting working people?
Discuss Delia and Ellie's difficult situation and the many parallels with the challenges working mothers still deal with today:a troubled marriage, battle for custody of a child, and the difficulty working women can have in securing adequate child care.
Alice and her co-workers have a grueling schedule:thirteen-hour days, ceaseless physical labor, and only one day a week off.Could you make it through a "factory girl" workweek?
Discuss the role respectability plays in the novel, and the consequences of the secrets that are kept to save reputations (as in the case of Jonathan Fiske) and to maintain the status quo (Dr. Stanhope's knowledge of the poor conditions and health hazards at the mill).
Alice forms a bond with a Samuel's grandmother, who stands apart from the rest of the Fiske family. What does she represent and how has her influence shaped Samuel?
What is Alice's most admirable trait?What is her least admirable trait?
What do you think the future holds for Alice and Samuel?
or
Not Currently Available for Direct Purchase