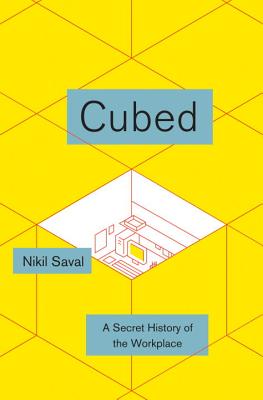 Cubed
A Secret History of the Workplace
Hardcover

* Individual store prices may vary.
Description
You mean this place we go to five days a week has a history? Cubed reveals the unexplored yet surprising story of the places where most of the world's work--our work--gets done. From "Bartleby the Scrivener" to The Office, from the steno pool to the open-plan cubicle farm, Cubed is a fascinating, often funny, and sometimes disturbing anatomy of the white-collar world and how it came to be the way it is--and what it might become.

In the mid-nineteenth century clerks worked in small, dank spaces called "counting-houses." These were all-male enclaves, where work was just paperwork. Most Americans considered clerks to be questionable dandies, who didn't do "real work." But the joke was on them: as the great historical shifts from agricultural to industrial economies took place, and then from industrial to information economies, the organization of the workplace evolved along with them--and the clerks took over. Offices became rationalized, designed for both greater efficiency in the accomplishments of clerical work and the enhancement of worker productivity. Women entered the office by the millions, and revolutionized the social world from within. Skyscrapers filled with office space came to tower over cities everywhere. Cubed opens our eyes to what is a truly "secret history" of changes so obvious and ubiquitous that we've hardly noticed them. From the wood-paneled executive suite to the advent of the cubicles where 60% of Americans now work (and 93% of them dislike it) to a not-too-distant future where we might work anywhere at any time (and perhaps all the time), Cubed excavates from popular books, movies, comic strips (Dilbert ), and a vast amount of management literature and business history, the reasons why our workplaces are the way they are--and how they might be better.
Praise For Cubed: A Secret History of the Workplace…
Praise for Cubed:

"Lush, funny, and unexpectedly fascinating ... [G]enius ... Cubed stands as one of those books readers can open to any page and find the kind of insight they'll want to yank strangers out of their bus or subway seats and repeat ... [A] beautifully written, original, and essential masterpiece."
—Jerry Stahl, Bookforum

"...An entertaining read... Saval's readings of pop culture representations of the office and its workers add a lively and ironic perspective."
—Publishers Weekly

"Ferociously lucid and witty."
—Kirkus Reviews

"Why did no one write this necessary book before now? Never mind: it wouldn't have been as good. Cubed has that combination of inevitability and surprise that marks the best writing—and thinking."
—Benjamin Kunkel, author of Indecision
 
"Required reading for anyone who works in an office, and for those fortunate enough to have escaped."
—Ed Park, author of Personal Days
 
"Nikil Saval is a superstar! He does for offices what Foucault did for prisons and hospitals, transforming a seemingly static, purely functional, self-evident institution into a rich human story, full of good and bad intentions, chance, and historical forces. Reading Cubed is like watching an amazing magic trick where the very boringness of the office turns out to be what is the most interesting. I found myself wishing he would do waiting rooms next."
—Elif Batuman, author of The Possessed
Doubleday Books, 9780385536578, 352pp.
Publication Date: April 22, 2014
About the Author
Nikil Saval is an editor of n+1. He lives in Philadelphia. This is his first book. His first two real jobs were as an editorial assistant in publishing companies--in cubicles.
Coverage from NPR
or
Not Currently Available for Direct Purchase