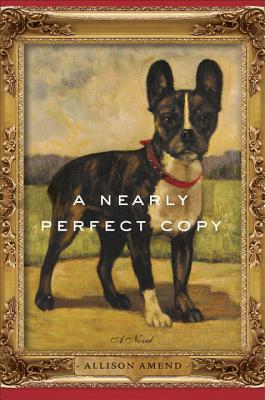 A Nearly Perfect Copy
Hardcover

* Individual store prices may vary.
Other Editions of This Title:
Paperback (1/28/2014)
Hardcover, Large Print (7/1/2013)
Description
Richly drawn and sharply observed, A Nearly Perfect Copy is a smart and affecting novel of family and forgery set amidst the rarefied international art world.
 
Elm Howells has a loving family and a distinguished career at an elite Manhattan auction house. But after a tragic loss throws her into an emotional crisis, she pursues a reckless course of action that jeopardizes her personal and professional success. Meanwhile, talented artist Gabriel Connois wearies of remaining at the margins of the capricious Parisian art scene, and, desperate for recognition, he embarks on a scheme that threatens his burgeoning reputation. As these narratives converge, with disastrous consequences, A Nearly Perfect Copy boldly challenges our presumptions about originality and authenticity, loss and replacement, and the perilous pursuit of perfection. 
Praise For A Nearly Perfect Copy…
"Allison Amend has given us a flawlessly rendered, totally engrossing, class-and-continent hopping story about the day to day struggles of marriage and loss, the commerce and caprice of high art, the reality of being talented and ambitious when talent and ambition are not enough, and the ethics of cloning. Every scene, every page, every passage of this novel has been written with the stunning clarity and great humanity of a true artist at the height of her abilities. My guess is, if you read this book you will soon be shoving it into the hand of someone you love. I certainly will." —Charles Bock, New York Times bestselling author of Beautiful Children

"Just when you think you know where A Nearly Perfect Copy is going, it swerves, like life, in some new direction. Allison Amend has packed this book with wit, style, yearning, risk, damage, truth, and compassion, populated it with characters who breathe with their own individual mystery, and along the way written what just might be the definitive fictional treatment of art forgery." —Kevin Brockmeier, author of The Brief History of the Dead

"Gracefully wielding a collage of unlikely elements, A Nearly Perfect Copy pits authenticity against imitation, deception against personal fulfillment, and replacement against irretrievable loss ... Intricate and ambitious ... Amend's characters [are] relatable and visceral ... [Her] crisp, even prose is hard to pull away from and subtle in its elegance." —The Dallas Morning News

"Amend draws sharp characters [and] creates a nicely evolving plot ... What unfolds is acutely appealing: various characters struggling to overcome defeat and failure in their private and public lives against a backdrop filled with the particulars of middle-class family life and the art world here and abroad. I got caught up in their problems, their struggles. I loved the lore about the art business. Really, I found this to be a terrifically entertaining novel that never lost its hold on the hearts of its characters or mine." —Alan Cheuse, NPR

"A smart page turner ... Amend creates very real characters who live in a very unreal world. This is a wonderfully witty and stylish novel, perfect for the summer." —Elizabeth Taylor, Chicago Tribune

"Amend tells an absorbing story of believable characters walking a tightrope of ethical dilemma and despair ... Artistic and beautiful." —St. Louis Post-Dispatch

"A well-crafted and introspective novel that will provide fodder for thoughtful discussions on morality and integrity." —Fredericksburg Free Lance-Star

"[A] fast-paced, intriguing novel." —People

"Amend's brisk, complex second novel focuses on artistic lineage and forgery, loss and replacement, and questions of origin and originality ... Stunningly well-researched, A Nearly Perfect Copy is studded with fascinating detail—about the avenues by which art comes to auction and the machinery of auction houses, the way pulpy nineteenth-century paper can be simulated now, the kind of sketches that command collectors' attention. These facts are more than just narrative filigree; they suggest authenticity and discipline in a novel about fakery. A Nearly Perfect Copy poses serious moral questions...but its real subject matter seems to be the fraudulence or uncertainty of the self ... As Elm and Gabriel become more involved (and implicated) in their copying procedures and assignments the more their selves wobble and shake and flicker. And this motion, of the self trying to right itself, and the way Amend captures it on the page, is beautiful." —Mid-American Review

"This is what people mean when they use the term 'intelligent page-turner.' Amend is a brilliant storyteller, whose pitch-perfect observations call to mind Jonathan Franzen and Jennifer Egan. The complicated, completely fascinating characters (built with such human sympathy), the intricacy and cleverness of the plot, and the razor sharp exploration of contemporary mores make for a truly masterful read. I loved, loved, loved it." —Joanna Smith Rakoff, author of A Fortunate Age

"Clever, wry ... Amend makes her characters immediately real, depicting their complicated desires and decisions in a highly enjoyable, nearly perfect novel." —Publishers Weekly, starred review

"Amend creates suspense by charting in wincing detail Elm's and Gabriel's progress through ethically gray areas in the art market to unquestionably illegal acts ... Well-wrought ... the author meticulously delineates [her characters'] yearnings and frustrations ... Cleverly rendered." —The Washington Post

"[Written] with supple command, caustic wit, and a deep fascination with decent people who lose their moral compass ... As Amend tracks the descent of her two wounded and alienated innocents into lies, desperation, and crime, her visual acuity, fluent psychology, venture into the shadow side of the art world, and storytelling verve make for a blue-chip novel of substance and suspense."
—Booklist

"Something very real comes out of the many layers of forgery in Allison Amend's brainy intrigue of the shadowy side of the art world. Provenance is earned in more than the expected ways! A Nearly Perfect Copy is a captivating story." —Ron Carlson, author of The Signal
 
"Allison Amend is a gifted storyteller—no, more than gifted. Her writing is powerful enough to create its own kind of weather. Her characters are so real it's as if you could reach between the pages and shake hands with them." —Hannah Tinti, author of The Good Thief

"A fast-paced, lively novel of forgery ... Amend provides a fizzy, entertaining insider's look at the conjunction of visual art and commerce—especially the world of art auctions ... Her exploration of the ethics and the mechanics of the art world provide charm and enjoyment ... A provocative and likable read." —Kirkus Reviews

"Amend's talent is on full display as these smart, complex narratives dance around each other, each capturing the reader's imagination without ever detracting from the other story. Although she's received critical acclaim for her work in a number of literary publications and for her historical novel, Stations West, this finely rendered portrait of two lives should introduce Amend to a wider audience." —BookPage

"[An] intricate, witty page-turner." —Stanford Magazine

"It's not every day that you get to read a novel that deals with art, money, death, love, marriage, and a cloned dog, but still somehow manages to be moving, funny, and a page-turner all at the same time." —Amy Brill, author of The Movement of Stars

Nan A. Talese, 9780385536691, 284pp.
Publication Date: April 9, 2013
About the Author
ALLISON AMEND, a graduate of the Iowa Writers' Workshop, is the author of the Independent Publisher s Award-winning short story collection "Things That Pass for Love" and the novel "Stations West," which was a finalist for the 2011 Sami Rohr Prize for Jewish Literature and the Oklahoma Book Award. She lives in New York City."
Coverage from NPR
or
Not Currently Available for Direct Purchase