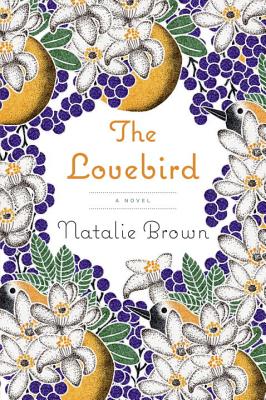 The Lovebird (Hardcover)
Doubleday Books, 9780385536752, 317pp.
Publication Date: June 18, 2013
* Individual store prices may vary.
Description
A spectacularly vibrant, original debut, The Lovebird takes us from the orange-scented streets of Southern California to the vast prairie landscape of Montana, and introduces us to Margie Fitzgerald, a spirited and unforgettable heroine for our times.

Margie has always had a soft spot for helpless creatures. Her warm heart breaks, her left ovary twinges, and she is smitten with sympathy. This is how she falls in love with Simon Mellinkoff, her charismatic, obviously troubled Latin professor. As the two embark on an unconventional romance, Simon introduces Margie to his small coterie of animal rights activists, and with this ragtag group she finds her apparent mission in life. But Margie's increasingly reckless and dangerous actions force her to flee her California college town, say goodbye to her fragile dad, and seek shelter on the Crow Indian Reservation in Montana. Here, against a backdrop of endless grass and sky, Margie meets a soap opera-loving grandmother, an intriguing, ink-splattered man, and an inscrutable eleven-year-old girl—and makes unexpected discoveries about her heart.

Suffused with humor and compassion, The Lovebird is a radiant novel about one young woman's love of animals, yearning for connection, and search for her place in this world.
About the Author
NATALIE BROWN grew up in Orange County, California. She earned a BA in Literature from the University of California at San Diego, and MA degrees in English and Native American Studies from Montana State University. She lives in Iowa. "The Lovebird" is her first novel.
Praise For The Lovebird…
 
"The Lovebird proves to be more than the story of an ill-fated romance between a timid co-ed with a Strawberry Shortcake suitcase and a predatory teacher. The affair between the diffident Margie Fitzgerald and her Latin professor fades out . . . [and] with the help of one of her animal activist friends, she flees to a Crow reservation in Montana. Specifically, she's deposited, like one of the stray bunnies she likes to save, at the home of a wise and elderly Crow woman and her family . . . . Brown's skill pulls us into Granma's warm, nurturing orbit in spite of ourselves. One reason we love her is the goodness she's passed on to her son Jim.... Skating so close to cliché and stereotype, then subverting them a little; making you feel for and believe in her characters and care about what happens to them—these are signs of real talent. Natalie Brown is a real talent." –Bookpage

"In vibrant, colorful language that leaps off the page, Brown paints her winsome heroine's coming-of-age with compassion and affection in this lush, compelling tale." –Booklist

"The Lovebird is a compassionate and inviting novel about loneliness and heartbreak, finding a place to belong, and what we will do to protect the things we love. Brown evokes great emotion with her small and perfect details. The image of the lovebird—confused and lost—touched me to the core, and stayed with me long after I shut the book." —Jennifer Close, bestselling author of Girls in White Dresses

"Natalie Brown has written a sly and quietly funny novel of a young woman's coming of age. Her unusual heroine, Margie Fitzgerald, is a passionate innocent, a dreamer blessed with loopy confidence, charming directness, and a very American logic all her own." —Honor Moore, author of The Bishop's Daughter

"The Lovebird asks us what it means to love, to belong, to believe. It's a book about new vision, second chances, and one young woman's desire to find her place among her human--and animal--kin." —Kim Barnes, author of In the Kingdom of Men
or
Not Currently Available for Direct Purchase