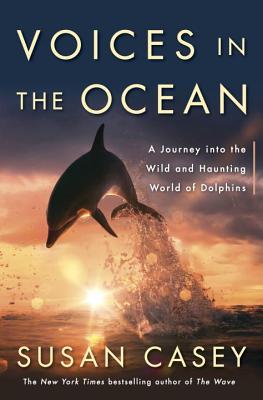 Voices in the Ocean
A Journey into the Wild and Haunting World of Dolphins
Hardcover

* Individual store prices may vary.
Other Editions of This Title:
Digital Audiobook (8/3/2015)
Paperback (6/28/2016)
Compact Disc (8/4/2015)
Description
From Susan Casey, the New York Times bestselling author of The Wave and The Devil's Teeth, a breathtaking journey through the extraordinary world of dolphins
 
Since the dawn of recorded history, humans have felt a kinship with the sleek and beautiful dolphin, an animal whose playfulness, sociability, and intelligence seem like an aquatic mirror of mankind. In recent decades, we have learned that dolphins recognize themselves in reflections, count, grieve, adorn themselves, feel despondent, rescue one another (and humans), deduce, infer, seduce, form cliques, throw tantrums, and call themselves by name. Scientists still don't completely understand their incredibly sophisticated navigation and communication abilities, or their immensely complicated brains.
     While swimming off the coast of Maui, Susan Casey was surrounded by a pod of spinner dolphins. It was a profoundly transporting experience, and it inspired her to embark on a two-year global adventure to explore the nature of these remarkable beings and their complex relationship to humanity. Casey examines the career of the controversial John Lilly, the pioneer of modern dolphin studies whose work eventually led him down some very strange paths. She visits a community in Hawaii whose adherents believe dolphins are the key to spiritual enlightenment, travels to Ireland, where a dolphin named as "the world's most loyal animal" has delighted tourists and locals for decades with his friendly antics, and consults with the world's leading marine researchers, whose sense of wonder inspired by the dolphins they study increases the more they discover.
     Yet there is a dark side to our relationship with dolphins. They are the stars of a global multibillion-dollar captivity industry, whose money has fueled a sinister and lucrative trade in which dolphins are captured violently, then shipped and kept in brutal conditions. Casey's investigation into this cruel underground takes her to the harrowing epicenter of the trade in the Solomon Islands, and to the Japanese town of Taiji, made famous by the Oscar-winning documentary The Cove, where she chronicles the annual slaughter and sale of dolphins in its narrow bay.
     Casey ends her narrative on the island of Crete, where millennia-old frescoes and artwork document the great Minoan civilization, a culture which lived in harmony with dolphins, and whose example shows the way to a more enlightened coexistence with the natural world.
     No writer is better positioned to portray these magical creatures than Susan Casey, whose combination of personal reporting, intense scientific research, and evocative prose made The Wave and The Devil's Teeth contemporary classics of writing about the sea. In Voices in the Ocean, she has written a thrilling book about the other intelligent life on the planet.
Praise For Voices in the Ocean: A Journey into the Wild and Haunting World of Dolphins…
"Casey transports us through the many truths and myths about dolphins…. Painstakingly researched and gorgeously written, Voices in the Ocean provides textbook-depth education that is based on Casey's years of swimming the open seas with dolphins, interviews with leading experts and protectors, and harrowing trips to the nether reaches of the globe where horrific brutalities occur."
―USA Today 

"[W]hat starts out as a feelgood, new-agey account darkens like the sunlight diminishing in the deep, subtly turning into a devastating chronicle of one of the most egregious mismatches in natural-human history. The result is a brilliantly written and passionate book.... timely and urgent." 
--The Guardian 

"A meticulously reported global odyssey during which [Susan Casey] sets out to answer the simple question: why do dolphins elicit such intense emotions and behaviors in humans? . . . Fans of Casey's writing know that she has an inexhaustible curiosity and a knack for fully embracing her subject."
―Outside Magazine

"Part science, part memoir, part impassioned plea for change, Casey's look at the world of dolphins―and our mistreatment of them―fascinates."
―People 

Casey reports with an open mind.... Casey's moving writing left me with some hope for a better future for dolphins and humans.
―Slate 
Doubleday, 9780385537308, 320pp.
Publication Date: August 4, 2015
About the Author
Susan Casey, author of New York Times bestsellers The Wave and The Devil's Teeth: A True Story of Obsession and Survival Among America's Great White Sharks, is the former editor in chief of O, The Oprah Magazine. She is a National Magazine Award-winning journalist whose work has been featured in the Best American Science and Nature Writing, Best American Sports Writing, and Best American Magazine Writing anthologies; and has appeared in Esquire, Sports Illustrated, Fortune, Outside, and National Geographic. Casey lives in Maui.
Coverage from NPR
or
Not Currently Available for Direct Purchase