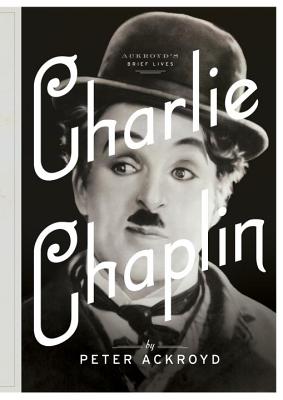 Charlie Chaplin
A Brief Life
Hardcover

* Individual store prices may vary.
Other Editions of This Title:
MP3 CD (10/28/2014)
Compact Disc (10/28/2014)
Compact Disc (10/28/2014)
Description
A brief yet definitive new biography of one of film's greatest legends: perfect for readers who want to know more about the iconic star but who don't want to commit to a lengthy work.

He was the very first icon of the silver screen and is one of the most recognizable of Hollywood faces, even a hundred years after his first film. But what of the man behind the moustache? Peter Ackroyd's new biography turns the spotlight on Chaplin's life as well as his work, from his humble theatrical beginnings in music halls to winning an honorary Academy Award. Everything is here, from the glamor of his golden age to the murky scandals of the 1940s and eventual exile to Switzerland. There are charming anecdotes along the way: playing the violin in a New York hotel room to mask the sound of Stan Laurel frying pork chops and long Hollywood lunches with Mary Pickford and Douglas Fairbanks Jr. This masterful brief biography offers fresh revelations about one of the most familiar faces of the last century and brings the Little Tramp vividly to life.
Praise For Charlie Chaplin: A Brief Life…
"Quietly enthralling ... Ackroyd's coolly perceptive literary style and equally devastatingly effective observations suggest that he doesn't care a fig about pleasing geeks or fans or anyone else."
—The New York Times Book Review

"[A] pungent, evocative biography ... Great artist, petty tyrant—Ackroyd does justice to Chaplin in all his aspects, with a biographer's precision and a novelist's detachment. His heart is sympathetic, and his achievement is to stir our great wonder at the once-upon-a-time existence and uncanny achievement of one unique, damaged, brilliant soul."
—San Francisco Chronicle

"Ackroyd's writing is masterful—elegant, pitch-perfect, a pleasure to read—and his timing is as impeccable as Bob Hope's ... Chaplin [is a] small gem."
—The Plain Dealer (Cleveland)

"Ackroyd rewards his readers with a tale fit for a Chaplin film, featuring humor, tragedy and a poignant fade-out."
—Associated Press

"A gem of book. If Ackroyd has an edge on the scores of authors who have written about Chaplin, it's that he probably knows more about London than anyone alive. Ackroyd puts that knowledge of and feel for London to good use in describing Chaplin's difficult early years—when he was fatherless, even motherless at times when she was confined to an asylum. Those years were the source of Chaplin's artistic genius and of his unquenchable drive for wealth and power ... Ackroyd deftly defines the differences between the lovable tramp that Chaplin portrayed on screen and the difficult-to-love character he was in real life."
—St. Louis Post-Dispatch

"[Ackroyd] deftly navigates the myriad facets of his subject."
—The Columbus Dispatch

"In his typically elegant and measured prose, prize-winning biographer Ackroyd brilliantly brings Chaplin to life ... Ackroyd's book introduces the Little Tramp in such a charming and candid fashion that it will drive movie buffs to watch Chaplin on screen once again."
—Publishers Weekly, starred review

"Ackroyd exposes the hidden truths in Chaplin's life that help us to understand the artist both personally and professionally. An exceptional read."
—Library Journal

"Detailed yet breezy, full of sharp insights into Chaplin's public and private personas ... Expect plenty of interest in this fine biography."
—Booklist, starred review

"The opening sentences alert readers to settle in and have a good time ... There is plenty of color here."
—The Weekly Standard

"[Ackroyd's] account of Chaplin's difficult early life in the slums of London is evocative and moving, detailing the many deprivations suffered by the young Charlie ... A comprehensive look at Chaplin the man."
—Kirkus Reviews

"Chaplin's rise makes an enthralling story, and it's one perfectly suited to Peter Ackroyd's prodigious and idiosyncratic talents ... Ackroyd acknowledges Chaplin's many human failings, while at the same time giving us a vivid sense of what made the man a genius."
—The Telegraph
 
"[A] fine biography ... The luxury of a short book about a vast life cannot be overestimated." 
—Financial Times
 
"Ackroyd has turned in the best account of Chaplin's formation beneath the teetering chimney stacks of Victorian London, fragrant with the odours of dung, smoke and beer ... Ackroyd is just the man to puncture the whoppers with which Chaplin embroidered his past, without being too much of a scold."
—New Statesman
 
"Ackroyd brings a novelist's as well as a biographer's eye to the story of a man who 'seemed to epitomise the human condition itself, flawed and frail and funny.'"
—The Independent
 
"Compact, engrossing, intelligent."
—The Sunday Times (London)

Nan A. Talese, 9780385537377, 304pp.
Publication Date: October 28, 2014
About the Author
PETER ACKROYD is the author of London: The Biography, Albion: The Origins of the English Imagination, Shakespeare: The Biography, and Thames: The Biography. He has written acclaimed biographies of T.S. Eliot, Dickens, Blake, and Sir Thomas More as well as several successful novels. He has won the Whitbread Book Award for Biography, the Royal Society of Literature's William Heinemann Award, the James Tait Black Memorial Prize, the Guardian Fiction Prize, the Somerset Maugham Award, and the South Bank Award for Literature.
or
Not Currently Available for Direct Purchase