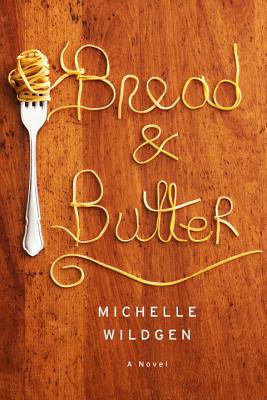 Bread and Butter
Hardcover

* Individual store prices may vary.
Other Editions of This Title:
Compact Disc (2/11/2014)
MP3 CD (2/11/2014)
Paperback (11/4/2014)
Description
"Kitchen Confidential" meets "Three Junes" in this mouthwatering novel about three brothers who run competing restaurants, and the culinary snobbery, staff stealing, and secret affairs that unfold in the back of the house.
Britt and Leo have spent ten years running Winesap, the best restaurant in their small Pennsylvania town. They cater to their loyal customers; they don't sleep with the staff; and business is good, even if their temperamental pastry chef is bored with making the same chocolate cake night after night. But when their younger brother, Harry, opens his own restaurant a hip little joint serving an aggressive lamb neck dish Britt and Leo find their own restaurant thrown off-kilter. Britt becomes fascinated by a customer who arrives night after night, each time with a different dinner companion. Their pastry chef, Hector, quits, only to reappear at Harry's restaurant. And Leo finds himself falling for his executive chef-tempted to break the cardinal rule of restaurant ownership. Filled with hilarious insider detail the one-upmanship of staff meals before the shift begins, the rivalry between bartender and hostess, the seedy bar where waitstaff and chefs go to drink off their workday "Bread and Butter" is both an incisive novel of family and a gleeful romp through the inner workings of restaurant kitchens.
Praise For Bread and Butter…
"Bread and Butter, a novel about three brothers in the restaurant business. . . reward[s] industry insiders and food obsessives. . . The restaurant industry, with its relentless push for reinvention and obsession with the new, is brutal. But so is getting old, Wildgen's novel will remind you. . . Wildgen, whose previous books include Food and Booze: A Tin House Literary Feast, has obviously spent a lot of time in kitchens. . . The pages start flying when Stray ramps up business. Which candidate will make the most impressive egg dish during the chef auditions? (That would be Jenelle with her eggs en cocotte with Gruyère, spinach and spiced tomato.) Will the malted cone-cups slip out of their pastry cream? Is the newsworthy, but potentially off-putting lamb's neck going to be a hit in a town where only a dozen people might be able to pronounce grüner veltliner? Three words for you: Food Nerds Unite."
—The New York Times Book Review
 
"In her new novel, Michelle Wildgen . . . gets the details of the restaurant biz and the dynamtics of those who are part of it just right. . . . As she did in You're Not You, her compulsively readable literary debut, Wildgen couples vivid description with crisp prose, putting the reader right in the scene—and right at the table. She articulates how working closely with someone professionally creates an odd and not always welcome degree of intimacy, laying bare each person's 'unknown and unknowable depths.' There is romance, including sex with the staff—absolutely verboten, bad for business, but almost impossible to resist. The real romance, though, is one of family and food. . . . Purely delicious."
—The Miami Herald
 
"Staff meals also provide a backdrop for Michelle Wildgen's Bread and Butter, a novel about three warring chefs who happen to be siblings."
—Conde Nast Traveler

"A story of family feuds and foie gras. . . This story of sibling rivalry is peppered with lots of restaurant-insider detail. And each brother's romantic woes spice things up."
—The New York Post

"This author has a knack for solid, striking characterizations. . . The food descriptions are consistently, almost overwhelmingly, stunning."
—Kansas City Star

"It's that behind-the-scenes drama that Wildgen channels in Bread and Butter as she mixes tempers, ambition and libidos into a savory read."
—Wisconsin State Journal

"Brothers Britt and Leo run a tight ship at Winesap, the highest-end eatery in their Philly-adjacent town. But then their brilliant, charming baby brother, Harry, one-ups them with a sneak attack by opening a hip, avant-garde hole-in-the-wall nearby, whipping up a family rivalry that soon boils over. Journalist Wildgen glazes Bread & Butter with delicious behind-the-scenes details that foodies will appreciate. The family drama she serves up… goes down like comfort food."
—Entertainment Weekly   

"Wildgen's depictions of food hew closer to Proust's than Stein's in that they are indulgent and languorous. And she's as skilled at the mechanics of whipping up a well-crafted story as she is describing how to make a béarnaise. . . Food is the true currency of Bread and Butter. Food is an art, a language of affection, of consolation, a way of life. . . And the food! If nothing else (and there is plenty else), the novel revels in its cuisine. Sentences are peppered with exquisite dishes throughout and take detailed note of the textures and presentation and garnishes, allowing reader gorge. . . Bread and Butter is a tremendous feast of a novel."
– The Millions 

"Wildly entertaining. . . Wildgen serves up romantic intrigue. . . along with a generous dollop of satire as sharp as a prep knife. The result is a novel that's as much about the complex dance of family dynamics as it is about the mysterious world behind the kitchen door – and a divinely delicious read, to boot."
– O Magazine

"It's clear that Wildgen reveled in this opportunity to immerse a story in a world that's entirely centered around cooking and dining. Bread and Butter shows a writer at the top of her craft addressing a subject for which her passion and curiosity is palpable. And her thematic material — the strength of familial bonds in the face of stress and strain — is a perfect fit to her setting, where despite broken dishwashers, no-show staff members, and cuts and burns, something delicious almost always comes out of the kitchen."
– The Capital Times

"Wildgen is no stranger to culinary expertise: she's the editor of Food & Booze: A Tin House Literary Feast (she is also the executive editor of Portland's Tin House Magazine). In Bread and Butter she's given us a lively novel with an engaging narrative of the restaurant biz . . . High-end restaurants are complex microcosms and with her wonderfully descriptive style and an obvious understanding of the restaurant business, Wildgen uses these settings, sometimes volatile (think middle of a dinner rush when the chef is missing), sometimes relaxing (in the morning before the staff arrives for dinner prep) to explore the intimacy and fragility of families, the complicated relationships among people who work closely together, and the difficult task of serving customers like ourselves. After reading Bread and Butter it's almost certain that your next restaurant experience will likely not be perceived as it was before."
—The Oregonian 

"Four stars for Bread and Butter, Michelle Wildgen's saucy tale of three foodie brothers at each other's throats."
– Elissa Schappell, Vanity Fair

"Michelle Wildgen is a writer of impeccable tastes. . . In her third novel, Bread and Butter, Wildgen follows three brothers running two very different restaurants: Leo and Britt's smartly-polished Winesap, and younger brother Harry's envelope-pushing startup, Stray. It's a novel filled not only with the intricate stuff of cooking of the highest order, but of sibling rivalry and affections, as temperamental as any soufflé." 
– Emma Komlos-Hrobsky, The Inquisitive Eater

"Brothers Leo and Britt are co-owners of Winesap, a popular restaurant in their small, economically depressed hometown on the outskirts of Philadelphia. They have always considered their younger sibling, Harry, a bit of a dilettante. While they've been chained to a hot stove, Harry has flitted in and out of academia and flirted with one career after another. So imagine their surprise when Harry announces that he's opening a restaurant of his own, virtually right down the street . . . As the brothers test this recipe for potential disaster, they  . . .  learn the true meaning of family, friendship, and the secret to a killer soufflé . . . [Wildgen] whip[s] up a debut delicacy that's as complex as a rich cassoulet and as comforting as good ol' mac-and-cheese. "
—Carol Haggas, Booklist     
         
"In Wildgen's latest, three foodie brothers find themselves in a stew . . . [a] family drama set against the backdrop of an insider's take on big-ticket dining . . . Wildgen plates one dazzling dish after another on nearly every page."
—Kirkus Reviews

"Wildgen dazzles with her prose, which is sprinkled with keen observations and supported by her food-writing knowledge. . . [A] trenchant examination of sibling rivalry and fine cuisine. Not for foodies only."
—Publishers Weekly
 
"Bread and Butter is a beautifully composed novel, brimming with intelligence and tenderness and charm. Michelle Wildgen writes about food with such authority that I felt I was in the hands of the rarest of master chefs, one who can cook up an astonishing meal and craft searing sentences at the same time."
—Lauren Groff, author of Arcadia
 
"Michelle Wildgen's captivating story of sibling rivalry puts a whole new spin on family dinner. Bread and Butter has the complete meal, soup to nuts: a stirring love story, an engrossing drama. Wildgen is one of the finest prose stylists out there—a wonderfully satisfying read."
—Jennifer Gilmore, author of The Mothers
 
"Michelle Wildgen's Bread and Butter is a marvel of culinary and literary delights. Not since the great M.F.K. Fisher has a writer taken such care to explore the intimate and sensual relationships between food, love and family. In Bread and Butter, three talented brothers vie for culinary greatness while risking their own fragile bonds. Wildgen tantalizes us with the extravagant pleasures and simple comforts of fine dining. But it's not all sweet breads and foie gras. Wildgen takes us deep inside the outrageous challenges of running a restaurant and the dangers of doing business with family. This is a deeply satisfying story of hunger and appetite, desire and fulfillment. Bread and Butter is a novel to be savored."
—Amber Dermont, author of The Starboard Sea
 
Doubleday Books, 9780385537438, 313pp.
Publication Date: February 11, 2014
About the Author
MICHELLE WILDGEN is the executive editor of the literary quarterly "Tin House." A graduate of the University of Wisconsin, Wildgen received her MFA from Sarah Lawrence College. Her fiction, personal essays, and food writing have appeared in "The New York Times"; "O, The Oprah Magazine"; "Best New American Voices"; "Best Food Writing"; "Prairie Schooner"; and elsewhere. Michelle is the author of the novels "But Not for Long" and "You're Not You," and the editor of an anthology, "Food & Booze: A Tin House Literary Feast." "You're Not You" has been optioned for film by Hilary Swank and Denise Di Novi.
or
Not Currently Available for Direct Purchase