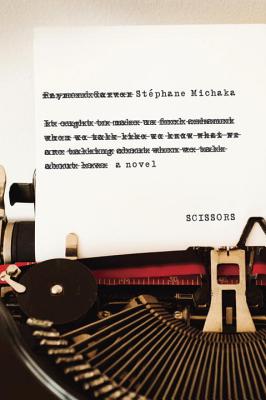 Scissors (Hardcover)
Nan A. Talese, 9780385537490, 202pp.
Publication Date: August 13, 2013
* Individual store prices may vary.
Description
Based on the life of the great short-story writer Raymond Carver, particularly his last ten years, "Scissors" is a funny, compassionate, and convincing portrayal of the creative life: its compulsions, rewards, and frustrations, and its affinities with tragedy.
Raymond is a writer whose life is fraught with personal and creative struggle. His first marriage, to Marianne, is intense, passionate, and unhealthy. After his divorce, he finds new love and support with Joanne, a poet. All the while, Raymond is in an escalating conflict with his editor, Douglas, who both enhances and distorts Raymond's work. As his success and confidence grow, Raymond strives harder and harder to ensure that his stories are published as written, with his past drinking and his previous life with Marianne always lurking in the background. Douglas thinks the stories are as much his as Raymond's and is determined that only his, heavily edited, versions will appear in print. While Raymond considers his stories the most important part of his life, Marianne and Joanne claim stakes in them as well, leading to a dramatic and unexpected final confrontation with the man known as "Scissors."
In this brilliantly inventive novel, Michaka crafts a searing tale about the struggles and sacrifices one must endure for both love and art.
About the Author
STEPHANE MICHAKA was born in Paris in 1974. He studied at Cambridge University and taught French in South Africa before embarking on a writing career. He has written theater pieces, children's books, television scripts, and radio plays. "Scissors" is his third novel.
Praise For Scissors…
Praise for Scissors

"[An] empathetic exploration of an author's soul, his allegiance to his writing above all else, and the increasingly painful submission to his editor that eventually leads to a breaking point ... Like the best literary homages, Scissors evokes a craving for the original — and, in this case, further consideration of the aesthetic questions at the heart of Carver's published work."—NPR

"[Scissors] takes readers deep into the creative life. Funny, sad, and deeply compassionate, Scissors is a unique and engaging novel that ponders life, love, and the importance of believing in ourselves and in our chosen work."—Booklist

"Whether or not you know anything about Carver and his stories matters little. Stéphane Michaka's talent and the attention he brings to each of his characters suffice to rivet the reader to his words. He breathes life into the trio as they revolve around the central figure of the writer, the man without certainties, whose work, although butchered by his editor, has been passed down to posterity."—Le Figaro

"Stéphane Michaka performs the prodigious feat of intertwining four biographies to produce a powerful reflection on literature itself."—Le Monde 

"This book is a novel about writing. Stéphane Michaka excels in inventing stories that Carver himself could have penned. But this book is also a love story, full of power and inebriation. But also painful, like a hangover, and abiding long after the definitive separation. Scissors is at once fascinating and beautiful, engrossing and brilliantly structured ... Reading this novel will immerse you in a haunting, lived narrative experience. As Raymond Carver's work does."—L'Avenir

"Ambitious and deftly woven, Stéphane Michaka's novel is fascinating whether or not you know about Raymond Carver and his editor Gordon Lish. As a stylist whose main concerns are emotions and human frailty, Michaka successfully depicts a writer in his everyday existence. Someone who struggles incessantly with words and with his own doubts. Someone whose texts, imbued with a rare empathy, evoke the shocks and jolts of life and make the real both poignant and poetic."—Le Journal du Dimanche
 
"The book's debts to its famous subjects are repaid. It is a measure of the book's success that readers need no knowledge of its famous subjects to appreciate it. Daring and impressive."—Kirkus Reviews
or
Not Currently Available for Direct Purchase