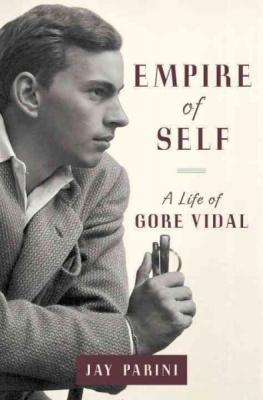 Empire of Self
A Life of Gore Vidal
Hardcover

* Individual store prices may vary.
Other Editions of This Title:
Digital Audiobook (10/12/2015)
Paperback (9/20/2016)
MP3 CD (10/13/2015)
Compact Disc (10/13/2015)
Compact Disc (10/13/2015)
Description
An intimate, authorized yet totally frank biography of Gore Vidal (1925–2012), one of the most accomplished, visible, and controversial American novelists and cultural figures of the past century 


The product of thirty years of friendship and conversation, Jay Parini's Empire of Self digs behind the glittering surface of Gore Vidal's colorful career to reveal the complex emotional and sexual truths underlying his celebrity-strewn life. But there is plenty of glittering surface as well—a virtual Who's Who of the twentieth century, from Eleanor Roosevelt and Amelia Earhart through the Kennedys, Johnny Carson, Leonard Bernstein, and the crème de la crème of Hollywood. Also a generous helping of feuds with the likes of William F. Buckley, Norman Mailer, Truman Capote, and The New York Times, among other adversaries. 
     The life of Gore Vidal teemed with notable incidents, famous people, and lasting achievements that call out for careful evocation and examination. Jay Parini crafts Vidal's life into an accessible, entertaining story that puts the experience of one of the great American figures of the postwar era into context, introduces the author and his works to a generation who may not know him, and looks behind the scenes at the man and his work in ways never possible before his death. Provided with unique access to Vidal's life and his papers, Parini excavates many buried skeletons yet never loses sight of his deep respect for Vidal and his astounding gifts. This is the biography Gore Vidal—novelist, essayist, dramatist, screenwriter, historian, wit, provocateur, and pioneer of gay rights—has long needed.
Praise For Empire of Self: A Life of Gore Vidal…
Praise for Empire of Self:

"The incomparable wit, the literary genius, the dazzling friends, the staggering output, the politics, the sex, the drink, the dreadful mother and the awful last days—it's all here. It's like, for a time, enjoying Gore's priceless company again. This is as good as biography gets."
—Dick Cavett

"Though Mr. Parini says he didn't want to write a memoir of his friendship with Vidal, it's when he does so that Empire of Self is at its finest.... Vidal had at one point asked Mr. Parini to be his literary executor. When Vidal died, Mr. Parini says he was relieved to discover that this burdensome task had not been left to him. 'The problem,' he writes, 'was that nobody assumed this role.' But in this book he essentially did."
—The New York Times

"Marvelous.... Given Vidal's sensitivity to any slight, real or imagined, Parini wisely declined an offer that he write his story during his lifetime. The wait has allowed the author, whose friendship with Vidal began in the 1980s, to produce a portrait that is both affectionate and balanced." 
—The Economist

"In Empire of Self, the first posthumous biography of Vidal, Jay Parini takes a long view of Vidal's eccentricities, shedding new light on the legacy-building efforts of one of the twentieth century's great public intellectuals."
—Boston Review

"Parini precedes each chapter with a vignette, a focused memory from his own experiences with Vidal. They range from amusing to deeply moving. Parini is a wise general biographer of a literary figure. He tells us about each of Vidal's major works (and the major reviews thereof) but never in prose choked with jargon or self-importance. The goals are exposition and elucidation, and he achieves them gracefully.... A superbly personal biography that pulsates with intelligence, scholarship, and heart."
—Kirkus Reviews, starred review

"...[A] constantly memorable biography that will no doubt be the best Vidal will ever get."
—The Buffalo News

"More than anything, Parini reveals, Vidal feared 'becoming a rumor in his own time'—and forgotten when he was dead. 'One feels the Great Eraser always at work,' he said again and again in conversations and letters. Empire of Self may stay the hand of the Great Eraser."
—The Philadelphia Inquirer

"Parini nicely describes the 'lofty intimacy' of Vidal's style, and makes a strong case for Vidal as one of the critics who helped to 'enlarge and redefine' the book-review essay."
—The New Yorker

"The outstanding quality—no, just one of the outstanding qualities—of this tour de force of effective biography is the dexterity, the balance with which Parini handles the two acute sides of his subject, Vidal the 'angel' and Vidal the 'monster.' ... It is a book of greatly astute literary understanding, prepared with a vitality that perfectly suits Vidal's fast-paced, vivid life."
—Booklist, starred review

"Acclaimed biographer Parini (Robert Frost: A Life) draws on his 30 years of friendship and conversation with Gore Vidal (1925–2012), as well as on deep archival research, to offer a simultaneously admiring and candid portrait.... Vidal emerges as a brave and provocative political observer, yet a shy man, who, as Parini observes, wore the 'elaborately contrived mask of Gore Vidal.' Parini's access to Vidal and his thoughtful reflections on him establish this as the definitive biography of a major writer."
—Publishers Weekly

"...Parini has produced a balanced account of a man of immense talent who sometimes used it wisely and other times didn't. Lively and insightful, this book should find favor among lovers of literature and biography. It's got heart."
—Library Journal

"Like Hemingway, Vidal was a great writer in spite of being a bastard. [Jay] Parini shows him warts and all. Empire of Self is an excellent biography."
—National Review

"One of the most captivating and controversial personalities of modern American literature has been brought brilliantly back to life by one of contemporary America's most masterful biographers."
—Miranda Seymour, author of Ottoline Morell: Life on the Grand Scale and Mary Shelley

"Jay Parini's book about Gore Vidal is a winner. He has done the impossible—written about a monster of egotism with incredible empathy. His deep knowledge of Vidal makes this book a masterpiece of biography. He has combined the personal with the public in a unique way. Empire of Self is full of life and humor."
—Erica Jong, author of Fear of Flying and Fear of Dying

"Gore Vidal was a giant on the American scene, in the American century, equally at home with Hollywood and Broadway stars, Washington politicians, famous writers and European aristocrats. He was a great wit as well. In a miraculous way, Jay Parini has conjured this splendid, amusing, inexplicable life, creating a book that has everything: sex and humor, American history, even wisdom. One of the finest biographies of recent years."
—Gay Talese

"Jay Parini has written a clear-eyed, level, captivating, and brilliantly-paced biography of the liveliest and most ferocious American writer of the last century, the King of Zing, Gore Vidal. Thought to have secured the 'life rights' to his own story by many gambits in memoir, Vidal registers as a bolder provocateur in life, art, and politics than even he realized. This brisk and vital account convinces that Vidal has not diminished with time; it's our pages that got small."
—Brad Gooch, author of Flannery: A Life of Flannery O'Connor and City Poet: The Life and Times of Frank O'Hara

"The veteran biographer Jay Parini has earned the right to call his latest subject by his first name; he followed on the trail of this large American presence for thirty years. The result is an intimate portrait of a vivid, brilliant, famously irascible figure who knew everyone and wrote everything—from novels to movie scripts to essays and plays—in his astonishingly prolific career. Written with élan and confident erudition, Empire of Self is one of the most engaging biographies of our time."
—James Atlas, author of Delmore Schwartz: The Life of An American Poet and Bellow: A Biography
Doubleday, 9780385537568, 480pp.
Publication Date: October 13, 2015
About the Author
JAY PARINI, a poet and novelist as well as biographer, is Axinn Professor of English at Middlebury College. His novels include The Last Station (adapted as an Academy Award-nominated film and translated into more than thirty languages), Benjamin's Crossing, and The Passages of H.M.  His poetry includes The Art of Subtraction: New and Selected Poems, and the forthcoming New and Collected Poems, 1975-2015. He has written biographies of Robert Frost, John Steinbeck, William Faulkner, and Jesus. Among his nonfiction books are Why Poetry Matters and Promised Land: Thirteen Books that Changed America.
or
Not Currently Available for Direct Purchase