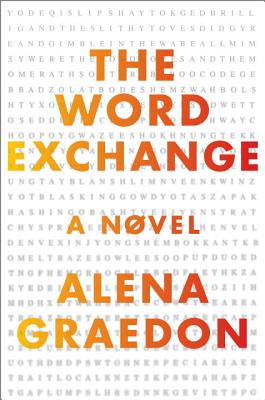 The Word Exchange
Hardcover

* Individual store prices may vary.
Other Editions of This Title:
Paperback (2/3/2015)
Compact Disc (4/8/2014)
MP3 CD (4/8/2014)
Compact Disc (4/8/2014)
Description
A dystopian novel for the digital age, "The Word Exchange "offers an inventive, suspenseful, and decidedly original vision of the dangers of technology and of the enduring powerof the printed word.
In the not-so-distant future, the forecasted death of print has become a reality.Bookstores, libraries, newspapers, and magazines arethings of the past, and we spend our time glued tohandheld devices called Memes that not only keepus in constant communication but also have becomeso intuitive that they hail us cabs before we leave ouroffices, order takeout at the first growl of a hungrystomach, and even create and sell language itself in a marketplace called the Word Exchange.
Anana Johnson works with her father, Doug, at the "North American Dictionary of the English Language (NADEL"), where Doug is hard at work on the last edition that will ever be printed. Doug is a staunchly anti-Meme, anti-tech intellectual who fondly remembers the days when people used email (everything now is text or videoconference) to communicate or even actually spoke to one another, for that matter. One evening, Doug disappears from the "NADEL" offices, leaving a single written clue: ALICE. It's a code word he devised to signal if he ever fell into harm's way. And thus begins Anana's journey down the proverbial rabbit hole . . .
Joined by Bart, her bookish "NADEL" colleague, Anana's search for Doug will take her into dark basements and subterranean passageways; the stacksand reading rooms of the Mercantile Library; andsecret meetings of the underground resistance, theDiachronic Society. As Anana penetrates the mystery of her father's disappearance and a pandemic of decaying language called word flu spreads, "TheWord Exchange "becomes a cautionary tale that is at once a technological thriller and a meditation onthe high cultural costs of digital technology.
Praise For The Word Exchange…
Praise for THE WORD EXCHANGE:

"A wildly ambitious, darkly intellectual and inventive thriller about the intersection of language, technology and meaning."
—Kirkus, starred review

"[A] spectacular, ambitious debut... With secret societies, conspiracies, and mega-corp Synchronic's menacing technologies, Graedon deploys all the hallmarks of a futuristic thriller, but avoids derivative doomsday sci-fi shtick. Instead, her novel is rife with literary allusions and philosophical wormholes that aren't only decorative but integral to characters' abilities and limitations in communicating, and it succeeds precisely because it's as full of humanity as it is of mystery and intellectual prowess."
—Publishers Weekly, starred review

"What if we became so dependent on our gadgets that we lost our ability to speak? That's the big idea in Graedon's entertainingly scary debut... This is a remarkable first novel, combining a vividly imagined future with the fondly remembered past to offer a chilling prediction of where our unthinking reliance on technology is leading us. And, as you'd expect, Graedon's word choice is exquisite."
—Booklist, starred review

"Alena Graedon's spectacular debut is a story for our age of  'accelerated obsolescence.' A genuinely scary and funny mystery about linguistic slippage and disturbance, it's also a moving meditation on our sometimes comic, sometimes desperate struggles to speak, and to listen, and to mean something to one another. To borrow Graedon's own invention, The Word Exchange is 'Synchronic' -- a gorgeous genre mashup that offers readers the pleasures of noir, science fiction, romance and philosophy. It's an unforgettable joyride across the thin ice of language." 
—Karen Russell, author of Swamplandia! and Vampires in the Lemon Grove

"Imaginative, layered, and highly original, The Word Exchange is an engagingly creepy story of technology gone wrong and a clever meditation on the enduring mysteries of language and love."
—Karen Thompson Walker, author of The Age of Miracles

"Wow! This highly addictive future noir is also terrifyingly prescient. Set in a parallel New York filled with language viruses, pneumatic tubes, and heartbreak, Alena Graedon's book is luminous and haunting at every turn. I will never look at words in quite the same way—and neither will you."
—Reif Larsen, author of The Selected Works of T.S. Spivet
Doubleday Books, 9780385537650, 370pp.
Publication Date: April 8, 2014
About the Author
Alena Graedon was born in Durham, North Carolina, and is a graduate of Brown University and the Columbia MFA program. She lives in Brooklyn, New York. This is her first novel.
or
Not Currently Available for Direct Purchase