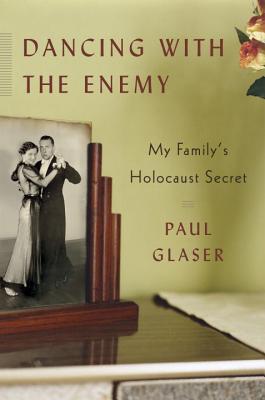 Dancing with the Enemy
My Family's Holocaust Secret
Hardcover

* Individual store prices may vary.
Other Editions of This Title:
Paperback (5/12/2015)
Paperback (7/21/2015)
Description
The gripping story of the author's aunt, a Jewish dance instructor who was betrayed to the Nazis by the two men she loved, yet managed to survive WWII by teaching dance lessons to the SS at Auschwitz. Her epic life becomes a window into the author's own past and the key to discovering his Jewish roots.
Raised in a devout Roman Catholic family in the Netherlands, Paul Glaser was shocked to learn as an adult of his father's Jewish heritage. Grappling with his newfound identity and stunned by his father's secrecy, Paul set out to discover what happened to his family during World War II and what had caused the long-standing rift between his father and his estranged aunt, Rosie, who moved to Sweden after the war. Piecing together his aunt's wartime diaries, photographs, and letters, Paul reconstructed the dramatic story of a woman who was caught up in the tragic sweep of World War II.
Rosie Glaser was a magnetic force - hopeful, exuberant, and cunning. An emancipated woman who defied convention, she toured Western Europe teaching ballroom dancing to high acclaim, falling in love hard and often. By the age of twenty-five, she had lost the great love of her life in an aviation accident, married the wrong man, and sought consolation in the arms of yet another. Then the Nazis seized power. For Rosie, a nonpracticing Jew, this marked the beginning of an extremely dangerous ordeal. After operating an illegal dance school in her parents' attic, Rosie was betrayed by both her ex-husband and her lover, taken prisoner by the SS and sent to a series of concentration camps. But her enemies were unable to destroy her and, remarkably, she survived, in part by giving dance and etiquette lessons to her captors. Rosie was an entertainer at heart, and her vivacious spirit, her effervescent charm, and her incredible resourcefulness kept her alive amid horrendous tragedy. Of the twelve hundred people who arrived with her at Auschwitz, only eight survived. Illustrated with more than ninety photos, "Dancing with the Enemy" recalls an extraordinary life marked by love, betrayal, and fierce determination. It is being published in ten languages.
Praise For Dancing with the Enemy: My Family's Holocaust Secret…
"I could not put down this powerfully haunting story. . . . The author takes readers on a gripping journey. . . . Passionate, clever, resourceful, and determined, Rosie was a powerful force. This story reminds us once again of the resiliency of the human spirit and its ability to endure, overcome and even dance amidst unthinkable tragedy."
—Cleveland Jewish News

"Family secrets run deep. When Dutch-born Glaser started digging up his hidden Jewish past, he learned that his estranged aunt Rosie had survived Nazi concentration camps by giving dancing lessons to the guards and having affairs with more than one. Letters, archives, diaries, relatives and family friends lead the writer, at last, to Rosie Glaser herself, and to an extraordinary story of an unconventional, nervy woman and her determination to survive."
—The New York Post

"[Rosie Glaser] led one of the most extraordinary lives of the 20th century. . . . [A] riveting story. . . . What is undeniable . . . is Rosie's fearless strength in facing her fate and her refusal to become a victim. She refers little to the brutality she encountered, but frequently mentions the little kindnesses extended by the Germans. The will to survive is powerful indeed."
—The Washington Times

"A compelling story about how one prisoner charmed and danced her way to survival. A fascinating read that also exposes the calumnies of the Dutch people and government both during the war and after it."
—Deborah E. Lipstadt, Dorot Professor of Modern Jewish and Holocaust Studies, Emory University

"A readable, personable study and a scathing indictment of Dutch passivity in the face of occupation."
—Kirkus Reviews

"Glaser weaves together his interviews with Rosie in Sweden and his research into her amazing letters and diaries, and he tells the story in her voice parallel with his surprising discoveries of his own identity. . . . An essential addition to the Holocaust collection."
—Booklist

"Rosie was unconventional, exuberant and ever optimistic, and her spirit comes through in these pages."
—Jewish Woman magazine
Nan A. Talese, 9780385537704, 299pp.
Publication Date: September 10, 2013
About the Author
Paul Glaser was born in the Netherlands shortly after World War II. He has held management positions in a number of educational and health-care institutions, including periods as director of a psychiatric hospital and as CEO of a large organization that works with the mentally handicapped. He has also been involved in the establishment of a historical printing museum, a regional theater, and a Montessori secondary school.
Book Videos
or
Not Currently Available for Direct Purchase