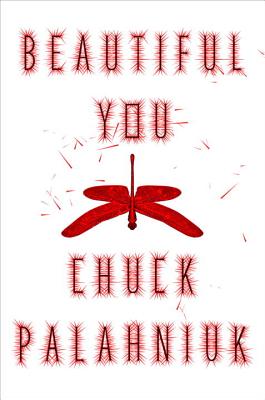 Beautiful You
A Novel
Hardcover

* Individual store prices may vary.
Other Editions of This Title:
Digital Audiobook (10/20/2014)
Digital Audiobook (12/3/2014)
Paperback (7/21/2015)
Description
"A billion husbands are about to be replaced."

From the author of Fight Club, the classic portrait of the damaged contemporary male psyche, now comes this novel about the apocalyptic marketing possibilities of a new product that gives new meaning to the term "self-help." 

Penny Harrigan is a low-level associate in a big Manhattan law firm with an apartment in Queens and no love life at all. So it comes as a great shock when she finds herself invited to dinner by one C. Linus Maxwell, a software mega-billionaire and lover of the most gorgeous and accomplished women on earth. After dining at Manhattan's most exclusive restaurant, he whisks Penny off to a hotel suite in Paris, where he proceeds, notebook in hand, to bring her to previously undreamed-of heights of gratification for days on end. What's not to like? This: Penny discovers that she is a test subject for the final development of a line of feminine products to be marketed in a nationwide chain of boutiques called Beautiful You. So potent and effective are these devices that women by the millions line up outside the stores on opening day and then lock themselves in their room with them and stop coming out. Except for batteries. Maxwell's plan for battery-powered world domination must be stopped. But how?
Praise For Beautiful You: A Novel…
Praise for Beautiful You:

"Sex is on the mind of author Chuck Palahniuk, and it is taken to extremes and tweaked to outrageous lengths in his latest novel, Beautiful You. 50 Shades of Grey this isn't. In fact, the book is almost a middle finger to "mommy porn" and the popularity of modern erotica — while also being a smart, satirical take on misogyny, fame, the fashion industry, self-help and science... Palahniuk's graphic storytelling is bound to ruffle puritanical feathers—which is probably part of his point—but it's essential to the societal takedown. Nothing is sacred and everything gets torched, from pop culture (at one point vampire novels are used as thrown weapons, an obvious Twilight reference) to celebrity."
—USA Today

"[Palahniuk's] legion of fans will adore all its excesses.... [G]reat fun..."
—San Francisco Chronicle

"The author of Fight Club offers barbed social satire that turns Aristophanes' Lysistrata sideways; giving readers something to talk about."
—Library Journal

"Palahniuk continues to push limits in this satire of sex and consumerism... His cheeky wit is at its best in this grotesque novel; his semi-erotic writing is efficacious and there are some downright beautiful scenes."
—Publishers Weekly

"...[A] subtle and empathic piece of work."
—Kirkus Reviews

Doubleday, 9780385538039, 240pp.
Publication Date: October 21, 2014
About the Author
CHUCK PALAHNIUK is the author of thirteen novels—Doomed, Damned, Tell-All, Pygmy, Snuff, Rant, Haunted, Diary, Lullaby, Choke, Invisible Monsters, Survivor, and Fight Club—which all have sold more than five million copies in the United States. He is also the author Fugitives and Refugees, published as part of the Crown Journey Series, and the nonfiction collection Stranger Than Fiction. He lives in the Pacific Northwest. Visit him on the web at chuckpalahniuk.net.
or
Not Currently Available for Direct Purchase