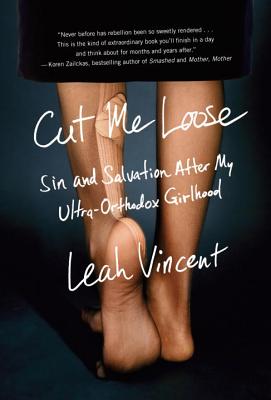 Cut Me Loose (Hardcover)
Sin and Salvation After My Ultra-Orthodox Girlhood
Nan A. Talese, 9780385538091, 240pp.
Publication Date: January 21, 2014
Other Editions of This Title:
Digital Audiobook (1/20/2014)
MP3 CD (1/21/2014)
Paperback (5/12/2015)
Compact Disc (1/21/2014)
Compact Disc (1/21/2014)
* Individual store prices may vary.
Description
In the vein of Prozac Nation and Girl, Interrupted, an electrifying memoir about a young woman's promiscuous and self-destructive spiral after being cast out of her ultra-Orthodox Jewish family

Leah Vincent was born into the Yeshivish community, a fundamentalist sect of ultra-Orthodox Judaism. As the daughter of an influential rabbi, Leah and her ten siblings were raised to worship two things: God and the men who ruled their world. But the tradition-bound future Leah envisioned for herself was cut short when, at sixteen, she was caught exchanging letters with a male friend, a violation of religious law that forbids contact between members of the opposite sex. Leah's parents were unforgiving. Afraid, in part, that her behavior would affect the marriage prospects of their other children, they put her on a plane and cut off ties. Cast out in New York City, without a father or husband tethering her to the Orthodox community, Leah was unprepared to navigate the freedoms of secular life. She spent the next few years using her sexuality as a way of attracting the male approval she had been conditioned to seek out as a child, while becoming increasingly unfaithful to the religious dogma of her past. Fast-paced, mesmerizing, and brutally honest, Cut Me Loose tells the story of one woman's harrowing struggle to define herself as an individual. Through Leah's eyes, we confront not only the oppressive world of religious fundamentalism, but also the broader issues that face even the most secular young women as they grapple with sexuality and identity.
About the Author
Leah Vincent is a writer and activist. The first person in her family to go to college, she went on to earn a master's in public policy from the Harvard Kennedy School. In addition to writing for various publications, including "The Huffington Post" and "The Jewish Daily Forward," she is an advocate for reform within ultra-Orthodoxy and for the empowerment of former ultra-Orthodox Jews seeking a self-determined life. She works with Footsteps, the only organization in the United States supporting formerly ultra-Orthodox individuals.
Praise For Cut Me Loose: Sin and Salvation After My Ultra-Orthodox Girlhood…
"Wrenching ... Her book should be read, not just as a warning of the very real dangers of the world, but also of the price to be paid when, in the name of religion, people forget humanity." —The Wall Street Journal

"A sometimes-sweet, sometimes-harrowing memoir by a smart, passionate ultra-Orthodox girl. . . . engrossing and so thoughtfully written, and never mocks the traditions and values of a culture that few of us can fully comprehend." —People.com

"Painfully raw." —Susannah Cahalan, New York Post

"As thoughtful and heroic as it is gripping and tragic ... riveting and relatable ... [Vincent] familiarizes, rather than exoticizes, the life she's led ... The finest example of this sort of memoir yet." —Flavorwire

"Visceral and uplifting." —The Daily Beast

"Compulsively readable." —Bookpage

"Never before has rebellion been so sweetly rendered. And never—not since the memoirs of Mary Karr—has the connection between self-destruction and family dysfunction been so tangible and clear. To know Vincent is to love her, to ache with her, to kick up your feet and let down your hair with her. This is the kind of extraordinary book you'll finish in a day, and think about for months and years after." —Koren Zailckas, bestselling author of Smashed and Mother, Mother

"Cut Me Loose brims with a girl's longing, and shines with a woman's insight. This book so courageously describes the forbidden: the great bind of being caught between desire and tradition. Vincent's voice is as lyrical as it brave, as hopeful as it is honest. Leah Vincent magically depicts the labyrinth of what it means to be vulnerable, sexual and female." —Christa Parravani, author of Her

"Gutsy, smart, and incredibly difficult to put down, Cut Me Loose chronicles Leah Vincent's perilous and poignant search for identity. As she grapples with profound loneliness and her dreams for the future, she ultimately arrives at a place filled with hope." —Wendy Lawless, author of Chanel Bonfire

"Leah Vincent's memoir is a fascinating view into Yeshivish life that feels as familiar to the reader as her own life because, Orthodox or not, we all grew up wrestling against our forbidden desires, mundane and normal as they were. Vincent's story is full of despair, of longing, of trying to find a place for herself amid a world that doesn't allow girls to be their whole yearning selves. The reader cheers for her when she finally escapes the prisons built by the various institutions she grew up with." —Kerry Cohen, author of Loose Girl: A Memoir of Promiscuity

"Leah Vincent's family abandoned her in the name of ultra-Orthodox Judaism. In her poignant memoir, she explores the imposed ignorance of her fundamentalist upbringing, the open wounds of her abandonment, her desperate, at times self-destructive, yearning for connection, and the self-discoveries that gave her the courage to shape her life and find her voice. The voice Vincent has claimed is unflinchingly honest and incisive. It has already begun to resound on behalf of others who struggle to escape abuse and oppression." —Anouk Markovits, author of I Am Forbidden

"Vincent's writing brims with tension, insight, and longing. This quickly paced book is not about sex, though sex is a part of the narrative. It's ultimately a meditation on love and its myriad cruelties, as well as its eventual beauty and transcendence." —Margaux Fragoso, author of Tiger, Tiger

"Leah Vincent shares a harrowing journey that will speak to all children fleeing intolerance, who struggle to be seen and accepted on their own terms." —Julie Metz, bestselling author of Perfection
Coverage from NPR
or
Not Currently Available for Direct Purchase