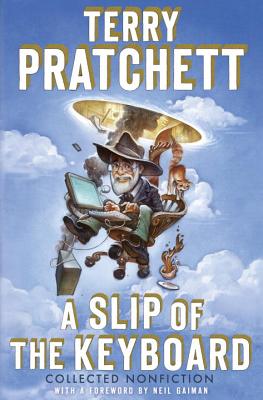 A Slip of the Keyboard: Collected Nonfiction (Hardcover)
Collected Nonfiction
Doubleday Books, 9780385538305, 336pp.
Publication Date: September 23, 2014
Description
Terry Pratchett has won the hearts and minds of readers around the globe with his bestselling Discworld series of novels. But what his many fans may not realize is that he has been writing nonfiction throughout his career. Some of it relates to Discworld, of course, but much of it--especially in recent years--is part of his outspoken campaigns for causes such as Alzheimer's research and animal rights. A Slip of the Keyboard is the first collection of Pratchett's nonfiction work, and it brings together the finest examples of his extraordinary wit and his persuasive prose. Whether in short opinion pieces (on death and taxes), or in long essays, speeches, and interviews (covering a range of topics from mushrooms to orangutans), this collection is a fascinating look inside an extraordinary writer's mind. It includes his remarks at science-fiction and fantasy conventions, his thoughts on the importance of banana daiquiris on book tours, his observations on fan mail, and his belief that an author is obligated to sign anything a fan puts in front of him (especially if it is very sharp). He also writes about the books that shaped his love of language and legends, not to mention his entrance into science-fiction fandom when he attended his first sci-fi convention as a teenager.
Filled with all the humor and humanity that have made his novels so enduringly popular, this collection brings Pratchett out from behind the scenes of Discworld to speak for himself--man and boy, bibliophile and computer geek; a champion of hats, orangutans, and Dignity in Dying.
With a foreword by Pratchett's close friend and Good Omens coauthor Neil Gaiman to lead off, A Slip of the Keyboard is a must-have for any Pratchett fan.
About the Author
TERRY PRATCHETT is the acclaimed creator of the global bestselling Discworld series, the first of which, The Colour of Magic, was published in 1983. In all, he is the author of over fifty bestselling books. His novels have been widely adapted for stage and screen, and he is the winner of multiple prizes, including the Carnegie Medal, as well as being awarded a knighthood for services to literature. Worldwide sales of his books now stand at over 75 million, and they have been translated into thirty-seven languages.
Advertisement