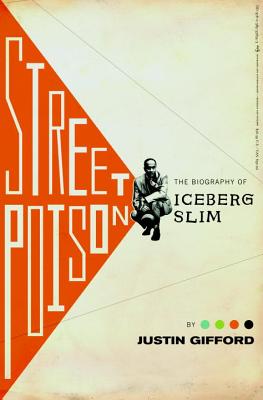 Street Poison
The Biography of Iceberg Slim
Hardcover

* Individual store prices may vary.
Other Editions of This Title:
Digital Audiobook (8/3/2015)
Paperback (1/2/2018)
Compact Disc (8/4/2015)
MP3 CD (8/4/2015)
Description
The first and definitive biography of one of America's bestselling, notorious, and influential writers of the twentieth century: Iceberg Slim, né Robert Beck, author of the multimillion-copy memoir Pimp and such equally popular novels as Trick Baby and Mama Black Widow. From a career as a, yes, ruthless pimp in the '40s and '50s, Iceberg Slim refashioned himself as the first and still the greatest of "street lit" masters, whose vivid books have made him an icon to such rappers as Ice-T, Jay-Z, and Snoop Dogg and a presiding spirit of "blaxploitation" culture. You can't understand contemporary black (and even American) culture without reckoning with Iceberg Slim and his many acolytes and imitators.

Literature professor Justin Gifford has been researching the life and work of Robert Beck for a decade, culminating in Street Poison, a colorful and compassionate biography of one of the most complicated figures in twentieth-century literature. Drawing on a wealth of archival material—including FBI files, prison records, and interviews with Beck, his wife, and his daughters—Gifford explores the sexual trauma and racial violence Beck endured that led to his reinvention as Iceberg Slim, one of America's most infamous pimps of the 1940s and '50s. From pimping to penning his profoundly influential confessional autobiography, Pimp, to his involvement in radical politics, Gifford's biography illuminates the life and works of one of American literature's most unique renegades.
Praise For Street Poison: The Biography of Iceberg Slim…
Praise for Street Poison:

"Mr. Gifford's taut biography is important and overdue. The author, an associate professor of English literature at the University of Nevada, Reno, is a dogged researcher who arrives at a somewhat unexpected conclusion: The stories in Pimp are mostly true."
—Dwight Garner, The New York Times

"Writing the life of a celebrated memoirist can be a daunting and thankless task, but Justin Gifford handles the job with aplomb in his new book, Street Poison. A decade's worth of research allows him frequently to correct the record where Pimp and Beck's other autobiographical writings may have fudged the facts. But Gifford's greatest achievement is placing Beck's life within the context of larger social, political and economic changes."
—Jon Michaud, The Washington Post

"Gifford writes that 'as a master teller of tales, [Beck] also occasionally embellished the truth.' That would make him a challenge for any biographer, but Gifford meets it with a combination of solid research and genuine compassion for this complex, often troubled man.... 'I have tried to tell his tale the way he might have wanted: clearly, honestly, and without moralizing,' Gifford writes. By refusing to either idealize or demonize his subject, he succeeds."
—Kate Tuttle, The Boston Globe

"Gifford patiently crafts a narrative that shows how Beck, a Chicago pimp, became the godfather of hip-hop, an integral cog in Hollywood's Blaxploitation era and one of the most-read black authors of the 20th century. In addition to providing phenomenally researched material into the life and writings of Beck, including FBI files, unpublished fiction and letters written from Beck to his publisher, Gifford provides us with robust historical, pointed political context for new and seasoned readers of Beck's novels Pimp, Trick Baby and Mama Black Widow.
—Kiese Laymon, Los Angeles Times

"Iceberg Slim has something timeless to say not just to gangsta rappers, but to all Americans, black and white, rich and poor, male and female, criminal and law-abiding. It's in his books, and it's in the pages of the timely and richly rewarding biography Street Poison."
—Bill Morris, The Millions

"Justin Gifford's Street Poison is the first biography of the man known as Iceberg Slim, and it is hard to imagine how it could be topped. Like the man himself, Poison is complex, eloquent and ferocious."
—Christopher Schobert, The Buffalo News

"A groundbreaking biography of a black writer whose bestselling novels about his criminal youth had a deep influence on African American writing and culture."
—Tom Lavoie, Shelf Awareness

"The first biography of Robert Beck, aka Iceberg Slim, (1918-1992), builds a compelling case that the pimp-turned-popular author provided the foundation for gangsta rap, Blaxploitation movies, and so much of the underground culture that became mainstream. Gifford transcends the opacity of academic writing in this lively account... 'This is not a story without tragedy....But it is a story of redemption and breathtaking creativity, too,' writes Gifford, who not only tells the story well, but shows why it's so significant."
—Kirkus Reviews, starred review

"Gifford's dramatic, hard-core, contextually dynamic, and powerfully affecting biography is sharply relevant to today's civil rights struggles."
—Booklist, starred review

"[A] thoroughly engrossing biography . . . In addition to lucid critical assessments of Beck's published and unpublished works, Gifford offers a flavorful account of African-American cultural and  social history. He makes an entertaining, informing and most persuasive argument that a writer 'practically unknown in the American [literary] mainstream is arguably one of the most influential figures of the past fifty years.'"
—Publishers Weekly

"Gifford has written a remarkably researched, fascinating life story of popular writer Robert "Iceberg Slim" Beck (1918–92). The author's material is not high literature, and his life can be difficult to read, but Gifford makes a strong case for the enormous popular appeal and the continuing widespread influence of Iceberg Slim."
—Library Journal
Doubleday, 9780385538343, 288pp.
Publication Date: August 4, 2015
About the Author
Dr. Justin Gifford is an Associate Professor of English Literature at the University of Nevada, Reno. His teaching and research focus on American and African American literature. His book, the first literary and cultural history of black street fiction, Pimping Fictions: African American Crime Literature and the Untold Story of Black Pulp Publishing, was a finalist for both the Edgar Allan Poe award for literary criticism and Phi Beta Kappa's Christian Gauss Award for scholarship.
or
Not Currently Available for Direct Purchase