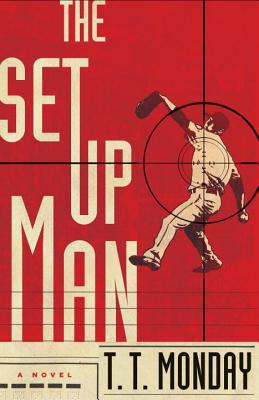 The Setup Man
Hardcover

* Individual store prices may vary.
Other Editions of This Title:
Digital Audiobook (3/10/2014)
Paperback (12/2/2014)
Description
May Johnny Adcock's careers as a relief pitcher and sleuth motor on for a very long time."--David Baldacci
A throwback Southern California mystery in modern pinstripes . . .A treat for readersof mystery orbaseball novels. KIRKUS REVIEWS
Johnny Adcock is an aging Major League pitcher with the perfect retirement plan he moonlights as a private investigator. Major League Baseball, as it turns out, is a prime source of employment for a philosophicallyinclined, discreet detective who has both the brains and the brawn to handle the unique problems of professional athletes. Those infamous baseball salaries attract gangsters, hustlers, and predators of every persuasion who prey on the outsized egosof primetime stars. When players, coaches, agents, or wives have a problem they can t make public, they call Johnny Adcock.
On the team bus after a game, teammate Frankie Herrera confides in Adcock that he has a problem with his wife. What sounds like the standard story of a pro athlete's marriage gone sour quickly turns into the most dangerous case of Adcock's second career when Frankie is killed in a car accident, leaving far too many questions unanswered.
The investigation takes Adcock into uncharted territory, drawing him into a deadly ring of murder, porn, Mexican cartels, and a conspiracy that threatens to become the biggest scandal to hit baseball since HGH and steroids.
A new heavy hitter on the thriller scene, T. T. Monday takes readers inside a rich and highly entertaining world where crime and baseball intersect and delivers a debut that moves like a 96-mile-an-hour fastball.
Praise For The Setup Man…
"The Setup Man teems with sex, violence — and baseball....[T.T.] Monday has pitched readers a dandy tale. He deserves promotion to the starting rotation of thriller writers."
--St. Louis Post-Dispatch

"A Home Run!  What else can you call the funny, riveting, absolutely first-rate debut by T.T. Monday about a professional baseball player who moonlights as a private investigator?  I loved this book and its hero, Johnny Adcock. (Note to reader:  I'm not even a baseball fan.)"
--Christopher Reich, New York Times bestselling author of Rules of Betrayal and The Prince of Risk

"I'm a sucker for baseball fiction. I'm a sucker for private detective fiction. That makes me a double sucker for The Setup Man by T.T. Monday. I was more than happy to ride shotgun with Johnny Adcock as he battled Mexican drug lords, surrendered dingers to steroid-muscled designated hitters and described everything with a sense of humor even in the midst of great physical or emotional pain. Much fun, much fun, much fun."
--Leigh Montville, New York Times bestselling author of The Big Bam, and Ted Williams

"In The Setup Man, T. T. Monday trots out thrills and humor the way the Yankees trotted out Ruth and Gehrig. He adds a Murderers' Row of compelling characters, captained by relief pitcher/detective Johnny Adcock, a left-handed Travis McGee. And then there's the baseball, as realistic as in any novel about the sport (I've read them all): You'll feel as though you're alongside the players in the bullpen, dugout and clubhouse. Like spring training, Adcock's next adventure can't come soon enough."
--Keith Thomson, New York Times bestselling author of Once a Spy

"A sexy mystery with a rakish lead and a baseball plot that's ... pitch perfect."
--Milwaukee Journal-Sentinel

"Don't shy away from this mystery if you're not a baseball fan. The industry is seamlessly interwoven into the story and you'll pick up all you need to kno
w without any effort. If you are a baseball fan, dive in headfirst....This is the author's first thriller, but I hope it's not his last."
--Suspense Magazine

"Monday has a "Dragnet"-like, just-the-facts style and offers lots for baseball fans to enjoy as well, with lines like: 'I've always marveled at how much cops look like out-of-shape second basemen — or maybe how much second basemen (Jeff Kent, for example) look like in-shape cops.'"
--New York Post: This Week's Must-Read Books

"Johnny Adcock knows he's fortunate. He's paid $1.5 million per year for about 10 minutes' work, about 70 times a year. He's the Setup Man, whose job is to pitch the eighth inning, or even to pitch to a single left-handed batter. But he's also a realist. At 35, he's a senior citizen, a torn ligament away from retirement. So he moonlights as a PI, solving the myriad problems that can befall suddenly rich, usually headstrong young men....Monday's plot is inventive, but it's the verisimilitude of Adcock's baseball life that makes this one a delight. Adcock is a solid MLB citizen, but he's aware of the many quirks endemic in baseball's manners and mores, and he shares them freely with the reader. Here's hoping he has many more seasons and many more cases."
--Booklist, Starred review

"T.T. Monday's prose is wry, funny and just smartass enough...It helps in the pleasure if the reader knows baseball — Monday rates very high on the game's inside stuff — but even if you can't tell a hanging slider from an RBI, you'll still likely appreciate the book's sense of fun."
--Toronto Star

"A throwback Southern California mystery in modern pinstripes....A treat for readers of mystery or baseball novels, this debut will be especially enjoyable for fans of both."
--Kirkus Reviews

"There's plenty to like here. The main characters have intrigue; the relationship between Adcock and venture capitalist Bethany Pham is fun; and the whole baseball background lends a nice touch to what could be a continuing series. If you like the sport and mysteries, you might want to give this a try."
--Bookgasm.com

"Monday's clever debut introduces 35-year-old Johnny Adcock, a Major League Baseball player winding down a 13-year pro career and developing a sideline as an investigator whose clientele consists primarily of fellow ballplayers....Monday deftly describes the perks and pitfalls of life in pro ball—the highs, the lows, the boredom, the fragility—and the temptations. Monday...has delivered a rare double—a book that succeeds as both a mystery and a baseball novel."
--Publishers Weekly
Doubleday Books, 9780385538459, 262pp.
Publication Date: March 11, 2014
About the Author
T.T. MONDAY lives in San Jose, California. The Setup Man is his first thriller.
or
Not Currently Available for Direct Purchase