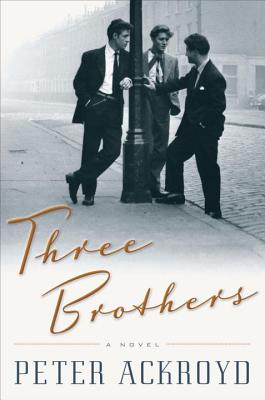 Three Brothers (Hardcover)
A Novel
Nan A. Talese, 9780385538619, 256pp.
Publication Date: March 4, 2014
* Individual store prices may vary.
Description
Rapier-sharp, witty, intriguing, and mysterious: a new novel from Peter Ackroyd set in the London of the 1960s.

Three Brothers follows the fortunes of Harry, Daniel, and Sam Hanway, a trio of brothers born on a postwar council estate in Camden Town. Marked from the start by curious coincidence, each boy is forced to make his own way in the world—a world of dodgy deals and big business, of criminal gangs and crooked landlords, of newspaper magnates, backbiters, and petty thieves.
      London is the backdrop and the connecting fabric of these three lives, reinforcing Ackroyd's grand theme that place and history create, surround and engulf us. From bustling, cut-throat Fleet Street to hallowed London publishing houses, from the wealth and corruption of Chelsea to the smoky shadows of Limehouse and Hackney, this is an exploration of the city, peering down its streets, riding on its underground, and drinking in its pubs and clubs. Everything is possible—not only in the new freedom of the 1960s but also in London's timeless past.
About the Author
Peter Ackroyd is an award-winning novelist, broadcaster, biographer, poet, and historian. His novel Hawksmoor won both the Guardian Fiction Prize and the Whitbread Novel Award. His fiction includes The Lambs of London, The Clerkenwell Tales, The Trial of Elizabeth Cree and, most recently, The Casebook of Victor Frankenstein. He lives in London and was awarded a CBE for services to literature.
Praise For Three Brothers: A Novel…
"[I]ntriguing, a clever romp and a rapid page-turner." —Minneapolis Star Tribune

"With overtones of Greek tragedy and Charles Dickens, this is a literary and engrossing parable and a loving tribute to London in all its depravity." —Library Journal, starred review

"[Ackroyd's] beloved London comes across as warm, coherent, and triumphantly alive." —Publishers Weekly

"Three Brothers is an alternative autobiography, a ghost story and a murder mystery all in one slim volume. Dickens, Blake, and Eliot—all subjects of lives by Ackroyd—cast shadows over the three-ply narrative that is full of chance and coincidence, 'alliances and affinities,' 'contenders and young pretenders,' shape-shifters and shirt-lifters ... The waspish vignettes of literary London and fusty academe are a delight. The air is full of poison—and echoes of other Ackroyd novels. He sees the capital as 'a web so taut and tightly drawn' that the slightest movement sets off a chain of events ... The brilliant result is the quintessence of Ackroyd." —The Telegraph

"Three Brothers [is] a London novel which is permeated by Dickens ... The themes—lost childhoods and crime—are Dickensian, and the novel is suffused with the author's awareness of the strangeness and often loneliness of the bleak streets of London. There is melodrama and comedy, and this too is Dickensian ... A book full of rich and sudden moments of delight." —The Scotsman

"London is a major character in the novel. In Ackroyd's accomplished hands the city becomes a mystical place, where visions abound. Highly recommended." —Daily Mail

"Three Brothers, an amalgam of social satire and noirish thriller, is vintage Ackroyd." —Financial Times

or
Not Currently Available for Direct Purchase