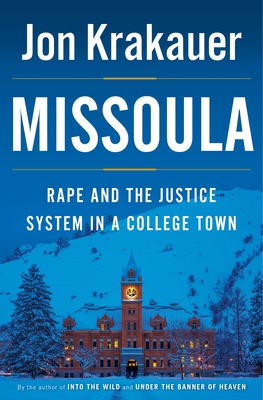 Missoula
Rape and the Justice System in a College Town
Hardcover

* Individual store prices may vary.
Other Editions of This Title:
Digital Audiobook (4/20/2015)
Paperback (1/12/2016)
Description
From bestselling author Jon Krakauer, a stark, powerful, meticulously reported narrative about a series of sexual assaults at the University of Montana ­— stories that illuminate the human drama behind the national plague of campus rape
 
Missoula, Montana, is a typical college town, with a highly regarded state university, bucolic surroundings, a lively social scene, and an excellent football team — the Grizzlies — with a rabid fan base.
 
The Department of Justice investigated 350 sexual assaults reported to the Missoula police between January 2008 and May 2012. Few of these assaults were properly handled by either the university or local authorities. In this, Missoula is also typical.
 
A DOJ report released in December of 2014 estimates 110,000 women between the ages of eighteen and twenty-four are raped each year. Krakauer's devastating narrative of what happened in Missoula makes clear why rape is so prevalent on American campuses, and why rape victims are so reluctant to report assault.
 
Acquaintance rape is a crime like no other. Unlike burglary or embezzlement or any other felony, the victim often comes under more suspicion than the alleged perpetrator. This is especially true if the victim is sexually active; if she had been drinking prior to the assault — and if the man she accuses plays on a popular sports team. The vanishingly small but highly publicized incidents of false accusations are often used to dismiss her claims in the press. If the case goes to trial, the woman's entire personal life becomes fair game for defense attorneys.
 
This brutal reality goes a long way towards explaining why acquaintance rape is the most underreported crime in America. In addition to physical trauma, its victims often suffer devastating psychological damage that leads to feelings of shame, emotional paralysis and stigmatization. PTSD rates for rape victims are estimated to be 50%, higher than soldiers returning from war.
 
In Missoula, Krakauer chronicles the searing experiences of several women in Missoula — the nights when they were raped; their fear and self-doubt in the aftermath; the way they were treated by the police, prosecutors, defense attorneys; the public vilification and private anguish; their bravery in pushing forward and what it cost them.
 
Some of them went to the police. Some declined to go to the police, or to press charges, but sought redress from the university, which has its own, non-criminal judicial process when a student is accused of rape. In two cases the police agreed to press charges and the district attorney agreed to prosecute. One case led to a conviction; one to an acquittal. Those women courageous enough to press charges or to speak publicly about their experiences were attacked in the media, on Grizzly football fan sites, and/or to their faces. The university expelled three of the accused rapists, but one was reinstated by state officials in a secret proceeding. One district attorney testified for an alleged rapist at his university hearing. She later left the prosecutor's office and successfully defended the Grizzlies' star quarterback in his rape trial. The horror of being raped, in each woman's case, was magnified by the mechanics of the justice system and the reaction of the community.
 
Krakauer's dispassionate, carefully documented account of what these women endured cuts through the abstract ideological debate about campus rape. College-age women are not raped because they are promiscuous, or drunk, or send mixed signals, or feel guilty about casual sex, or seek attention. They are the victims of a terrible crime and deserving of compassion from society and fairness from a justice system that is clearly broken. 
Praise For Missoula: Rape and the Justice System in a College Town…
"[H]arrowing.... [I]ncisive.... Krakauer's investigation will succeed in altering the conversation around sexual violence.... Missoula will undoubtedly fortify those of us who have already broken our silence and may rally those who have not dared to."
— Los Angeles Times

"Excellent.... Krakauer doesn't just tell the story of these crimes. As he has done so brilliantly in his other books...he sets the story firmly in the context of social history."
— Boston Globe

"[A] narrative nonfiction page-turner.... Missoula demonstrates that it's not only possible but advantageous for reporters to remain clear-eye while also taking victims' concerns into account. Krakauer skillfully strengthens his sources' recollections without taking away their agency. He doesn't hide from complexity or nuance."
— Katie Baker, BuzzFeed

"[E]xpertly researched.... Equal parts riveting and horrifying, it's a hell of a read--and a necessary one."
— People

"[M]eticulously reported, fascinating and deeply disturbing.... By probing the specific, Krakauer illuminates upsetting generalities..... Krakauer—a journalist who is also a compelling writer—artfully keeps the books from becoming a compendium of facts..... It's an important, difficult and timely subject."
— USA Today

"A good and needed thing.... [P]owerful.... Krakauer tells a sad an infuriating story.... Krakauer has done a great service by taking on this subject." 
— Newsweek

"[A] case study of the widespread problem of campus rape.... For anyone distressed by the high rate of sexual assault afflicting young woman, and who wants to understand some of the ways in which the justice system fails them—and shouldn't that be all of us?—Krakauer's book is worth reading."
— Time

"[A] devestating exposé of colleges and local law enforcement when it comes to investigating and prosecuting campus sex crimes.... [A] substantive deep dive into the morass of campus sex crimes, where the victim is too often treated like the accused." 
— Entertainment Weekly 
 
"[S]crupulously reported... The depth of [Krakauer's] reporting...illustrates just how difficult it can be for victims to get justice."
— Salon  

"[R]elentless, exhaustive.... Krakauer does not pretend to be scooping anyone. Instead, he systematically details the many myths surrounding rape and the many ways in which our society mistreats victims long after the actual assault."
— Outside

"[C]lear and dispassionate, offering level-headed, in-depth reportage.... [T]he disquieting fact running through Krakauer's narrative is this: Missoula is typical."
— Chicago Tribune

"[A]n impassioned study of campus rape.... Krakauer's evocative reporting, honed to a fine edge of anger, vividly conveys the ordeal of victims and their ongoing psychological dislocations. The result is a hard-hitting true-crime expose that looks underneath the he-said-she-said to get at the sexist assumptions that help cover up and enable these crimes." 
— Publishers Weekly (Starred Review)
Doubleday, 9780385538732, 384pp.
Publication Date: April 21, 2015
About the Author
Jon Krakauer is the author of Eiger Dreams, Into the Wild, Into Thin Air, Under the Banner of Heaven, Where Men Win Glory, and Three Cups of Deceit, all of which are available in Anchor paperback and eBook editions. He is also the editor of the Modern Library Exploration series.

 
"Jon Krakauer combines the tenacity and courage of the finest tradition of investigative journalism with the stylish subtlety and profound insight of the born writer." —American Academy of Arts and Letters Award in Literature citation
Coverage from NPR
or
Not Currently Available for Direct Purchase