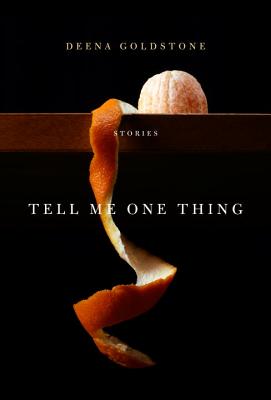 Tell Me One Thing
Stories
Hardcover

* Individual store prices may vary.
Description
A collection of unforgettable short stories that explores the wondrous transformation between grief and hope, a journey often marked by moments of unexpected grace.

Set in California, Tell Me One Thing is an uplifting and poignant book about people finding their way toward happiness. In "Get Your Dead Man's Clothes," "Irish Twins," and "Aftermath," Jamie O'Connor finally reckons with his tumultuous childhood, which propels him to an unexpected awakening. In "Tell Me One Thing," Lucia's decision to leave her loveless marriage has unintended consequences for her young daughter. In "Sweet Peas," "What We Give," and "The Neighbor," the sudden death of librarian Trudy Dugan's beloved husband forces her out of isolation and prompts her to become more engaged with her community. And in "Wishing," Anna finds an unusual kind of love. Tell Me One Thing is about the life we can create despite the grief we carry and, sometimes, even because of the grief we have experienced.
Praise For Tell Me One Thing: Stories…
"Tell Me One Thing is a staggeringly honest portrait of people reaching for the courage to connect. Often starting from loss, her characters struggle against their own demons and the arbitrariness of life to find a way to love. I found myself in tears and then, just as often, my heart leapt with joy. Deena Goldstone has a deep and profound understanding of the human heart, and thankfully, in these exquisitely rendered stories, she shares her heart with us." —Delia Ephron, author of Sister Mother Husband Dog

"Each story is insightful, emotional and an honest portrait of lives that feel lived-in. . . . I oscillated between feelings of futility and excitement, absorbing the characters' anxieties, fears and desires for more." —The Toronto Star

"The beautiful, novelistic stories in Tell Me One Thing are poignant, heartbreaking, and very funny. But what unites them is Deena Goldstone's ability to show us what matters: that while the pursuit of family, friends and love might drive us crazy,  it can also teach us to believe in things bigger than ourselves,  and help us reach for the very heart of what it means to be human." —Thomas Christopher Greene, author of The Headmaster's Wife

"These confident, finely wrought stories range freely through the full panoply of human emotions, from love to loss, grief, fear, pity, and solace. Deena Goldstone's Chekhovian sensitivity to her characters' weaknesses and strengths makes for breathtaking reading."—Valerie Martin, author of Property and The Ghost of the Mary Celeste

"Goldstone is a good writer with a fluid, easy style, natural dialogue, and an excellent sense for detail and event. I especially like how each story slides into the next."—A.R. Gurney, author of Love Letters
Nan A. Talese, 9780385538756, 272pp.
Publication Date: April 22, 2014
About the Author
DEENA GOLDSTONE is a screenwriter whose films include A Bunny's Tale, a dramatization of Gloria Steinem's undercover investigation of the Playboy Clubs, starring Kirstie Alley, and Safe Passage, starring Susan Sarandon. She graduated from UC Berkeley and has a master's in theater arts from NYU.
or
Not Currently Available for Direct Purchase