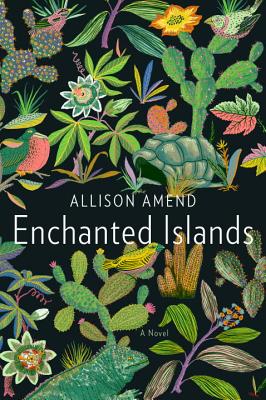 Enchanted Islands
A Novel
Hardcover

* Individual store prices may vary.
Other Editions of This Title:
Paperback (4/18/2017)
MP3 CD (4/18/2017)
Compact Disc (12/3/2019)
Description
Inspired by the midcentury memoirs of Frances Conway, Enchanted Islands is the dazzling story of an independent American woman whose path takes her far from her native Minnesota when she and her husband, an undercover intelligence officer, are sent to the Galápagos Islands at the brink of World War II.


Born in Duluth, Minnesota, in 1882 to immigrant parents, Frances Frankowski covets the life of her best friend, Rosalie Mendel, who has everything Fanny could wish for—money, parents who value education, and an effervescent and winning personality. When, at age fifteen, Rosalie decides they should run away to Chicago, Fanny jumps at the chance to escape her unexceptional life. But, within a year, Rosalie commits an unforgivable betrayal, inciting Frances to strike out on her own.

Decades later, the women reconnect in San Francisco and realize how widely their lives have diverged. While Rosalie is a housewife and mother, Frances works as a secretary for the Office of Naval Intelligence. There she is introduced to Ainslie Conway, an intelligence operator ten years her junior. When it's arranged for Frances and Ainslie to marry and carry out a mission on the Galápagos Islands, the couple's identities—already hidden from each other—are further buried under their new cover stories. No longer a lonely spinster, Frances is about to begin the most fascinating and intrigue-filled years of her life.

Amid active volcanoes, forbidding wildlife and flora, and unfriendly neighbors, Ainslie and Frances carve out a life for themselves. But the secrets they harbor from their enemies and from each other may be their undoing.

Drawing on the rich history of the early twentieth century and set against a large, colorful canvas, Enchanted Islands boldly examines the complexity of female friendship, the universal pursuit of a place to call home, and the reverberations of secrets we keep from others and from ourselves.
Praise For Enchanted Islands: A Novel…
"An endearing chronicle of female friendship and evolution in the early 20th century ... Amend smartly plies the habitually underrecognized bonds of sisterhood ... [she] displays her talent for making solitary humans the most alluring animals among blue-footed boobies, great frigatebirds and the rest of Darwin's magnificent crew. On an island bursting with nature's most remarkable creatures, humanity's depthless ­capacity for loneliness crows most keenly."
—New York Times Book Review

"Enchanted Islands is a many faceted jewel. It's a spy thriller, a survivalist memoir, and a portrait of a marriage. It's a story of female friendships—Frances' on-again, off-again relationships with Rosalie and Elke—as well as a fascinating travelogue most likely made more realistic by Amend's travels to the islands ... A great summer read, a fabulous story for all seasons, Enchanted Islands will carry you away."
—Chicago Tribune

"A fascinating rumination on identity, friendship and love ... [Amend] vividly evokes Duluth's bleakness, Chicago's sparkling bustle, rural Nebraska's quietude and San Francisco's sophistication. Most enticing of all is the otherworldliness of the Galapagos. Each character is drawn with nuance and Franny is eminently appealing — smart, witty, modest, inventive, brave and lonely ... The best part of the book is Amend's convincing portrait of an unconventional, affectionate, adventurous marriage."
—San Francisco Chronicle

"Through failed gardens, tragic romance, and filthy clothes, Amend paints a vivid picture of a woman surviving in a place where friends and enemies alike can both enthrall and harm. The result is beautiful, terrifying, and haunting, a deeply moving lovechild between Elena Ferrante and John Le Carré"
—Chicago Review of Books

"Enchanted Islands isn't your run-of-the-mill espionage tale ... Amend's novel manages to encompass a woman's life, the story of a marriage, a tense standoff between Allied and Axis operatives, and a sensitive examination of women's friendship ... Amend's strengths as a novelist gain full flower ... [this] should get top billing in your seasonal TBR pile."
—Minneapolis Star Tribune

"Enchanted Islands is a mesmerizing and captivating historical novel that is so much more than a spy story. It's a story about human connection and relationships, the power of friendship, and the sacrifices people are willing to make for those they love. It's a story of women seeking their independence, poor immigrants determined to make a life for themselves, and a world full of people ready to tell them no. And finally, it's a story about travel and excitement, new cities and exotic islands, beautiful landscapes and breathtaking scenery. It's the kind of book that will make you want to renew your passport. Are you up for the adventure?"
—Bustle.com

"Inspired by the memoirs of Frances Conway, this is the dazzling fictionalized story of a woman's move from Minnesota to the Galápagos Islands just before WWII."
—Travel + Leisure

"Absorbing ... Amend's spirited rendition of [Frances Conway's] life reads less like a memoir and more like Jane Austen. It has acute interpersonal observations and subjective flights of fancy—not Gertrude Bell so much as Gertrude Stein. Darwin and Hitler also haunt Enchanted Islands. But the islands aren't enchanted so much as Conway is."
—BookPage

"Secrets, lies, and spies on a faraway island. The real-life Frances and Ainslie Conway spent years before, during, and after World War II on the Galápagos Islands, recording their unusual adventure in two memoirs that have inspired Amend's pleasurable new novel ... appealing characters and vivid local color make for an entertaining read."
—Kirkus Reviews

"In this shrewdly textured yet directly told tale of an unorthodox life, Amend fills Franny's worlds of poverty, intrigue, and indignant old age with rewarding vibrancy and touching vulnerability."
—Booklist

"Amend's mesmerizing third novel ... is a taut, powerful tale of human relationships and the sacrifices people make to maintain their balance."
—Publishers Weekly

"In Enchanted Islands, Allison Amend distills the entire life of Frances Conway—one of, if not the, most fully realized characters I've encountered in the last decade—into a captivating narrative. It is a nostalgic and yet entirely unsentimental tale told with elegance and gravitas from a distance that is somehow both interior and objective. And, as the best novels do, it raises more questions than it answers. The greatest thing about the book is the entire, brilliant book."
—Jill Alexander Essbaum, New York Times bestselling author of Hausfrau
 
"Allison Amend is a wonderful writer—generous and psychologically astute—and Enchanted Islands is both a sweeping epic and a moving exploration of the intricacies of friendship. This is a beautiful novel that will stay with me for a long time."
—Molly Antopol, author of The UnAmericans
 
"In this compulsively readable novel, exotic locales and international espionage bend before the greatest intrigue of all: the life of a captivating mind. Young Frances escapes a series of Dickensian snares, only to ensnare herself willingly in the complexities of adult relationships, in which nothing worthwhile is achieved without some risk. Revelations wait around every corner as a lifelong friendship weathers betrayals and a marriage's secrets yield a hauntingly textured love. Amend exerts exquisite control throughout, deftly weaving in real history and gracing her prose with flourishes that lend the work a symphonic feel. Enchanted Islands is as moving as it is impossible to put down."
—Matthew Thomas, New York Times-bestselling author of We Are Not Ourselves
 
"Allison Amend's dazzling Enchanted Islands is steeped in the wondrous history of the Galápagos and bursting with the magic of pure invention. An elegant stylist and a masterful chronicler of the most hidden and luminous corners of the human experience, Amend is a spectacular talent, and this brilliant novel is the evidence."
—Laura van den Berg, author of Find Me
Nan A. Talese, 9780385539067, 320pp.
Publication Date: May 24, 2016
About the Author
Allison Amend, a graduate of the Iowa Writers' Workshop, is the author of the novels A Nearly Perfect Copy and Stations West, which was a finalist for the 2011 Sami Rohr Prize for Jewish Literature and the Oklahoma Book Award. She is also the author of the Independent Publisher's Award-winning short story collection Things That Pass for Love. She lives in New York City, where she teaches creative writing.
or
Not Currently Available for Direct Purchase