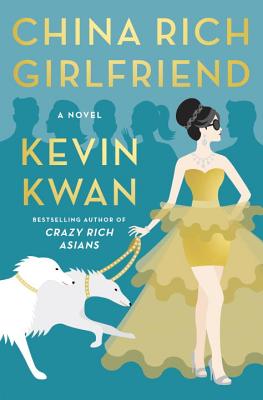 China Rich Girlfriend
A Novel
Hardcover

* Individual store prices may vary.
Other Editions of This Title:
Digital Audiobook (6/15/2015)
Paperback (5/31/2016)
Paperback (6/23/2020)
Paperback, Chinese (11/1/2019)
Paperback, Chinese (9/11/2019)
CD-Audio (6/16/2015)
Description
Kevin Kwan, bestselling author of Crazy Rich Asians, is back with a wickedly funny new novel of social climbing, secret e-mails, art-world scandal, lovesick billionaires, and the outrageous story of what happens when Rachel Chu, engaged to marry Asia's most eligible bachelor, discovers her birthfather.
 
     On the eve of her wedding to Nicholas Young, heir to one of the greatest fortunes in Asia, Rachel should be over the moon. She has a flawless Asscher-cut diamond from JAR, a wedding dress she loves more than anything found in the salons of Paris, and a fiancé willing to sacrifice his entire inheritance in order to marry her. But Rachel still mourns the fact that her birthfather, a man she never knew, won't be able to walk her down the aisle. Until: a shocking revelation draws Rachel into a world of Shanghai splendor beyond anything she has ever imagined. Here we meet Carlton, a Ferrari-crashing bad boy known for Prince Harry-like antics; Colette, a celebrity girlfriend chased by fevered paparazzi; and the man Rachel has spent her entire life waiting to meet: her father. Meanwhile, Singapore's It Girl, Astrid Leong, is shocked to discover that there is a downside to having a newly minted tech billionaire husband. A romp through Asia's most exclusive clubs, auction houses, and estates, China Rich Girlfriend brings us into the elite circles of Mainland China, introducing a captivating cast of characters, and offering an inside glimpse at what it's like to be gloriously, crazily, China-rich.
Praise For China Rich Girlfriend: A Novel…
Advance praise for China Rich Girlfriend:

"Kevin Kwan's brand of giddy wealth porn arrived in 2013 with Crazy Rich Asians, not a moment too soon… China Rich Girlfriend [is] the second volume in what has been projected as a gossipy, good-humored trilogy that will follow the richest old families of Singapore, Hong Kong and a few from mainland China. They join in a single shared pursuit: watching in horror as their youngest generations squander money in ways so staggering that Western show-offs look like pikers by comparison… Mr. Kwan has good aim with his fashion world- and ego-skewering shivs. And regardless of how reality-based these characters may be, he has his style references down cold… [Keeps] readers surprised and inquisitive… Snarky… Wicked… Funny."
–Janet Maslin, The New York Times
 
"As the real China rich dig their nails into the world of the wealthy and wasteful, Kwan sharpens his with another acerbic yet affectionate examination of Asian uber-elite social mores, still largely invisible in Western popular culture… The novel is filled with jaw-dropping accounts of opulence… and showdowns worthy of an episode of "Gossip Girl."… China Rich Girlfriend is a crazy parade through the lives of the aspirational elite. It's also a rich portrait of Asia's real obsession with consumerism and its economic rise, one whose trajectory, like Kwan's, is not yet complete."
—Nicole Lee, Los Angeles Times
 
"In this year's best beach reading, Jane Austen meets Singapore… There's no timely cocktail I'd rather recommend than China Rich Girlfriend… As frothy as the egg whites on the sort of cocktail you should drink while reading Kwan's books. But if you need to assuage your guilt about summer reading with a little intellectual patina, Kwan has you covered too; His peek into this rarified world is spiked with tart observations about old and new money, the nuances of racism and the way they all interact… A cheeky reminder that those who think they can't make a romance or a comedy of manners work in an entirely non-white setting are not just lying or kidding themselves, but wasting the almost gluttonous opportunities available to storytellers who stretch beyond convention… Fizzy, highly entertaining."
–Alyssa Rosenberg, The Washington Post

"The high jinks of China's young and reckless 0.0001 percent… keep you turning the page… [A] black comedy… What I enjoyed most while reading China Rich Girlfriend were the moments of nihilistic glee at the self-absorption of the Chinese demimonde, the American Pyscho-like obsession with designer brands and desirable addresses. Kwan speaks of this culture with the authoritative tone of an insider… with anthropological analysis detailing the habits of various subspecies of 'crazy rich Asians.'"
–Arthur Chu, The New York Times Book Review   

"Take a Jane Austen novel, combine it with Lifestyles of the Rich and Famous and set it in the glittering capitals of Shanghai, Hong Kong and Singapore. What have you got? This deliciously fun follow-up to Kwan's bestselling Crazy Rich Asians...[a] field guide to Asia's uberwealthy echelon and comic satire at its best."
—People

"Last year Kevin Kwan introduced summer fun readers to a cast of characters entirely foreign but somehow familiar…In China Rich Girlfriend, he continues that story but throws into the mix the recently acquired fortunes of China that take to easy street like it's a superhighway… They offer a taste of Asian opulence served with skewering humor. Delectable wretched excess."
–New York Daily News
 
"Those Crazy Rich Asians are back as a mix of old and new characters in Kwan's new novel, China Rich Girlfriend... The book brings the foibles of the wealthy into a new setting: China. It reflects the ascendance of a new elite — the product of the booming economy of mainland China. This fresh crop of billionaires form a new strata of Asia's one percent, what Kwan likes to call the "China Rich."… Kwan's characters are powerful and attractive, living in the lap of luxury."
–All Things Considered, NPR weekend
 
"The summer's funniest beach read. When Crazy Rich Asians hit shelves in peak beach-read season two summers ago, readers ate up its unrestrained and uproarious fictional depictions of the opulent lives of Asia's super elite. . . China Rich Girlfriend follow[s] the same multitentacled clan and their world-traveling, high-spending, and backstabbing antics."
–Lauren Christensen, Vanity Fair
 
"The much-anticipated sequel to Crazy Rich Asians (a great summer read in its own right), China Rich Girlfriend continues the tale of Rachel Chu and her upcoming nuptials to Nicholas Young, heir to one of the greatest fortunes in Asia... With the same hilarity and scandalous narrative as the first novel, China Rich Girlfriend will not disappoint both fans and newcomers to the series."
—Town and Country 

"When you're on a never-ending long-haul flight: China Rich Girlfriend, Kevin Kwan's frothy sequel to his debut novel, Crazy Rich Asians, revisits the world of Hong Kong's and Singapore's super-super-elite. Kwan himself is from Singapore, and these sharply observed books have an insider's authority. Girlfriend is also so diverting that it (almost) made me forget that my seatmate on a recent flight from New York to Dubai was muttering to himself nonstop."
–Hanya Yanagihara, Conde Nast Traveler
 
"Lifestyles of the rich and famous, China-style. A follow to Kwan's lively debut, Crazy Rich Asians, this new book delivers more over-the-top consumption in Asia's most exclusive locale."
–The Houston Chronicle

"Kevin Kwan has a new book coming out soon. It's called China Rich Girlfriend, and if you don't know why this is shriek-worthy news, allow me to introduce you to Kwan's first novel, Crazy Rich Asians, [a] gloriously, irreverently fun and dishy novel."
–Roxane Gay, NPR

"His first book was a riot of high-spending extremes, and in its sequel Kevin Kwan again revels in a world where Gulfstream jets come with their own koi ponds… The equivalent of a Bubble Tea concoction laced with Henry James extracts and Jackie Collins sprinkles—tracking a level of wealth that makes even Downton Abbey look more like Downton Arriviste… Unravelling the endless modes of snobbery is sport for Kwan, and the set pieces in China Rich Girlfriend are such that even Serena van der Woodsen might gasp… Ingenious… In the same way that Edith Wharton catalogued the Gilded Age via novels like The Age of Innocence, Kwan—in his novels—is doing his bit for a China that now has the second-highest number of millionaires in the world."
—Shinan Govani, The Daily Beast 

"Kwan returns with an equally good-natured, catty-as-hell sequel to his bestselling roman à clef about China's new and old money dynasties. For those not cued in, Kwan's tone is breakneck and utterly disarming—part Oscar Wilde, part Judith Krantz, part Arthur Frommer . . . Hilarious . . . Over-the-top and hard to stop." –Kirkus

"China Rich Girlfriend is the most fun I've had reading a book in quite some time. The vibrantly drawn characters and equally vivid settings in and around Beijing make for a jam-packed, lively story… [and] a cast of characters who are wholly believable and human."
–Amy Scribner, BookPage 

"To be let loose into the decadent playground of the filthy rich offers the reader a heady taste of vicarious escapism…Yet to dismiss this book as merely a soulless lark would be a disservice to Kwan and his impeccable writing. Behind their dapper and chic exteriors, his caricatures have messy emotional lives and grapple with the same problems facing the rest of us not blessed with unfathomable wealth… Read China Rich Girlfriend for the exuberant spectacle of zippy vintage cars, gossipy matriarchs-who-lunch and reckless profligacy but read it also for its very engaging narrative about people like us."
—Thuy On, The Sydney Morning Herald 

"What happens when the young woman destined to marry Asia's most eligible bachelor gets derailed by a shocking family secret? That's what Kwan (Crazy Rich Asians) examines in this amusing, whirlwind novel about Rachel Chu, who discovers her long-lost father and falls headlong into a Shanghai — the fashion! the social climbing! the secrets! — wilder than her wildest dreams."
—The Miami Herald

"I loved China Rich Girlfriend… Like Gossip Girl and Dynasty and the royal family of England all at the same time. Kwan's characters behave hideously—and it's hilarious." 
—Elaine Lui, Flare

"Kwan's latest follows in the footsteps of his wildly imaginative Crazy Rich Asians but adds even more conspicuous consumption and over-the-top behavior… Resplendent with gorgeous description …. The dialog is always top-notch. There are many fascinating substories... A sprinkling of footnotes adds local expressions, insightful asides, and Kwan's own snarky personal comments. Among the many laugh-out-loud incidents are examples of the extreme cheapness of some of these ­ultrawealthy people and tidbits about their staff… The conclusion offers up additional shocks and surprises that will have readers clamoring for more. Those who enjoy splendid writing and getting a glimpse at how the other half (probably much less than 50 percent) lives will delight in this book."
—Library Journal (Starred Review)

"Very enjoyable... Just as funny as Crazy Rich Asians, this globe-spanning tale of excess includes enough snootiness and class snobbery to fill a multitude of designer handbags. It's a modern-day comedy of manners that highlights what it means to be 'China rich' as well as the things that money can never buy."
–Minneapolis Star Tribune

"China Rich Girlfriend is an engaging page-turner with a multi-layered, inventive narrative. Kwan has clearly taken a few lessons from one of America's great social satirists - think Tom Wolfe set loose on the wealthiest enclaves of Confucian Asia… His sequel is not only dazzlingly creative (a private jet decorated to look like a Balinese resort? Take me there, please!) and rollicking good fun, but also ambitious in its scope and dimension. With China Rich Girlfriend, Kwan shows readers that to get rich is one thing, but to get crazy rich is glorious. He also proves his standing as one of the few authors talented, confident and savvy enough to engage an international readership and serve up the New Asia on a gleaming 24-karat gold platter."
–South China Morning Post


"Singapore-based sensation Kevin Kwan follows up his smash success, Crazy Rich Asians, which is currently being made into a film, with another sure-to-be hit. As with his first novel, Kwan takes a tongue-in-cheek look at the lives—and nuptial preparations—of absurdly wealthy society folks in mainland China."
—Readers Digest (Canada)

"China Rich Girlfriend, Kevin Kwan's sequel to the bestselling Crazy Rich Asians, is perhaps even more delicious than the first… A frothy fiction focused on a multigenerational, intermarried, mega-rich clan… Kwan created a new hybrid universe—one where there's a preoccupation with lineage and marrying off daughters into rich families—that is the realm of Jane Austen, combined with an obsession with social hierarchy and status signifiers straight out of Tom Wolfe… [This] delicious sequel… manages to be more nuanced (and savage) in its social deconstruction—and even more fun… Moments of human generosity and decency are peppered throughout. But that's not the pleasure: This stems from tut-tutting the flagrant display of wealth while picking up insider tips and luxuriating in a voyeuristic glimpse into the original Dynasty."
—Anne Kingston, Macleans
Doubleday, 9780385539081, 400pp.
Publication Date: June 16, 2015
About the Author
Kevin Kwan is the author of Crazy Rich Asians, the international bestseller now being adapted into a major motion picture.  Born and raised in Singapore, Kwan has called Manhattan home for the past two decades but still craves pineapple tarts and a decent plate of Hokkien mee.
Please visit www.kevinkwanbooks.com
Coverage from NPR
or
Not Currently Available for Direct Purchase