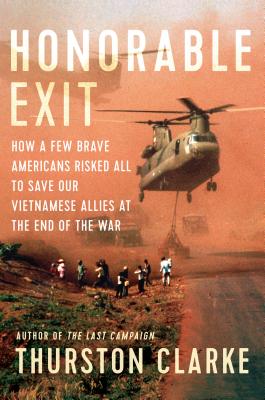 Honorable Exit
How a Few Brave Americans Risked All to Save Our Vietnamese Allies at the End of the War
Hardcover

* Individual store prices may vary.
Other Editions of This Title:
Digital Audiobook (4/29/2019)
Paperback (3/24/2020)
Description
A MAIN SELECTION OF THE MILITARY BOOK CLUB

A groundbreaking revisionist history of the last days of the Vietnam War that reveals the acts of American heroism that saved more than one hundred thousand South Vietnamese from communist revenge

In 1973 U.S. participation in the Vietnam War ended in a cease-fire and a withdrawal that included promises by President Nixon to assist the South in the event of invasion by the North. But in early 1975, when North Vietnamese forces began a full-scale assault, Congress refused to send arms or aid. By early April that year, the South was on the brink of a defeat that threatened execution or years in a concentration camp for the untold number of South Vietnamese who had supported the government in Saigon or worked with Americans.
     Thurston Clarke begins Honorable Exit by describing the iconic photograph of the Fall of Saigon: desperate Vietnamese scrambling to board a helicopter evacuating the last American personnel from Vietnam. It is an image of U.S. failure and shame. Or is it? By unpacking the surprising story of heroism that the photograph actually tells, Clarke launches into a narrative that is both a thrilling race against time and an important corrective to the historical record. For what is less known is that during those final days, scores of Americans--diplomats, businessmen, soldiers, missionaries, contractors, and spies--risked their lives to assist their current and former translators, drivers, colleagues, neighbors, friends, and even perfect strangers in escape. By the time the last U.S. helicopter left Vietnam on April 30, 1975, these righteous Americans had helped to spirit 130,000 South Vietnamese to U.S. bases in Guam and the Philippines. From there, the evacuees were resettled in the U.S. and became American citizens, the leading edge of one of America's most successful immigrant groups.
    Into this tale of heroism on the ground Clarke weaves the political machinations of Henry Kissinger advising President Ford in the White House while reinforcing the delusions of the U.S. Ambassador in Saigon, who, at the last minute, refused to depart. Groundbreaking, page-turning, and authoritative, Honorable Exit is a deeply moving history of Americans at a little-known finest hour.
Praise For Honorable Exit: How a Few Brave Americans Risked All to Save Our Vietnamese Allies at the End of the War…
"Serious, well-researched and engaging."
—Pierre Asselin, The Washington Post

"America's years in Vietnam were full of shame, but the last days of the war saw a remarkable effort at redemption. Breaking rules set by their higher-ups, ordinary Americans—servicemen, diplomats, spies, private citizens—moved heaven and earth to get their Vietnamese friends and allies to safety. Thurston Clarke's Honorable Exit brings this little-known story to light with the speed and power of a riveting thriller. It challenges us to remember a time when Americans refused to abandon desperate people in a far-off country. It's a kind of Schindler's List for America's lost war."
—George Packer, author of The Assassins' Gate: America in Iraq and The Unwinding: An Inner History of the New America
 
"Vietnam is America's unfinished war—unfinished because so many, men and women, have yet to come home body and soul. Honorable Exit is that homecoming. Beautifully written, achingly poignant, scrupulously reported, this story is a revelation. We see history in ways we hadn't imagined. Honorable Exit is a book for every generation of readers."
—Doug Stanton, #1 New York Times best-selling author of 12 Strong and The Odyssey of Echo Company

"Filled with new information and riveting recreations of daring rescues, this book adds significantly to the history of a notable moment in U.S. military history."
—Publishers Weekly

"Moving to a hair-raising climax, Clarke meticulously sifts through hasty evacuation measures and relates the sad stories of those who did not make it out . . . A welcome addition to the literature of the Vietnam War."
—Kirkus Reviews
 
"Clarke offers a thrilling and fresh perspective of the Vietnam War based on new information and a showcase of American heroism . . . Fans of military and U.S. history will revel in Clarke's expert storytelling, well-crafted recreations, and research."
—Library Journal

"Thurston Clarke has a genius for finding episodes in history that deserve reexamination. Just as the U.S. rescued its employees and allies from the embassy roof, this gifted story-teller has found gems of heroism, honor, and suspense in an agonizing chapter of the American story."     
—Strobe Talbott, former Deputy Secretary of State and distinguished fellow in residence at Brookings
 
"Thurston Clarke's Honorable Exit is the missing book on the Fall of Saigon we've been waiting for. Among other things, it is a brilliant recounting of President Gerald Ford's vital leadership during the last days of the Vietnam War. Over 130,000 South Vietnamese allies were saved because of Ford's moral certitude. An epic narrative history for the ages!"
—Douglas Brinkley, author of Cronkite

"In this moving account of the 'Righteous Americans,' Clarke celebrates the forgotten men and women who, in the face of great opposition, managed to pull off an epic humanitarian and immigration success story. A powerful and inspiring lesson in courage that could not be more relevant today."
—Rory Kennedy, Academy Award-nominated director and producer of Last Days in Vietnam

"Honorable Exit is by far the best book about the tragic end of Vietnam and a must read for those interested in U.S. military operations"
—Proceedings (U.S. Naval Institute)
Doubleday, 9780385539647, 448pp.
Publication Date: April 30, 2019
About the Author
Thurston Clarke is the author of nine widely acclaimed works of fiction and nonfiction, including California Fault, a New York Times notable book; Equator; By Blood and Fire; Pearl Harbor Ghosts, the basis for the CBS Pearl Harbor documentary; and the bestselling Lost Hero, which was made into an award-winning NBC miniseries about Raoul Wallenberg. He has written for Vanity Fair, Glamour, Outside, Travel Holiday, Condé Nast Traveler, and numerous other magazines and newspapers. He is the recipient of a Guggenheim Fellowship, the Publication Award for the Geographic Society of Chicago, and a Lowell Thomas Award for travel literature. He lives with his wife and three daughters on Lake Champlain in upstate New York.
or
Not Currently Available for Direct Purchase