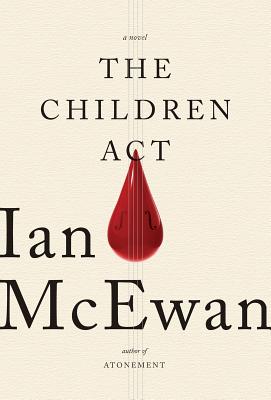 The Children Act
Hardcover

* Individual store prices may vary.
Other Editions of This Title:
Digital Audiobook (9/8/2014)
Compact Disc (8/26/2014)
Paperback (4/28/2015)
Description
Fiona Maye is a leading High Court judge who presides over cases in the family court. She is renowned for her fierce intelligence, exactitude, and sensitivity. But her professional success belies private sorrow and domestic strife. There is the lingering regret of her childlessness, and now her marriage of thirty years is in crisis.

At the same time, she is called on to try an urgent case: Adam, a beautiful seventeen-year-old boy, is refusing for religious reasons the medical treatment that could save his life, and his devout parents echo his wishes. Time is running out. Should the secular court overrule sincerely expressed faith? In the course of reaching a decision, Fiona visits Adam in the hospital—an encounter that stirs long-buried feelings in her and powerful new emotions in the boy. Her judgment has momentous consequences for them both.
Praise For The Children Act…
"Absorbing."
—The New Yorker

"McEwan presents a ferociously intelligent and competent woman struggling to rule on a complex legal matter while feeling humiliated and betrayed by her husband ... a notable volume from one of the finest writers alive."
—Ron Charles, The Washington Post

"A short, concise, strong novel in which a judge's ruling decides the fate of a teenage boy in ways she never intended or imagined ... it's a book that begins with the briskness of a legal brief written by a brilliant mind, and concludes with a gracefulness found in the work of few other writers."
—Meg Wolitzer, NPR

"A quietly exhilarating book ... The Children Act chronicles the recalibration of a 30-year marriage after it has fallen out of balance."
—Mona Simpson, Los Angeles Times

"Haunting ... a brief but substantial addition to the author's oeuvre."
—Entertainment Weekly, A-

"[The Children Act's] sense of life-and-death urgency never wavers ... you would have to go back to Saturday or Atonement to find scenes of equivalent intensity and emotional investment."
—Wall Street Journal
 
"Smart and elegant ... a grown-up novel that reminds us just how messy life can be and how the justice system ... doesn't always deliver justice."
—Bob Minzesheimer, USA Today

"The Children Act manages to be highly subtle and page-turningly dramatic at once ... Only a master could manage, in barely over 200 pages, to engage so many ideas, leaving nothing neatly answered."
—Boston Globe

"Heartbreaking and profound, it skillfully juxtaposes the dilemmas of ordinary life and tabloid-ready controversy."
—People

"McEwan crafts a taut morality tale in crystalline sentences."
—O Magazine

"As in Atonement, what doesn't happen has the power to destroy; as in Amsterdam, McEwan probes the dread beneath civilized society. In spare prose, he examines cases, people, and situations, to reveal anger, sorrow, shame, impulse, and yearning. He rejects religious dogma that lacks compassion, but scrutinizes secular morality as well ... Few will deny McEwan his place among the best of Britain's living novelists."
—Publishers Weekly, starred review

"McEwan, always a smart, engaging writer, here takes more than one familiar situation and creates at every turn something new and emotionally rewarding in a way he hasn't done so well since On Chesil Beach."
—Kirkus Reviews, starred review

"Irrefutably creative ... With his trademark style, which is a tranquil mix of exacting word choice and easily flowing sentences, McEwan once again observes with depth and wisdom the universal truth in the uncommon situation."
—Booklist, starred review


Nan A. Talese, 9780385539708, 240pp.
Publication Date: September 9, 2014
About the Author
IAN McEWAN is the bestselling author of fifteen books, including the novels Sweet Tooth; Solar, winner of the Bollinger Everyman Wodehouse Prize; On Chesil Beach; Saturday; Atonement, winner of the National Book Critics Circle Award and the W. H. Smith Literary Award; The Comfort of Strangers and Black Dogs, both short-listed for the Booker Prize; Amsterdam, winner of the Booker Prize; and The Child in Time, winner of the Whitbread Award; as well as the story collections First Love, Last Rites, winner of the Somerset Maugham Award, and In Between the Sheets.
How did The Children Act affect your perception of family courts? What makes it so challenging for parents and the courts alike to follow the deceptively simple mandate that "the child's welfare shall be the . . . paramount consideration"?
How would you react if your spouse made a proposal like Jack's? Is Jack's interest in Melanie purely sexual? When he asserts that couples in long marriages lose passion, is he right?
How would you have ruled in the first case described in The Children Act, regarding the education of Rachel and Nora Bernstein? Does Fiona approach religious freedom the same way in her ruling for Adam's case?
How did your impression of Adam and his parents shift throughout the novel? How does his childhood exposure to religion compare to your own?
At the heart of Adam's testimony is a definition of scripture, secured by faith in his religious leaders to interpret scripture perfectly. How should the government and the court system consider religious texts?
Both Jack and Adam are drawn to romantic ideals, albeit at opposite stages of life. Are their dreams reckless or simply passionate?
As Fiona reflects on her life, which choices bring her solace? How does she reconcile her childlessness with her notions of the ideal woman? How does her personal history affect her decisions in court?
As Fiona reflects on her life, which choices bring her solace? How does she reconcile her childlessness with her notions of the ideal woman? How does her personal history affect her decisions in court?
What does "The Ballad of Adam Henry" (page 187) reveal about the nature of youth, and the nature of mortality?
What is Fiona able to experience through music that she can't access any other way? For Mark (possibly with a new lover to impress), and for the Gray's Inn community, what is the significance of the Great Hall concerts?
In the novel's closing scene, what transformations do Jack and Fiona undergo?
How does The Children Act enhance your experience of Ian McEwan's previous novels? What is unique about the way his characters approach moral dilemmas?
Explore a few of the recordings of Benjamin Britten's setting for "Down by the Salley Gardens" that are available online. How do the melody and the verses affect you? In your experience, what does it mean to take love and life "easy"?
Coverage from NPR
or
Not Currently Available for Direct Purchase