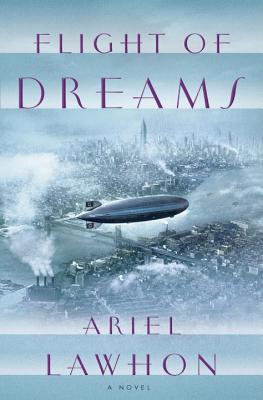 Flight of Dreams
A Novel
Hardcover

* Individual store prices may vary.
Other Editions of This Title:
Digital Audiobook (2/22/2016)
Paperback (1/10/2017)
Hardcover, Large Print (3/2/2016)
CD-Audio (2/23/2016)
Description
"At every page a guilty secret bobs up; at every page Lawhon keeps us guessing. Who will bring down the Hindenburg? And how?"
-- New York Times Book Review

On the evening of May 3rd, 1937, ninety-seven people board the Hindenburg for its final, doomed flight to Lakehurst, New Jersey. Among them are a frightened stewardess who is not what she seems; the steadfast navigator determined to win her heart; a naive cabin boy eager to earn a permanent spot on the world's largest airship; an impetuous journalist who has been blacklisted in her native Germany; and an enigmatic American businessman with a score to settle. Over the course of three hazy, champagne-soaked days their lies, fears, agendas, and hopes for the future are revealed.
 
Flight of Dreams is a fiercely intimate portrait of the real people on board the last flight of the Hindenburg. Behind them is the gathering storm in Europe and before them is looming disaster. But for the moment they float over the Atlantic, unaware of the inexorable, tragic fate that awaits them.

Brilliantly exploring one of the most enduring mysteries of the twentieth century, Flight of Dreams is that rare novel with spellbinding plotting that keeps you guessing till the last page and breathtaking emotional intensity that stays with you long after.
Praise For Flight of Dreams: A Novel…
"The novel beautifully exploits the unique, excruciating kind of suspense in which the poor horrified reader knows from the start exactly what's going to happen. Well, maybe not exactly….Under Lawhon's revolving spotlight, we are introduced to a carousel of suspicious characters…so as the zeppelin cruises serenely through the clouds the earthbound reader ricochets from distrust to uncertainty to outright foreboding. At every page a guilty secret bobs up; at every page Lawhon keeps us guessing. Who will bring down the Hindenburg? And how?"
-- New York Times Book Review

"An enthralling nail-biter…Almost 80 years after the Hindenburg's fiery end in a New Jersey airfield, Lawhon reimagines the downing of the Nazi zeppelin...[E]verything points to the inevitable disaster – but you're still on the edge of your seat."
--People Magazine

"Lawhon builds the narrative on facts — she uses real names and biographical details about those aboard the Hindenburg — then propels the story forward with the thrust of fiction. This is a novel made all the more readable by weaving its way through a riveting historical event… Flight of Dreams may be viewed as a "Titanic" of the skies. Lawhon's novel, however, needs no such comparison. It has ample emotional fuel to sail on its own, even knowing its spectacular end."
--Associated Press

"Lawhon deftly braids together the complex threads of her characters' stories, narrating via a keenly observed third-person voice. Her taut prose and subtle plotting create a gripping narrative, rich with historical detail and spiked with plenty of surprises even for those who know the Hindenburg's fate. Through her vividly drawn characters, Lawhon's story touches on grief, family loyalty, ambition, romance and complicated international politics. Like the spectators who observed the Hindenburg's fiery descent, readers will find themselves unable to look away."
--Shelf Awareness

"Flight of Dreams melds historical fiction, a touch of romance and mystery to create a tale that becomes more difficult to put down as the disaster draws near."
--BookPage

"Ariel Lawhon has real vision and the writing chops to back it up. She weaves the voices and lives of the Hindenburg's doomed--and surviving--passengers together in intricate fashion, linking them at startling intersections that bind them into a single, riveting tale. It's a fascinating blend of love and murder, big dreams and betrayal, history and pure imagination--I could not put it down."
-- Sara Gruen, New York Times bestselling author of Water for Elephants and At the Water's Edge

"Flight of Dreams enthralls, taking the reader on the doomed last flight of the Hindenburg with a story so vivid, it is impossible to pull away. Mystery, romance – it is all here, told in a mesmerizing tale."
-- Kate Alcott, New York Times bestselling author of The Dressmaker

"In Flight of Dreams, Ariel Lawhon masterfully re-imagines the infamous Hindenburg tragedy in uniquely human terms, and the result is a spectacular page-turner of class and distinction. Intricately plotted and deftly characterized, this beautifully written novel is wonderfully satisfying - historical fiction at its best."
-- Alex George, author of A Good American

"It's a sign of an extremely talented writer who can take a story that's been told before and tell it in a completely new imaginative way that is so compelling and exciting."
-- Charles Belfoure, New York Times bestselling author of The Paris Architect and House of Thieves

"A magnificent, tour-de-force story, FLIGHT OF DREAMS will break your heart and satisfy every conspiracy theorist who's wondered what really happened to the Hindenburg.Simply spectacular—I've never read anything like it. Lawhon has written the book of the year. She's a writer to watch—now, and for many years to come."
-- J.T. Ellison, New York Times bestselling author of What Lies Behind

"[A] wonderfully suspenseful, heart-wrenching account...[Lawhon's] vision for the journey and the cause of the explosion is masterful and humanizes the event and its aftermath. She has taken a story from history and re-imagined it into a magnificent novel."
--The Free Lance-Star

"Historical fiction at its best.... Even knowing the ending doesn't diminish the suspense."
--Acadian Lifestyle Magazine

"For her second outing, Lawhon once again reimagines a front-page news event, filling in the entertaining backstory with passion, secrets, and nail-biting suspense, this time taking on the disastrous crash of the Hindenburg in 1937...Lawhon threads many stories together, connecting passengers and crew and bringing behind-the-scenes depth and humanity to a great 20th-century tragedy—even though we all know theHindenburg's fate."
--Publishers Weekly

"An Agatha Christie–style page-turner...Building on a dense scaffolding of biographical and historical fact, Lawhon invents personalities and relationships for key passengers, chooses from the extant theories about what caused the fire, and spins it all into a web of airborne intrigue...As the disaster inches closer with every chapter—each begins with a countdown in days, hours, and minutes—Lawhon evokes the airborne luxury of the ship—the meals, the cocktails, the smoking room, and the service—in such detail that you end up feeling a little sad that the stately flight of the Hindenberg marked the end of passenger travel by airship forever. A clever, dramatic presentation of a tragic historical event. Suspenseful and fun."
--Kirkus Reviews

"The clever banter, elaborate plot twists, and period detail will be appreciated by lovers of historical fiction. Readers of Melanie Benjamin's The Aviator's Wife or Nancy Horan's Under the Wide and Starry Sky should find this entertaining."
--Library Journal
Doubleday, 9780385540025, 336pp.
Publication Date: February 23, 2016
About the Author
Ariel Lawhon is the author of The Wife, the Maid, and the Mistress and cofounder of the popular Web site SheReads.org. She lives in the rolling hills outside Nashville, Tennessee, with her husband, four sons, and black Lab—who is, thankfully, a girl.
or
Not Currently Available for Direct Purchase