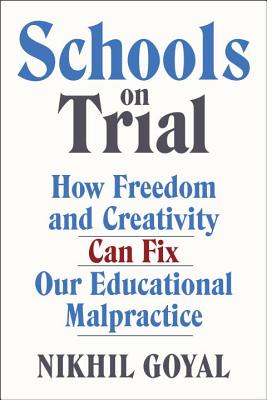 Schools on Trial (Hardcover)
How Freedom and Creativity Can Fix Our Educational Malpractice
Doubleday, 9780385540124, 320pp.
Publication Date: February 16, 2016
* Individual store prices may vary.
Description
Schools on Trial is an all-in attack on the American way of education and a hopeful blueprint for change by one of the most passionate and certainly youngest writers on this subject.


Are America's schools little more than cinder-block gulags that spawn vicious cliques and bullying, negate creativity and true learning, and squelch curiosity in their inmates, um, students? Nikhil Goyal—a journalist and activist all of twenty years old, whom The Washington Post has dubbed a "future education secretary" and Forbes has named to its 30 Under 30 list—definitely thinks so. In this book he both offers a scathing indictment of our teach-to-the-test-while-killing-the-spirit educational assembly line and maps out a path for all of our schools to harness children's natural aptitude for learning by creating an atmosphere conducive to freedom and creativity. He prescribes an inspiring educational future that is thoroughly democratic and experiential, and one that utilizes the entire community as a classroom.
About the Author
Nikhil Goyal is a journalist who has appeared on MSNBC and FOX and has written for The New York Times, MSNBC, The Nation, and other publications. Goyal has also had speaking engagements with the Clinton Global Initiative University, Google, Stanford, the University of Cambridge, SXSW, and the LEGO Foundation, among others. In 2013, he was named to the Forbes 30 Under 30 list. He is also a recipient of the 2013 Freedom Flame Award. He lives in New York.
Praise For Schools on Trial: How Freedom and Creativity Can Fix Our Educational Malpractice…
Praise for Schools on Trial:

"Schools on Trial is a terrific book, terribly important, written with the kind of energy that ought to stir a lot of students and then parents to resist the dismal status quo. Nikhil Goyal made me nostalgic: John Holt and I taught together in the first year of Upward Bound. George Dennison and I became good friends three years later. Ivan Illich called me on the phone in 1968 (I had no idea who he was) and literally ordered me to spend a month with Paolo Freire. I can't tell you how grateful I am that Nikhil Goyal is bringing fuel to an old fire that Holt and Freire first ignited for us almost 50 years ago."
—Jonathan Kozol

"Science fiction writer Ray Bradbury and many other famous writers, artists, journalists, and computer coders would have failed in today's educational system. Schools on Trial will force you to think deeply about problems in today's schools."
—Temple Grandin, author of Thinking in Pictures and The Autistic Brain

"This well-documented, solid, highly engaging book gives me hope for the future of education. Nikhil Goyal does much more than explain the failings of our standard, coercive schools. He reviews the growing number of alternative educational routes that are empowering and joyful rather than demeaning and dreary. We look to the day when such choices are available to everyone."
—Peter Gray, Research Professor at Boston College and author of Free to Learn:  Why Unleashing the Instinct to Play Will Make Our Children Happier, More Self-Reliant, and Better Students for Life

"Rarely do we think of high school students as prisoners, but Nikhil Goyal does—and he should know because he was one until just a few years ago. His book is a powerfully written, revolutionary indictment of our system of schooling. Goyal makes a compelling case for the need to listen to the voices of kids and offer meaningful learning alternatives."
—Tony Wagner, author of Creating Innovators and Expert in Residence at the Harvard Innovation Lab
 
"I began by arguing with Nikhil Goyal (one of my favorite occupations), but by the third chapter of Schools on Trial, I was thoroughly in synch and found it provoking, insightful and a wonderfully clear read."
—Deborah Meier, MacArthur Fellow, founder of the Central Park East school

"A blistering critique of the damage and injustices wrought by standardized education and a visionary, practical vision of the essential alternatives that lie in our reach. Highly recommended for anyone with a serious interest in the well-being of our children and the sanity and health of our communities."
—Sir Ken Robinson, author of Creative Schools and The Element 

"As Illich, Holt, Gatto and others have done before him, Goyal reminds us that our public school system was modeled after the factories of the early 1900s, that much more powerful ways of educating our children are available, and that school as most people know it today is a relic that has no legitimate place in our country's future. Maybe Goyal will succeed where the other school reformers failed. For the sake of our children and our society, I certainly hope so."
—Robert Epstein, Ph.D., author of Teen 2.0: Saving Our Children and Families from the Torment of Adolescence; former editor-in-chief, Psychology Today
 
"Schools on Trial is a kaleidoscope of insights, a meteor shower of surprising enlightenments from the freshest, most just, vantage point on the institutional school scene—that of the student victim. Only three short years after graduation from Syosset High School on Long Island, Nikhil Goyal offers the reading public his penetrating reflections on the myriad insults he, his classmates, and millions of young Americans suffer at the hands of a badly designed social machine, and shows how its 'malpractice' can be fixed, almost without cost.
 
"What doubles the fascination of Goyal's book is that Syosset High, from whence his observations stem, was ranked by Newsweek as the 143rd best high school in America and owns a truly impressive array of high awards in academics, athletics, and the arts. Mr. Goyal will show you, in clear language, what the news magazine and other honors-bestowers missed. Buy this one!"
—John Taylor Gatto, New York State Teacher of the Year, 1991; author of The Underground History of American Education and Dumbing Us Down
or
Not Currently Available for Direct Purchase