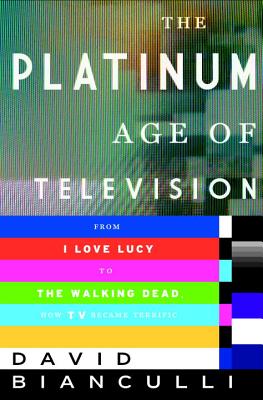 The Platinum Age of Television
From I Love Lucy to The Walking Dead, How TV Became Terrific
Hardcover

* Individual store prices may vary.
Other Editions of This Title:
Digital Audiobook (11/14/2016)
Paperback (9/5/2017)
Description
Television shows have now eclipsed films as the premier form of visual narrative art of our time. This new book by one of our finest critics explains—historically, in depth, and with interviews with the celebrated creators themselves—how the art of must-see/binge-watch television evolved.

Darwin had his theory of evolution, and David Bianculli has his. Bianculli's theory has to do with the concept of quality television: what it is and, crucially, how it got that way. In tracing the evolutionary history of our progress toward a Platinum Age of Television—our age, the era of The Sopranos and Breaking Bad and Mad Men and The Wire and Homeland and Girls—he focuses on the development of the classic TV genres, among them the sitcom, the crime show, the miniseries, the soap opera, the western, the animated series and the late night talk show. In each genre, he selects five key examples of the form, tracing its continuities and its dramatic departures and drawing on exclusive and in-depth interviews with many of the most famed auteurs in television history.

Television has triumphantly come of age artistically; David Bianculli's book is the first to date to examine, in depth and in detail and with a keen critical and historical sense, how this inspiring development came about.
Praise For The Platinum Age of Television: From I Love Lucy to The Walking Dead, How TV Became Terrific…
"A wonderful overview of the history of television. . .What makes this book so much more than an examination of the history of TV is the personal touch that Bianculli adds when he recounts why he fell in love with particular shows or how he was influenced by what he saw on the screen. He also interviews the creators behind the shows he considers the best of the best, and getting insight from legends such as Carl Reiner, Norman Lear and Steven Bochco truly captures why television continues to be the place where quality writing and imagination can reside. . .This book is a must for anyone who has been enthralled by the images and stories on television."
⎻⎻  Jeff Ayers, Associated Press

"The Platinum Age' sweep[s] this reader from one era to another, turning the subject of so much binge watching into binge-reading….Bianculli loves TV and his passion shines throughout these pages. Again and again, he displays genuine enthusiasm for what's current and what's ahead….always thoughtful and comprehensive….Anyone even casually acquainted with beloved TV series – and that covers just above everyone – will want to read Bianculli to see what he thinks of their favorites while also learning about other shows to sample….the range here is all but endless."
⎻⎻  Erik Spanberg, Christian Science Monitor

"I have a small shelf full of histories of the television industry, none of them as complete, sharp-witted, and entertaining as David Bianculli's new book, titled (take a deep breath now) The Platinum Age of Television: From I Love Lucy to The Walking Dead, How TV Became Terrific (Doubleday). Bianculli's title raises the stakes in TV-era quality…. As I said, I have a lot of TV histories on my shelf, but it's most likely Bianculli's I'll pull down when I want to not only get a fact correct but also obtain a terse critical perspective. And once you open it up to read about, say, the origins of The Mary Tyler Moore Show, you're liable to get irresistibly pulled into other areas you hadn't come to explore….In other words, this is history to get happily lost in."
⎻⎻  Ken Tucker, Yahoo TV

"The Platinum Age of Television is an effusive guidebook that plots the path from the 1950s' Golden Age (which [Bianculli] covered in his 1992 book, "Teleliteracy") to today's era of quality TV. Bianculli defines the Platinum Age as the period from 1999 — the year "The West Wing" and "The Sopranos" debuted — to 2016 and beyond. But he reaches back to TV's early days to trace the development of 18 TV genres with five notable shows in each category. For instance, animation evolved from "Rocky and His Friends" to "South Park"; variety shows moved from "The Ed Sullivan Show" to "Saturday Night Live"; and family sitcoms grew from "I Love Lucy" to "Modern Family..."A high point of this history is the author's interviews with Carl Reiner, Mel Brooks, Norman Lear, Bob Newhart, Matt Groening, Larry David, Amy Schumer and many others...Bianculli has written a highly readable history."
⎻⎻  Amy Henderson, The Washington Post

"Readers eager to binge on TV history will be as satisfied as those who choose to surf through chapters and genres on demand and in the order of their choosing."
⎻⎻  Melanie McFarland, Salon

"Laid out encyclopedically and ranging from the 1950s through today, [Bianculli's] account of TV's evolution is as dizzying in scope as it is intimate in detail — and it highlights television's undying appeal against a broader backdrop of culture and history….He writes big, but he's also not afraid to get personal….Through its dozens of whip-smart yet personable entries, The Platinum Age weaves a narrative about how television connects us, not just to each other, but to the culture at large. More than a mere guidebook, this is Bianculli's bible of TV — a wise, engaging celebration of a type of entertainment that's as much of an art form as it is a pastime."
⎻⎻  Jason Heller, NPR.org

"David Bianculli sets the gold standard for The Platinum Age of Television."
⎻⎻  Sloane Crosley, Vanity Fair's Hot Type

"David Bianculli's excellent The Platinum Age of Television (Knopf/Doubleday) offers a rousing rundown of the history of the medium and how it became the pop-cultural, multi-platform programming colossus of today. Through thoughtful, engaging, entertaining essays on sitcoms, crime shows, soap operas, westerns, cartoons and late-night, plus a roster of exclusive interviews, he guides readers though an ever-changing road map of themes, formats, stars and styles for a comprehensive overview of an entertainment juggernaut that continues to grow and evolve."
⎻⎻ Neil Pond, Parade

"For the discerning viewer, The Platinum Age of Television ($32.50, Doubleday) by veteran critic David Bianculli will score a bullseye. He lays out his theory of how TV evolved to its current rarified form in engagingly written, well-organized detail. There are sections devoted to genres including animation, Westerns and medical shows (for that, the dots are connected starting at "Dr. Kildare" and ending with "Grey's Anatomy"). Other chapters profile such vaunted figures as Carol Burnett, Mel Brooks and Norman Lear."
⎻⎻ Lynn Elber, AP Holiday Gift Guide

The Platinum Age of Television does make a compelling case to couch potatoes everywhere that television, past and present, can be informative, engaging and provocative. And that the future of quality programming on small (and now not so small) screens may well be bright."
⎻⎻  Glenn C. Altschuler, Tulsa World

"The Platinum Age of Television showcases Bianculli's prodigious knowledge of TV and is written in an easily consumed, conversational style. Like The Revolution Was Televised and TV (The Book), it can be turned to just about any chapter for an interesting excerpt as much as it can be read front to back."
⎻⎻ Michael Malone, Broadcastingcable.com

"Impressively comprehensive….Because of the breadth of the subject matter, Bianculli covers a lot of ground, and he offers spotlights on show creators, such as Matt Weiner (Mad Men), Matt Groening (The Simpsons), and Larry David (Seinfeld), in order to delve more deeply into some of the most noteworthy shows in the history of television. Simply a must-read for TV lovers."
—Booklist 

 
Doubleday, 9780385540278, 592pp.
Publication Date: November 15, 2016
About the Author
DAVID BIANCULLI is a guest host and TV critic on NPR's Fresh Air with Terry Gross. A contributor to the show since its inception, he has been a TV critic since 1975. From 1993 to 2007, Bianculli was a TV critic for the New York Daily News. Bianculli has written three books: Dangerously Funny: The Uncensored Story of The Smothers Brothers Comedy Hour (Simon & Schuster/Touchstone, 2009); Teleliteracy: Taking Television Seriously (1992); and Dictionary of Teleliteracy (1996). An associate professor of TV and film at Rowan University in New Jersey, Bianculli is also the founder and editor of the online magazine, TVWorthWatching.com.
Coverage from NPR
or
Not Currently Available for Direct Purchase