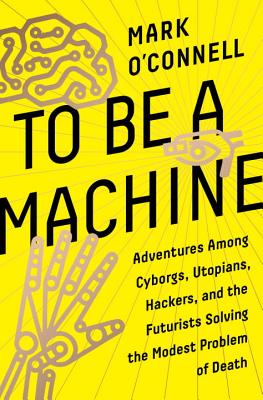 To Be a Machine (Hardcover)
Adventures Among Cyborgs, Utopians, Hackers, and the Futurists Solving the Modest Problem of Death
Doubleday, 9780385540414, 256pp.
Publication Date: February 28, 2017
Other Editions of This Title:
Digital Audiobook (2/27/2017)
Paperback (1/16/2018)
* Individual store prices may vary.
Description
"This gonzo-journalistic exploration of the Silicon Valley techno-utopians' pursuit of escaping mortality is a breezy romp full of colorful characters." —New York Times Book Review (Editor's Choice)

Transhumanism is a movement pushing the limits of our bodies—our capabilities, intelligence, and lifespans—in the hopes that, through technology, we can become something better than ourselves. It has found support among Silicon Valley billionaires and some of the world's biggest businesses.

In To Be a Machine, journalist Mark O'Connell explores the staggering possibilities and moral quandaries that present themselves when you of think of your body as a device. He visits the world's foremost cryonics facility to witness how some have chosen to forestall death.  He discovers an underground collective of biohackers, implanting electronics under their skin to enhance their senses. He meets a team of scientists urgently investigating how to protect mankind from artificial superintelligence.

Where is our obsession with technology leading us? What does the rise of AI mean not just for our offices and homes, but for our humanity? Could the technologies we create to help us eventually bring us to harm?  Addressing these questions, O'Connell presents a profound, provocative, often laugh-out-loud-funny look at an influential movement. In investigating what it means to be a machine, he offers a surprising meditation on what it means to be human.
About the Author
MARK O'CONNELL is Slate's books columnist, a staff writer at The Millions, and a regular contributor to The New Yorker's "Page-Turner" blog; his work has been published in The New York Times Magazine, The New York Times Book Review, The Observer, and The Independent.
Praise For To Be a Machine: Adventures Among Cyborgs, Utopians, Hackers, and the Futurists Solving the Modest Problem of Death…
**Winner of the 2018 Wellcome Book Prize**
**Shortlisted for the 2017 Baillie-Gifford Prize for Nonfiction**
**Finalist for the 2017 Royal Society Insight Investment Science Book Prize**

"Troubling and humorous, this is one of my current give-it-to-everyone books—I buy six copies at a time. Did you know our future belongs to a few asocial geeks for whom being human has always been a problem? Now they can solve it!"
—Jeanette Winterson, Vulture

"O'Connell… dissects the practices and beliefs of trans-humanism with extraordinary exuberance and wit… To Be a Machine is sometimes hilarious (triggering several bursts of uncontrollable giggles while I read it on the Tube) but even as O'Connell mocks the more absurd manifestations of trans-humanism he shows sympathy and understanding for its adherents." 
—Financial Times

"Wryly humorous, cogently insightful…. To Be a Machine is a lucid, soulful pilgrimage into the heart of what humanity means to us now—and how science may redefine it tomorrow, for better and for worse."
—NPR.org

"Open-minded… With a practiced journalist's sense of engagement and empathy leavened by healthy skepticism, O'Connell describes the peculiar constellation of scientists, seekers, grifters, and con artists orbiting techno-optimist communities over the past half century…. Offer[s] much-needed critical analysis that never veers into condescension."
—LA Review of Books

"O'Connell unleashes his prodigious researching and writing skills on what could be your future."
—Philadelphia Inquirer

"O'Connell is a writer of elegant precision and winning facetiousness… His ear and eye for detail are prodigious… O'Connell's writing—full of high-low swerves and personal asides—is a constant reminder of the bathetic reality of being human."
—4Columns

"[O'Connell] reveals a bounty of beguiling ingenuity and genuine absurdity, eliciting laughs and empathy, because we are our most human while trying to become something more than human."
—Playboy

"O'Connell, a columnist for Slate, is a charming, funny tour guide. Writing on transhumanism often gets swept away by the inherent drama of its adherents' promises, but O'Connell's eye for small human details…keeps the narrative grounded in a way that rigorous scientific debunking wouldn't."
—Vice

"The game-changing technology being developed in Silicon Valley is often hard to wrap one's head around, and Mark O'Connell takes readers on a wild ride through this world in a way that makes one feel that anything is possible and everything is happening right now."
—Newsweek

"In this thoughtful and readable book, [O'Connell] aims to understand the motivations of those who are guided by the belief that technology will enable humans to transcend the human condition. In an attempt to explore what it means to think of ourselves as machines, O'Connell takes readers on an all-encompassing tour…He writes in an agreeable, conversational tone, offering his opinions, doubts, and fears along the way."
—Undark

"O'Connell decides to dive into the transhumanist culture in the best way possible: by traveling the world in search of key figures in the movement… The result is a fast-paced travel-log-cum-existential inquiry into the science and the religious significance of this age-old human desire to live forever: To become, in effect, a god." 
—NPR's 13.7 blog
 
"O'Connell, a journalist, makes his own prejudices clear: 'I am not now, nor have I ever been, a transhumanist,' he writes. However, this does not stop him from thoughtfully surveying the movement."
—Science 

"O'Connell's book is skeptical but not cynical, and it functions as a witty overview of transhumanism."
—The Ringer

"O'Connell's sensibility—his humanity, if you will—and his subject matter are a match made in heaven. It's an absolutely wonderful book."
—The Millions

"O'Connell has devised an indispensable GPS for negotiating today's tomorrow-land."
—Fredericksburg Free Lance-Star

"Comedic, unsettling, ambivalent, and intriguing…O'Connell's book is a worthwhile read for all audiences."
—LitHub

"To Be a Machine is flat-out fascinating. O'Connell's journey is a layman's adventure through the technological looking glass, an opportunity to meet with a subculture existing on the fringes of the tech scene and a compelling peek at one possible future. Sharply-written and thought-provoking, To Be a Machine is a book that will undoubtedly set your mind to racing and your gears to turning."
—The Maine Edge

"O'Connell writes with an intellectual curiosity that makes his esoteric subject matter accessible to lay readers…a stimulating overview of modern scientific realities once thought to be the exclusive purview of science fiction."
—Publishers Weekly

"An enlightening tour of transhumanism… packed with eccentric characters…An unsettling but informative and sometimes-optimistic view of mostly legitimate efforts at life extension."
—Kirkus Reviews

"Readers will appreciate O'Connell's sense of humor and his fast-paced writing, and will at times feel like they're having a dialogue with the author as he ponders the ethics, consequences, and dilemmas of these transhumanist activities embedded in society today. Those who are interested in artificial intelligence, bioengineering, technology, and human development will find this book to be deeply engrossing and informative on the topic of transhumanism and what it means to be a human today and in the future."
—Booklist 

"A very lively book about transhumanism."
—Sebastian Barry, The Guardian

"A voyage into the dark heart of transhumanism, where dwell many hopeful mind-uploaders, robo-warfighters, subdermal implanters, doomed immortalists, and sundry aging Singularitarians.  A funny, wise, and oddly moving book."
—Nicholson Baker, author of House of Holes and Human Smoke

"Hilarious and moving…. To Be a Machine is super-detailed and cosmic and minute and high-stakes and funny and sad, all at the same time."
—Elif Batuman, author of The Possessed

"O'Connell, like some dream combination of Jon Ronson and Don Delillo, switches effortlessly from profound to poignant to laugh-out-loud funny. A brilliant illumination of the techno-future, To Be A Machine is also, and more importantly, a joyful summation of what it is to be human."
—Paul Murray, author of Skippy Dies and The Mark and the Void

"O'Connell's forensic investigation of the unnervingly fluid border between the human and the machine is elegant and gripping: at once a hilarious anthropological survey of the people who believe technology will give us eternal life and a terrifying account of how technology is changing the cardinal features of human existence."
—Olivia Laing, author of The Lonely City and The Trip to Echo Spring

"Provocative, funny and not a little gonzo, it's a great one to recommend to devotees of Jon Ronson"
—Bookseller (UK)

"Mark O'Connell, in funny, reflective prose, finds in the transhumanists a desire to exceed these very limits – of the capacity for thought, of death, of the body."
—Globe and Mail (Canada)

"[A] beautifully written book… Ultimately, To Be A Machine is both an insight into transhumanist thought and O'Connell's very relatable fears and anxieties about morality and the future."  
—Irish Times

"To Be a Machine is an attempt to understand the transhumanist movement on its own terms… It's O'Connell's lack of stridency, as well as his often splendid writing, that makes him such a companionable guide."
—The Guardian (UK)

"By exposing the ludicrous yet terrifyingly serious ideologies behind transhumanism, To Be a Machine is an important book, as well as a seriously funny one." 
—Sunday Times (UK)

"O'Connell invokes the twin spectres of death and child-bearing in an attempt to make sense of his subject—but he also manages to be staggeringly funny." 
—New Scientist (UK)

"[A] Homer's Odyssey for the digital age.... A gentle, humorous and lovingly written book."
—The Times (UK)
 
or
Not Currently Available for Direct Purchase