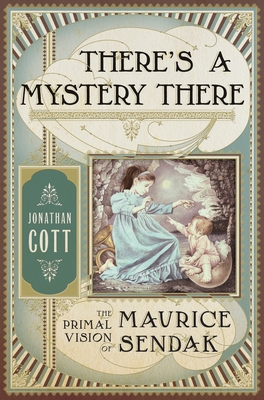 There's a Mystery There
The Primal Vision of Maurice Sendak
Hardcover

* Individual store prices may vary.
Description
An extraordinary, path-breaking, and penetrating book on the life and work and creative inspirations of the great children's book genius Maurice Sendak, who since his death in 2012 has only grown in his stature and recognition as a major American artist, period. 


Polymath and master interviewer Jonathan Cott first interviewed Maurice Sendak in 1976 for Rolling Stone, just at the time when Outside Over There, the concluding and by far the strangest volume of a trilogy that began with Where The Wild Things Are and In the Night Kitchen, was gestating. Over the course of their wide-ranging and revelatory conversation about his life, work, and the fantasies and obsessions that drove his creative process, they focused on many of the themes and images that would appear in the new book five years later. Drawing on that interview,There's a Mystery There is a profound examination of the inner workings of a complicated genius's torments and inspirations that ranges over the entirety of his work and his formative life experiences, and uses Outside Over There, brilliantly and originally, as the key to understanding just what made this extravagantly talented man tick. To gain multiple perspectives on that intricate and multifaceted book, Cott also turns to four "companion guides": a Freudian analyst, a Jungian analyst, an art historian, and Sendak's great friend and admirer, the playwright Tony Kushner. The book is richly illustrated with examples from Sendak's work and other related images.
Praise For There's a Mystery There: The Primal Vision of Maurice Sendak…
"The book is an inventive, intelligent pleasure, a collaborative close reading that is serious and loving. I wish there were more criticism like it."
—Christine Smallwood, Harper's

"Cott's thoughtful questions include quotes from luminaries ranging from Homer to Rumi…. With minimal redundancy, the voices culminate to illuminate an extraordinarily rich picture book, provide fresh insight into human needs, and inspire appreciation for the rewards of looking closely."
—Kirkus Starred Review
 
"Fascinating and compellingly readable as all of this is, there remains something ineffable about Sendak's work, for, yes, when all is said and done, there is a mystery there, one that Cott conveys beautifully.
—Booklist Starred Review

"Cott approaches Sendak from virtually every angle, making this a remarkably complete picture of a complex and dynamic oeuvre."
—Publishers Weekly

"What makes this volume worth reading… are Cott's genuinely thoughtful insights into his subject's work, and Sendak's own wise, sometimes cantankerous musings about the relationship between words and pictures in illustrated books; the artists who inspired him (including Mozart, Melville, Blake and Emily Dickinson); and the kinetic dynamic between his life and art… [Cott] provides an illuminating window into the creative process — and the countless inspirations, influences, ideas and serendipitous encounters that fed into the creation of this work of art."
—New York Times

"[Jonathan Cott] enlists the help of an art historian, a Jungian analyst, a Freudian analyst, and the playwright and screenwriter Tony Kushner, a close friend of Sendak's. Their perspectives on Sendak's work, juxtaposed with Mr. Cott's own exchanges with the artist, illuminate Sendak's books and psyche to remarkable effect. Enriched throughout with images of Sendak's art, the book will be catnip for those who already admire him. Non-enthusiasts who never warmed to his more discomfiting books as children or, as adults, to either his work or his irascible manner may find themselves surprised, sympathetic and enchanted. . . In this riveting account of Sendak's vision, Mr. Cott captures the pain and the glory of the creative process: moments of soaring grandiosity and times of grinding struggle, of words and images that won't come or that come in the wrong way, 'It is through fantasy that children achieve catharsis,' Sendak said. Adults do too. Sendak himself was proof of it." 
—Wall Street Journal

"Cott seamlessly interweaves readings of Sendak's working process and final products, allowing them to reciprocally illuminate each other: The "companion guides" are used deftly to open possibilities without dogmatism. Images from Sendak's books are reproduced in profusion. Poring over them is a pleasure in itself. Poring over them in this company profoundly deepens our appreciation of the power of art to help us bravely face our monsters, transform them and emerge ourselves transformed."
—Star Tribune
Doubleday, 9780385540438, 256pp.
Publication Date: May 16, 2017
About the Author
JONATHAN COTT is a contributing editor at Rolling Stone and has written for The New York Times and The New Yorker. He is the author of eighteen books, including Pipers at the Gates of Dawn: The Wisdom of Children's Literature and,most recently, Days That I'll Remember: Spending Time with John and Yoko. He collaborated with Maurice Sendak on the book Victorian Color Picture Books, and he is the editor of Beyond the Looking Glass: Extraordinary Works of Fairy Tale and Fantasy.He lives in New York City.
or
Not Currently Available for Direct Purchase