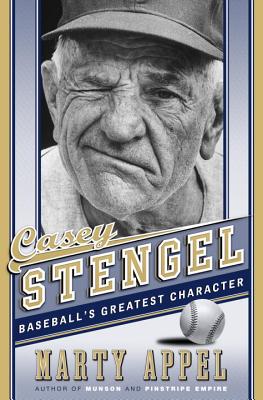 Casey Stengel
Baseball's Greatest Character
Hardcover

* Individual store prices may vary.
Other Editions of This Title:
Digital Audiobook (3/27/2017)
Paperback (3/20/2018)
Description
The definitive biography of one of baseball's most enduring and influential characters, from New York Times bestselling author and baseball writer Marty Appel.

As a player, Charles Dillon "Casey" Stengel's contemporaries included Babe Ruth, Honus Wagner, and Christy Mathewson . . . and he was the only person in history to wear the uniforms of all four New York teams: the Dodgers, Giants, Yankees, and Mets. As a legendary manager, he formed indelible, complicated relationships with Yogi Berra, Joe DiMaggio, Mickey Mantle, and Billy Martin. For more than five glorious decades, Stengel was the undisputed, quirky, hilarious, and beloved face of baseball--and along the way he revolutionized the role of manager while winning a spectactular ten pennants and seven World Series Championships.  

But for a man who spent so much of his life in the limelight--an astounding fifty-five years in professional baseball--Stengel remains an enigma. Acclaimed New York Yankees' historian and bestselling author Marty Appel digs into Casey Stengel's quirks and foibles, unearthing a tremendous trove of baseball stories, perspective, and history. Weaving in never-before-published family documents, Appel creates an intimate portrait of a private man who was elected into the Baseball Hall of Fame in 1966 and named "Baseball's Greatest Character" by MLB Network's Prime 9. Casey Stengel is a biography that will be treasured by fans of our national pastime.
Praise For Casey Stengel: Baseball's Greatest Character…
"Casey Stengel, by Marty Appel, is the ultimate biography."
--New York Times

"Former Yankees P.R. director Marty Appel's latest...is a fun and detailed read on the legendarily quirky former Yanks and Mets skipper."
--New York Daily News

"Read this book! Never have we needed Casey more. Thanks, Marty Appel, for bringing him to life again in this superb book." 
--Jane Leavy, Bestselling author of The Last Boy: Mickey Mantle and the End of America's Childhood

"Marty Appel's Casey Stengel is mightily impressive. The writing is smooth and the research, highlighted by the uncovering of unpublished manuscripts by Casey's wife, Edna, and longtime Yankee, Frank Crosetti, indeed adds a dimension that has not appeared in other writings about Stengel. Appel has done a magnificent job in bringing Casey to life in print."
--Ira Berkow, bestselling author and New York Times Sports Columnist

"What a classic double play combination—the reporting brilliance of Marty Appel, and baseball's greatest character, Casey Stengel. There are too many terrific stories about Casey to keep count, but Marty manages to unearth them with great flare and humor. Casey Stengel is a treat for any true fan of the game. I loved every page."
--John Sterling, Voice of the New York Yankees

"In times like these, a book about Casey Stengel is just what our nation needs. And Marty Appel has delivered. Casey Stengel: Baseball's Greatest Character is a wonderful romp through our collective field of dreams, from the medieval days of the sport to the modern era."
--The Christian Science Monitor

"Sports journalist Appel delves deeply into the baseball career and personal life of Casey Stengel (1890-1975), a solid player and legendary manager. Citing new material unavailable to previous Stengel biographers and chroniclers of the New York Yankees, the author offers an informative, smoothly written account of a complex and relentlessly interesting subject...Stengel is unquestionably one of baseball's most significant characters, and Appel is the perfect fit to chronicle his life. One of the more skilled biographies baseball fans could hope to find."
--Kirkus (starred) 

"An excellent look at Stengel's life through more than 50 years of baseball. Appel's narrative and easy writing style pairs well with Stengel's lighthearted antics, and the intertwined excerpts from the unpublished memoir of Stengel's wife, Edna, is a welcoming parallel story of lifelong love and partnership. The author has done his homework, and this book benefits from firsthand accounts and historical perspectives that create an engaging story from beginning to end. VERDICT: Baseball history buffs will definitely want to add this biography to their shelves."
--Library Journal 

"Casey Stengel was a complicated man, and not always the easiest manager to play for.  My old friend Marty Appel has not only captured him perfectly in this delightful book, but I now understand him better than ever."
--Bobby Richardson, New York Yankees, 1955-1966

"With access to a previously unpublished memoir by Stengel's wife, Edna, Appel brings out a wealth of humanizing detail here concerning Stengel's personal life—details about not only his relationship with his wife but also the surprising source of his nickname, the Old Perfesser, and the evolution of Stengelese, the wacky but cagey dialect Stengel used to amuse and misdirect the press. There's plenty of baseball material, too, as Appel shows that, while Stengel was a showman and an entertainer, he was also an underrated baseball genius who earned the respect of multiple Hall of Fame players whose egos were as formidable as their on-thefield skills. Great subject and a fine biography, well researched and sensitively written with just the right amount of humor."
--Booklist (starred)
 
"Marty Appel, who has worked for the New York Yankees in some capacity since the late 1960s (and who helped coordinate all of Casey Stengel's five Old-Timers Day appearances) knows where the gold is buried...Casey Stengel is a terrific read which will cure you of any notion that the Ole' Professor was anything else than a baseball genius."
--The Dallas Morning News

"My first manager in the big leagues was a philosopher, teacher, entertainer and baseball genius; and, perhaps, a poet. His distinctive Stengelese syntax had a lyrical cadence to it. A friend and baseball historian, Marty Appel, portrays Casey's  life story to a T in the biography. I can hear the Ole Perfesser telling the book's readers, 'You could look it up.'"
--Tony Kubek, New York Yankees, 1957-1965

"A definitive, intimate biography of the man whose 50-year career as a player and manager — including seven World Series wins — was one of the most dazzling in the game."
--The Tampa Bay Times

"A balanced and powerful biography that breathes new life into the legend whose career not only transcended the lives of so many well-known players . . . told by a biographer whose knowledge of the New York Yankees is second to none."
--Spitball
Doubleday, 9780385540476, 432pp.
Publication Date: March 28, 2017
About the Author
MARTY APPEL was the youngest public relations director in baseball history when George Steinbrenner elevated him to the New York Yankees post in 1973.  He is the author or coauthor of numerous books, including the New York Times bestselling Munson: The Life and Death of a Yankee Captain and Pinstripe Empire: The New York Yankees from Before the Babe to After the Boss. He resides in New York City.
or
Not Currently Available for Direct Purchase