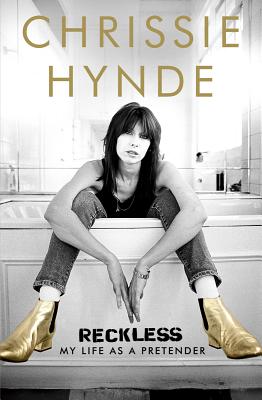 Reckless
My Life as a Pretender
Hardcover

* Individual store prices may vary.
Other Editions of This Title:
Digital Audiobook (9/7/2015)
Paperback (8/9/2016)
Compact Disc (9/8/2015)
Description
Chrissie Hynde, for nearly four decades the singer/songwriter/ undisputed leader of the Pretenders, is a justly legendary figure.

Few other rock stars have managed to combine her swagger, sexiness, stage presence, knack for putting words to music, gorgeous voice and just all-around kick-assedness into such a potent and alluring package. From "Tatooed Love Boys" and "Brass in Pocket" to "Talk of the Town" and "Back on the Chain Gang," her signature songs project a unique mixture of toughness and vulnerability that millions of men and women have related to. A kind of one- woman secret tunnel linking punk and new wave to classic guitar rock, she is one of the great luminaries in rock history.
 
Now, in her no-holds-barred memoir Reckless, Chrissie Hynde tells, with all the fearless candor, sharp humor and depth of feeling we've come to expect, exactly where she came from and what her crooked, winding path to stardom entailed. Her All-American upbringing in Akron, Ohio, a child of postwar power and prosperity. Her soul capture, along with tens of millions of her generation, by the gods of sixties rock who came through Cleveland—Mitch Ryder, David Bowie, Jeff Back, Paul Butterfield and Iggy Pop among them. Her shocked witness in 1970 to the horrific shooting of student antiwar protestors at Kent State. Her weakness for the sorts of men she calls "the heavy bikers" and "the get-down boys." Her flight from Ohio to London in 1973 essentially to escape the former and pursue the latter. Her scuffling years as a brash reviewer for New Musical Express, shop girl at the Malcolm McLaren and Vivienne Westwood boutique 'Craft Must Wear Clothes But The Truth Loves To Go Naked', first-hand witness to the birth of the punk movement, and serial band aspirant. And then ,at almost the last possible moment, her meeting of the three musicians who comprised the original line-up of The Pretenders, their work on the indelible first album "The Pretenders," and the rocket ride to "Instant" stardom, with all the disorientation and hazards that involved. The it all comes crashing back down to earth with the deaths of lead guitarist James Honeyman Scott and bassist Peter Farndon, leaving her bruised and saddened, but far from beaten. Because Chrissie Hynde is, among other things, one of rock's great survivors.
 
We are lucky to be living in a golden age of great rock memoirs. In the aptly titled Reckless, Chrissie Hynde has given us one of the very best we have. Her mesmerizing presence radiates from every line and page of this book.
Praise For Reckless: My Life as a Pretender…
Praise for Reckless:

"Chrissie Hynde's autobiography, Reckless, out-rocks them all. You can read her book and wax nostalgic about band culture in the late '60s and early '70s. Or you can promptly check yourself into rehab. She wouldn't care; as she writes in the prologue, 'I regret half of this story and the other half is the sound you heard.' .... Rock on, Chrissie."
—Sibbie O'Sullivan, The Washington Post
 
"Chrissie Hynde serves up a hearty and satisfying meal in Reckless, writing with the sort of candor and humor rarely found in books by her male counterparts…. In the end, it's understandable that Hynde has some regrets, but it's also heartening that bad girls sometimes finish first."
—Mark Shanahan, The Boston Globe
 
"Restless and emphatic... a tell-all memoir (and) given all Ms. Hynde has to tell, it's sharp, posturing, moving, exposing, evasive and at times obtuse."
—Lavinia Greenlaw, The Wall Street Journal
 
"Reckless is the literary equivalent of a long set of bangs, obscuring a heavily shaded pair of eyes. As a portrait of an era, it's fascinating."
—Julia Feslenthal, Vogue.com

"'Chaos and disorder were to be ongoing themes for me with a mouth that flapped like a rag nailed to a post in a windstorm,' Hynde writes. That mouth, literally and figuratively, is what has made Hynde famous. It's the hole out of which that beautiful burr of a voice comes. And if she still has a tendency to shoot her mouth off recklessly, well, that's Chrissie. Maybe Reckless should come with a trigger warning: Caution: Violent scenes, lousy judgments, internalized misogyny and great rock 'n' roll ahead."
—Evelyn McDonnell, Los Angeles Times

"A sensitive and rowdy coming-of-age-story."
—Dwight Garner, The New York Times
 
"Frank and witty… Hynde's story contains no shortage of eye-popping hi-jinx and hilarious missteps which, together, give the reader a stunningly clear idea of the character at hand.  Hynde's writing style might also be described as classically masculine. It's hard-boiled enough to suit Sam Spade, and her book snaps with wit."
—Jim Farber, New York Daily News

"Rich and ragged .... The memoir is certainly candid; you would expect nothing less of the songwriter who laid down lines like 'I just feel pity when you lie, contempt when you cry.' .... [Hynde] writes just like she lives, and just like she makes music. She does it her way, which is an inimitable multiplicity of things: impulsive, untamed, ragged, proud, a little sad around the edges. This is her story."
—Melissa Holbrook Pierson, The Daily Beast.com

"If you think this rocker chick is special, so special, you'll want to read this book."
—Billy Heller, New York Post
 
"Fitfully entertaining, surprisingly well-written, Reckless is worth a read."
—Laura Malt Schneiderman, Pittsburgh Post-Gazette
Doubleday, 9780385540612, 336pp.
Publication Date: September 8, 2015
About the Author
Chrissie Hynde is a singer, songwriter, and guitarist, best known as the lead singer of the enduring rock band The Pretenders. Hynde released nine studio albums with The Pretenders, beginning with 1980's Pretenders, which Rolling Stone called the #13 Best Debut Album of All Time. Most recently, she released her first solo album, Stockholm, in 2014. She lives in London.
or
Not Currently Available for Direct Purchase