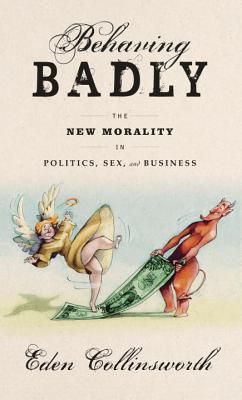 Behaving Badly
The New Morality in Politics, Sex, and Business
Hardcover

* Individual store prices may vary.
Other Editions of This Title:
Digital Audiobook (4/3/2017)
Paperback (3/6/2018)
Description
What is the relevance of morality today? Eden Collinsworth enlists the famous, the infamous, and the heretofore unheard-of to unravel how we make moral choices in an increasingly complex—and ethically flexible—age.

To call these unsettling times is an understatement: our political leaders are less and less respectable; in the realm of business, cheating, lying, and stealing are hazily defined; and in daily life, rapidly changing technology offers permission to act in ways inconceivable without it. Yet somehow, this hasn't quite led to a complete free-for-all—people still draw lines around what is acceptable and what is not. Collinsworth sets out to understand how and why. In her intrepid quest, she squares off  with a prime minister, the editor of London's Financial Times, a holocaust survivor, a pop star, and a former commander of the U.S. Air Force to grapple with the impracticality of applying morals to foreign policy; precisely when morality gets lost in the making of money; what happens to morality without free will; whether "immoral" women are just those having a better time; why celebrities have become the new moral standard-bearers; and if testosterone is morality's enemy or its hero.
Praise For Behaving Badly: The New Morality in Politics, Sex, and Business…
"Rarely does a voice cut through all the noise and deliver a brand new take on the world as we know it, but Eden Collinsworth does just that."
—Newsweek

"Written with brio and great charm. . . . An implausibly entertaining romp through the ethical questions of our time."
—Andrew Solomon, author of Far from the Tree

"Has technology changed what we believe is right? . . . [Eden Collinsworth] enlists both the famous and infamous to unravel how we make moral choices in an ethical flexible era."
—The Economist Radio

"Has morality become irrelevant in some ways? For her new book, Behaving Badly, Ms. Collinsworth talked to experts and laypeople ranging from a neuroscientist to a convicted murderer in hopes of discovering what still matters and why."
—Leonard Lopate, The Leonard Lopate Show, NPR

"Morality is a complicated subject, but Eden Collinsworth breaks it down. . . . Her analysis is surprisingly light and fun."
—Bustle

"Fascinating. . . . A refreshing read."
—Big Think

"Regardless of the era, vice is a tale as old as time, and author Eden Collinsworth works wonders to produce a fresh spin on one of the humanity's oldest dichotomous positions, morality."
—PopMatters

"Every day we see and hear stories of bad behavior in sports, business, and politics, in which bad people with no moral compass seem to succeed. . . . This extraordinary, thought-provoking book by Eden Collinsworth makes us stop and consider who we are and who we want to be."
—Ed Rollins, former U.S. Presidential Advisor

"Eden Collinsworth doesn't pull her punches as she explores the shifting moral landscape of our times. Behaving Badly is as insightful as it is hilarious."
—Amanda Foreman, author of Georgiana, Duchess of Devonshire

"Meticulously researched, historically grounded. . . . Morality and wit are a rare marriage, yet in sharing these stories—and telling her own, by far the most intriguing—they are marshaled into often hilarious lockstep."
—Nancy Collins, journalist, Vanity Fair, The Hollywood Reporter, and ABC News correspondent

"Collinsworth's goal is to make readers think, and she not only succeeds in doing that, but does so in an entertaining manner."
—Booklist

"A wide-ranging, breezy journey through a series of ethical minefields. . . . The author is always a genial guide through the moral thicket, and her companions underscore the provocative spirit of her quest."
—Kirkus Reviews

"Entertaining. . . . Taking a global view, [Collinsworth] maps the moral landscapes of Swiss bank accounts and the murky waters of Japanese business practices, and compares American and French perspectives on monogamy."
—Publishers Weekly 
Nan A. Talese, 9780385540933, 272pp.
Publication Date: April 4, 2017
About the Author
EDEN COLLINSWORTH is a former media executive and business consultant. She was  president of Arbor House Publishing Co. and founder of the Los Angeles-based monthly lifestyle magazine, Buzz, before becoming a vice president at Hearst Corporation. In 2011—after writing a bestselling book in China for Chinese businessmen on Western deportment—she launched Collinsworth & Associates, a Beijing-based consulting company, which specialized in intercultural communication. The author of I Stand Corrected: How Teaching Western Manners in China Became Its Own Unforgettable Lesson, she currently lives in London.
or
Not Currently Available for Direct Purchase