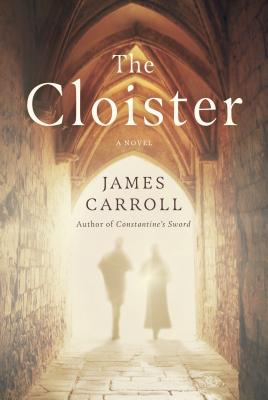 The Cloister (Hardcover)
A Novel
Nan A. Talese, 9780385541275, 384pp.
Publication Date: March 6, 2018
Other Editions of This Title:
Digital Audiobook (3/5/2018)
Paperback (1/22/2019)
Library Binding, Large Print (4/4/2018)
* Individual store prices may vary.
Description
From National Book Award-winning writer James Carroll comes a novel of the timeless love story of Peter Abelard and Héloïse, and its impact on a modern priest and a Holocaust survivor seeking sanctuary in Manhattan.

Father Michael Kavanagh is shocked when he sees a friend from his seminary days at the altar of his humble parish in upper Manhattan—a friend who was forced to leave under scandalous circumstances. Compelled to reconsider the past, Father Kavanagh wanders into the medieval haven of the Cloisters and stumbles into a conversation with a lovely and intriguing docent, Rachel Vedette.

Having survived the Holocaust and escaped to America, Rachel remains obsessed with her late father's greatest scholarly achievement: a study demonstrating the relationship between the famously discredited monk Peter Abelard and Jewish scholars. Feeling an odd connection with Father Kavanagh, Rachel shares with him the work that cost her father his life.

At the center of these interrelated stories is the classic romance between the great philosopher Abelard and his intellectual equal, Héloïse. For Rachel, Abelard is the key to understanding her people's place in history. And for Father Kavanagh, the controversial theologian may be a doorway to understanding the life he himself might have had outside the Church.
About the Author
James Carroll is a distinguished scholar in residence at Suffolk University and a columnist for The Boston Globe. He is the author of ten novels and seven works of fiction. He lives in Boston.
Praise For The Cloister: A Novel…
"In The Cloister, Carroll has produced a sweeping, beautifully crafted book--perhaps his best yet."
--Wall Street Journal

"The Cloister poetically pingpongs between Abélard's abbey in Saint-Denis in the 1100s, elsewhere in France during and after World War II, and Upper Manhattan in the early 1950s . . . Carroll weaves a patchwork of disparate threads, threads unraveled from clerical vestments, that, when quilted together, spell out the single word that the book embodies . . . Incandescent."
--New York Times

"A literary detective game . . . In pushing his readers--in both his fiction and nonfiction--to ponder tough religious topics . . . Carroll is continuing the important discussions made famous by Peter Abelard."
--New York Journal of Books

"With his familiar deftness and depth, James Carroll weaves a profound and compelling novel from diverse but overlapping narrative strands. From the conversations between a Catholic priest and a French Jewish woman in mid-twentieth century New York to the brutality of Nazi-occupied Paris to the great medieval love story of Abelard and Heloïse, The Cloister illuminates life's most vital questions and proposes inspiring, radical, and timely answers."
--Claire Messud, New York Times bestselling author of The Burning Girl and The Emperor's Children

"James Carroll has written an enlightening, vitally important book, a necessity for our time."
-- Maxine Hong Kingston, author of I Love a Broad Margin to My Life

"James Carroll's latest novel vibrates with deep compassion and religious intensity."
--Christian Science Monitor

"I didn't know I needed this novel until I read it. As unflinching about the Holocaust as it is about the Crusades, The Cloister is a fearless exploration of the violent foundations on which our own historical inheritance rests. And like all the best fiction, it commandeers the reader's heart."
--Rachel Kadish, author of The Weight of Ink

"Carroll is a gifted writer of historical fiction . . . The medieval lovers foreshadow how the modern friends also seek freedom from their institutions."
--National Review

"A sweeping, heartbreaking blend of history and fiction. . . [its] entwined stories move at an engrossing rhythm, making this a very magnetic, satisfying novel."
--Publishers Weekly

"Fascinating in its evocation of the twelfth-century Catholic Church in France, this lavishly detailed historical novel serves as an education in historical philosophy, a poignant tale of devoted love, and a portrait of a postwar human crisis influenced heavily by both . . . This is definitely a thought-provoking book."
--Booklist

"Carroll blends his well-aired interests in history, theology, and literary fiction in this deftly told story that partakes richly of all . . . A rich, literate tale well told."
--Kirkus Reviews

"A novel that shifts seamlessly between epic love story, the anatomy of a crisis of faith, family tragedy and trauma survival saga . . . Both moving and enlightening, The Cloister will engross readers."
--Shelf Awareness

"This is a wonderful novel, and it's wonder-filled. James Carroll brings the twelfth-century lovers, Abelard and Heloïse, blazingly back to life, and he does so through the medium of a New York priest and a Parisian Jew. The present and the past illuminate each other, and the startling mysteries of prejudice, brutality, and love are made doubly vivid here.  Like All the Light You Cannot See, The Cloister is a book of gravity and consequence that makes you need to turn and turn the page."
--Nicholas Delbanco, author of Curiouser and Curiouser: Essays