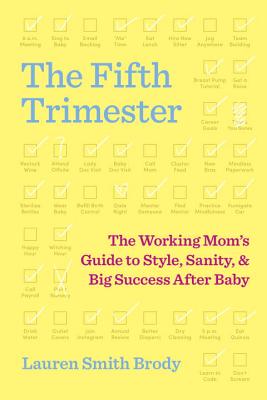 The Fifth Trimester
The Working Mom's Guide to Style, Sanity, and Big Success After Baby
Hardcover

* Individual store prices may vary.
Other Editions of This Title:
Digital Audiobook (4/3/2017)
Paperback (3/6/2018)
CD-Audio (4/4/2017)
Description
The Fifth Trimester is your new best friend: a brilliant, tells-it-like-it-is guide that helps moms cope with the demands of the real world after the baby arrives

The first three trimesters (and the fourth—those blurry newborn days) are for the baby, but the Fifth Trimester is when the working mom is born. No matter what the job or how you define work, you're going to have a lot of questions. When will I go back? How should I manage that initial "I want to quit" attack? Flex-time or full-time? How can I achieve 50/50 at home with my partner? What's the best option for childcare? Is it possible to look like I slept for eight hours instead of three? And . . . why is there never a convenient space to pump?
     Whether you're in the final stages of pregnancy or hitting the panic button on your last day of leave, The Fifth Trimester is your one-stop shop for the honest, funny, and comforting tips, to-do lists, and take-charge strategies you'll need to embrace your new identity as a working parent and set yourself up for success.
     Based on interviews with 700+ candidly speaking moms in wildly varied fields and incredible expert advice, The Fifth Trimester tackles every personal and professional detail with the wit, warmth, and inspiration you need to win when you head back to work.
     Like What to Expect When You're Expecting and The Happiest Baby on the Block, this is an indispensable guide every new mom needs on her shelf.
Praise For The Fifth Trimester: The Working Mom's Guide to Style, Sanity, and Big Success After Baby…
"This is not a book you should read – it's a book you MUST read if you are returning to work after the birth of a child.  Lauren Smith Brody provides real news that you cannot only immediately use, but that also will help you to maintain your sanity during The Fifth Trimester!  I loved it and you will too." 
--Lois P. Frankel, Ph.D., author of New York Times bestselling Nice Girls Don't Get the Corner Office and co-author of Nice Girls Just Don't Get It

"Motherhood can be joyful, exhausting, confusing, wondrous and isolating all at the same time. Now try going back to work. That's where Lauren Smith Brody's The Fifth Trimester is an invaluable guide. Filled with practical advice and the stories of hundreds of women – informative, hilarious and sometimes heartbreaking – Smith Brody makes the case that the absolute lack of public policy to support working families makes an already tough situation worse. And while we need to work to change that, in the meantime, she makes clear: you're not alone, you're not crazy, and she's got your back."
 --Brigid Schulte, author of the New York Times bestselling Overwhelmed: Work, Love & Play When No One has the Time and director of The Better Life Lab at New America

"Returning to work can be challenging, but Lauren is a friendly and reassuring guide with a simple message: You can do this. It will get better. Packed with helpful tips and inspiring stories, The Fifth Trimester is the manual new moms need for succeeding on the job and in life." 
--Laura Vanderkam, author of I Know How She Does It and What the Most Successful People Do Before Breakfast

"The practical and entertaining read covers everything from finding the right schedule to pump breast milk at the office, to effectively dealing with postpartum depression, to adjusting your postpartum work wardrobe....so much helpful advice."
--Seattle Times

"Brody writes nimbly and wisely about a subject she is well versed in: the conflicts, struggles, and triumphs of returning to work after having a baby...In addition to discussing solemn subjects like postpartum depression, Brody makes her readers laugh...Working moms will find a wealth of ideas to help navigate the challenging transition period in this friendly and practical guide."
--Publishers Weekly 
Doubleday, 9780385541411, 352pp.
Publication Date: April 4, 2017
About the Author
Lauren Smith Brody is the founder of The Fifth Trimester movement, which helps businesses and new parents work together to create a more family-friendly workplace culture. A longtime leader in the women's magazine industry, Lauren was most recently the executive editor of Glamour  magazine. Raised in Ohio, Texas, and Georgia, she now lives in New York City with her husband and two young sons.
or
Not Currently Available for Direct Purchase