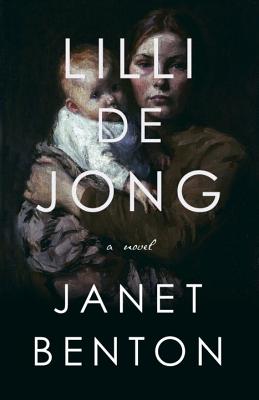 Lilli de Jong
A Novel
Hardcover

* Individual store prices may vary.
Other Editions of This Title:
Digital Audiobook (5/15/2017)
Paperback (7/10/2018)
Compact Disc (5/16/2017)
Compact Disc (5/16/2017)
MP3 CD (5/16/2017)
Hardcover, Large Print (7/12/2017)
Description
"A powerful, authentic voice for a generation of women whose struggles were erased from history—a heart-smashing debut that completely satisfies."
—Jamie Ford, New York Times bestselling author of Hotel on the Corner of Bitter and Sweet

A young woman finds the most powerful love of her life when she gives birth at an institution for unwed mothers in 1883 Philadelphia. She is told she must give up her daughter to avoid lifelong poverty and shame. But she chooses to keep her.
 
Pregnant, left behind by her lover, and banished from her Quaker home and teaching position, Lilli de Jong enters a home for wronged women to deliver her child. She is stunned at how much her infant needs her and at how quickly their bond overtakes her heart. Mothers in her position face disabling prejudice, which is why most give up their newborns. But Lilli can't accept such an outcome. Instead, she braves moral condemnation and financial ruin in a quest to keep herself and her baby alive.
 
Confiding their story to her diary as it unfolds, Lilli takes readers from an impoverished charity to a wealthy family's home to the streets of a burgeoning American city. Drawing on rich history, Lilli de Jong is both an intimate portrait of loves lost and found and a testament to the work of mothers. "So little is permissible for a woman," writes Lilli, "yet on her back every human climbs to adulthood."
Praise For Lilli de Jong: A Novel…
"Beautifully written, emotionally resonant, and psychologically astute, Lilli de Jong is the story of an unwed mother in late 19th-century Philadelphia who, facing peril at every turn, will do almost anything to keep her daughter alive. Benton turns a laser eye to her subject, exposing the sanctimony, hypocrisies, and pervasive sexism that kept women confined and unequal in the Victorian era—and that still bedevil many women today. A gripping read."
—Christina Baker Kline, #1 New York Times bestselling author of Orphan Train and A Piece of the World

"A stunning ode to motherhood. Lilli de Jong reminds us that there is no formula to being a good mother. Love is the essential ingredient, and only it gives everlasting life to our legacies. A debut of robust heart that will stay with me for a very long time."
—Sarah McCoy, author of The Mapmaker's Children
 
"Janet Benton's remarkable novel Lilli de Jong is historical fiction that transcends the genre and recalls a past world so thoroughly that it breathes upon the page. From the first sentence, Lilli's sensitive, observant, determined voice casts an irresistible spell. Benton combines rich, carefully researched detail with an imaginative boldness that is a joy to behold—though reader, be warned: Lilli's story may break your heart."
—Valerie Martin, author of The Ghost of the Mary Celeste
 
"[A] gorgeously written debut . . . Lilli's fight to craft her own life and nurture her bond with her baby is both devastatingly relevant and achingly beautiful. A stunning read about the fierceness of love triumphing over a rigid society."
—Caroline Leavitt, author of Is This Tomorrow

"A captivating, page-turning, and well-researched novel about the power of a mother's love . . .  A great choice for book clubs and readers of Geraldine Brooks."
—Library Journal (starred review)

"The trials Lilli undertakes to keep her baby are heart-rending, and it's a testament to Benton's skill as a writer that the reader cannot help but bear witness. In a style reminiscent of Geraldine Brooks, she seamlessly weaves accurate historical detail as well as disturbing societal norms into the protagonist's struggles . . . An absorbing debut from a writer to watch."
—Kirkus Reviews

"A heartrending debut . . . Benton's exacting research fuels Lilli's passionate, authentic voice that is 'as strong as a hand on a drum . . . that pounds its urgent messages across a distance' . . . Lilli's inspiring power and touching determination are timeless."
—Publishers Weekly

"A harrowing look at the strictures of nineteenth-century American society. . . . [Lilli] is a full-fledged heroine, persevering despite seemingly insurmountable odds. . . her voice is distinctive, her fierceness driven by a mother's love."
—Booklist

"I loved this novel. Lilli de Jong is deeply moving and richly imagined, both tragic and joyous. Janet Benton has an exceptional ability to bring history to life . . . It's not only a compelling, beautifully crafted historical novel, however: it's also important . . . Lilli's life-and-death struggle is shockingly common to women even today."
—Sandra Gulland, author of the internationally bestselling Josephine B. Trilogy
 
"Writing with a historical eye akin to Geraldine Brooks and incisive prose matching that of Anthony Doerr, debut novelist Janet Benton magically weaves a gripping narrative of hardship, redemption, and hope while illuminating a portrait of little-known history. The result is an unforgettable and important reflection on the maternal and, ultimately, the human bond. Stunning!"
—Pam Jenoff, author of The Kommandant's Girl

"A confident debut . . . Sentence by carefully-crafted sentence, Benton ensnares the reader."
—The Millions
Nan A. Talese, 9780385541459, 352pp.
Publication Date: May 16, 2017
About the Author
JANET BENTON's work has appeared in The New York Times, The Philadelphia Inquirer, Glimmer Train, and many other publications. She has cowritten and edited historical documentaries for television. She holds a B.A. in religious studies from Oberlin College and an M.F.A. in creative writing from the University of Massachusetts, Amherst, and for decades she has taught writing and helped individuals and organizations craft their stories. She lives in Philadelphia with her husband and daughter. Lilli de Jong is her first novel.
1. How do you think the death of Lilli's mother affected the course of Lilli's life?
2. What role do you think Lilli's religious background played in her willingness to suffer for her choices?
3. Does her faith remain the same or change in the course of the story?
4. How did the diary form of the novel affect your experience of the story?
5. Are there challenges Lilli faced that women still struggle with today?
6. How do you think Lilli's story might be different if it was set today? In what ways might it be the same?
7. What messages about motherhood will you take away from the novel?
8. Are there choices Lilli made that you might have made differently, in her circumstances?
9. Johan tells Lilli he won't pry into her secrets. But her mother warns that secrets will corrode bonds. Whose approach do you agree with?
10. What affected you most when you were reading Lilli's story, and what do you think will remain with you?
or
Not Currently Available for Direct Purchase