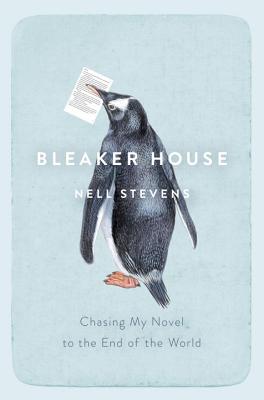 Bleaker House
Chasing My Novel to the End of the World
Hardcover

* Individual store prices may vary.
Other Editions of This Title:
Digital Audiobook (3/13/2017)
Paperback (2/6/2018)
Description
A girl, a laptop, and a waddle of penguins. In this witty and genre-defying memoir, a young writer can travel anywhere she wants to finally finish her novel—and ends up on a frozen island at the bottom of the world.
 
Twenty-seven-year-old Nell Stevens was determined to write a novel, but life kept getting in the way. Then came a game-changing opportunity: she won a fellowship that would let her live, all expenses paid, anywhere in the world to research and write a book. Would she choose a glittering metropolis, a romantic village, an exotic paradise? Not exactly. Nell picked Bleaker Island, a snowy, windswept pile of rock in the Falklands. There, in a guesthouse where she would be the only guest, she could finally rid herself of distractions and write. Before the spring thaw, surely she'd have a novel.
     And indeed, other than sheep, penguins, paranoia, and the weather, there aren't many distractions on Bleaker. Nell gets to work on a charming Dickensian fiction she calls Bleaker House—only to discover that total isolation and 1,085 calories a day are far from ideal conditions for literary production. With deft humor, the memoir traces Nell's island days and slowly reveals details of the life and people she has left behind in pursuit of her writing. They pop up in her novel, too, and in other fictional pieces that dot the book. It seems that there is nowhere Nell can run—an island or the pages of her notebook—to escape the big questions of love, art and ambition.
     Terrifically smart, full of wry writing advice, and with a clever puzzle of a structure, Bleaker House marks the arrival of a fresh new voice in creative nonfiction.
Praise For Bleaker House: Chasing My Novel to the End of the World…
"One of the most original, entertaining, and thought-provoking books I have ever read about the difficulty of writing a book."
—Rebecca Mead, NewYorker.com

"There's something alluringly Victorian about the whole book . . . In our increasingly small and connected world, narratives that tackle the peculiar senses of loneliness and remove, and the effects they have on the self, are increasingly rare . . . Bleaker House never devolves into a stunt book. Instead, Stevens charts a path of personal and professional exploration tinged with both sadness and humor."
—Jezebel.com
 
"It's not only her fellow writers who will be captivated by Stevens' meditative, engagingly comic reflection on the three months she spent on the Falklands' Bleaker Island working on a literary novel inspired by Charles Dickens . . . Stevens discovers not just the pains and pleasures of the artistic process, but the power of leaving one's life behind for the sake of self-discovery."
—Harper's Bazaar
 
"An inventive memoir about a young writer's struggle to find her literary footing."
—NPR.org
 
"A whimsical, good-humored, yearning-filled, thought-provoking read."
—Bustle.com

"Bleaker House is so riveting and so much fun to read, I would have loved it even if it hadn't also been innovative and brilliant. Nell Stevens is an excellent writer, as well as great company, and I can't wait to read every book she writes."
—Kate Christensen, author of The Great Man, winner of the PEN/Faulkner Award, and Blue Plate Special

"Fresh and spirited . . . A delightful literary debut."
—Kirkus Reviews

"Quirky and engaging . . . A captivating portrait of the creative life."
—BookPage
 
"Nell Stevens takes you on a wild ramble across the landscape of the writing life, and at the end sets you down somewhere entirely new and unexpected. This is a romp of a book, a genre-defying feat of the imagination, and pure pleasure to read."
—Alison Pick, author of Far to Go and Between Gods
 
"Hilarious and original, charming and engaging. I loved it."
—Rebecca Wait, author of The Followers and The View on the Way Down
 
"I read Bleaker House in a gulp. It's a charming read whose first third has a laugh a page before Nell's odyssey turns into something more serious. You can't, just by attending writing school, learn how to produce fine writing. This clever and funny book shows you may also want to get out and experience the world, and yourself."
—Dan Boothby, author of Island of Dreams
Doubleday, 9780385541558, 256pp.
Publication Date: March 14, 2017
About the Author
NELL STEVENS has a degree in English and creative writing from the University of Warwick, an MFA in fiction from Boston University, and a PhD in Victorian literature from King's College London.
or
Not Currently Available for Direct Purchase