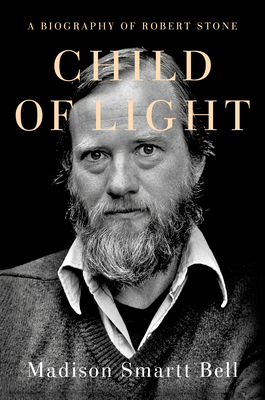 Child of Light
A Biography of Robert Stone
Hardcover

* Individual store prices may vary.
Other Editions of This Title:
Digital Audiobook (3/16/2020)
Description
The first and definitive biography of one of the great American novelists of the postwar era, the author of Dog Soldiers and A Flag for Sunrise, and a penetrating critic of American power, innocence, and corruption

Robert Stone (1937-2015), probably the only postwar American writer to draw favorable comparisons to Ernest Hemingway, Graham Greene, and Joseph Conrad, lived a life rich in adventure, achievement, and inner turmoil. He grew up rough on the streets of New York, the son of a mentally troubled single mother. After his Navy service in the fifties, which brought him to such locales as pre-Castro Havana, the Suez Crisis, and Antarctica, he studied writing at Stanford, where he met Ken Kesey and became a core member of the gang of Merry Pranksters. The publication of his superb New Orleans novel, Hall of Mirrors (1967), initiated a succession of dark-humored novels that investigated the American experience in Vietnam (Dog Soldiers, 1974, which won the National Book Award), Central America (A Flag for Sunrise, 1981), and Jerusalem on the eve of the millennium (Damascus Gate, 1998).

An acclaimed novelist himself, Madison Smartt Bell was a close friend and longtime admirer of Robert Stone. His authorized and deeply researched biography is both intimate and objective, a rich and unsparing portrait of a complicated, charismatic, and haunted man and a sympathetic reading of his work that will help to secure Stone's place in the pantheon of major American writers.
Praise For Child of Light: A Biography of Robert Stone…
"Revealing . . . A sensitive and thorough biography." —Dwight Garner, The New York Times

"Child of Light leaves the reader with the urge to return to all of Robert Stone's work—surely the best sign of a fine biography." —Mike Mewshaw, The Washington Post

"Madison Smartt Bell's new biography of the American novelist Robert Stone checks every box you can throw at it. Child of Light is an absolute joy for Stone acolytes like myself, and it will hopefully serve as a reason for the uninitiated to discover the most under-discussed major American novelist of the last century." —Patrick McGinty, Pittsburgh Post-Gazette

"The late Robert Stone always signed his missives, 'A blessing,' and that is what this book by the great Madison Smartt Bell is—a much-needed and lovingly assembled account of the life of Robert Stone, who remains a gifted visionary and a hero to so many, myself included." —Rachel Kushner, author of The Mars Room

"This searching, intimate, deeply fascinating biography of Robert Stone is a boon for Stone fans that will surely lure new readers to his work. Madison Smartt Bell brings his tremendous storytelling gifts to Stone's wild, colorful life and work, and the result is irresistible." —Jennifer Egan, author of Manhattan Beach

"Comprehensive, detailed, and thoroughly researched. . .A must read for Stone fans." —Baltimore Magazine

"Bell meticulously recounts the life of Robert Stone . . . A solid biography of an important American novelist." —Publishers Weekly

"Masterful." —BBC

"Robert Stone is one of America's literary giants of the second half of the twentieth century, and his life as much as his work is iconic. In Madison Smartt Bell he has the best biographer any writer of his stature could hope for, a distinguished fellow novelist, a brilliant historian and researcher, and as it happens, a longtime friend." —Russell Banks, author of Continental Drift

"Robert Stone will doubtlessly go down as one of the major voices in twentieth century American literature. In this engaging biography, Madison Smart Bell, a splendid novelist himself, turns his talent and intelligence to Stone's evolution as a writer, from his unusual childhood to his triumphs as an author favorably compared to Graham Greene and Joseph Conrad. Bell's essays on Stone's work, interspersed with accounts of his personal and professional life, do more than justice to their subject, cementing Stone's place in the canon of great American writers." —Philip Caputo, author of A Rumor of War
 
Child of Light is as much a page-turner as the best suspense novel, and that's entirely as it should be. Robert Stone lived a rambunctious, colorful, questing life that landed him with uncanny regularity in the midst of the major happenings of his time, from the rise of the counterculture in the early 1960s to Vietnam, Central America, the Middle East, and beyond. Madison Smartt Bell's excellent biography captures the essence of this iconoclastic genius, and deftly illuminates Stone's writing against the backdrop of his intense emotional life and intellectual drive. Robert Stone was one of the most brilliant writers America has produced, and with Child of Light we have a biography that's every bit the equal of its subject." —Ben Fountain, author of Billy Lynn's Long Halftime Walk

 
"For anyone who appreciates great literature (especially the wonderful fiction of Stone), this is required reading." —Library Journal
Doubleday, 9780385541602, 608pp.
Publication Date: March 17, 2020
About the Author
MADISON SMARTT BELL is the author of numerous novels, including All Souls Rising (1995), nominated for a National Book Award and the Pen/Faulkner Prize, and Freedom's Gate (2007), a biography of the Haitian revolutionary Toussaint L'Ouverture. He teaches writing at Goucher College in Towson, Maryland, and is married to the poet Elizabeth Spires.