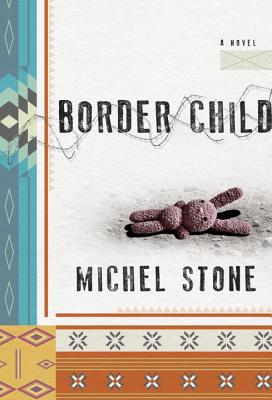 Border Child (Hardcover)
A Novel
Nan A. Talese, 9780385541640, 272pp.
Publication Date: April 4, 2017
* Individual store prices may vary.
Description
For Héctor and Lilia, pursuit of the American Dream became every parent's worst fear when their infant daughter vanished as they crossed from Mexico to the United States—now they must try to get her back. With great empathy and a keen awareness of current events, Michel Stone delivers a novel of surpassing sensitivity and heart.

Young lovers Héctor and Lilia dreamed of a brighter future for their family in the United States. Héctor left Mexico first, to secure work and housing, but when Lilia, desperate to be with Héctor, impetuously crossed the border with their infant daughter, Alejandra, mother and child were separated. Alejandra disappeared. Now, four years later, the family has a chance to reunite, but the trauma of the past may well be permanent.
     Back in their sleepy hometown of Oaxaca, the couple enjoys a semblance of normal life, with a toddler son and another baby on the way. Then they receive an unexpected tip that might lead them to Alejandra, and both agree they must seize this chance, whatever the cost. Working increasingly illegal jobs to earn money for his journey north, Héctor seeks more information about his long-absent daughter. Meanwhile, a bedridden Lilia awaits the birth of their third child, but cannot keep herself from reliving the worst mistakes of her past. In luminous, compassionate prose, Michel Stone drops readers into the whirlwind of the contemporary immigrant experience, where a marriage is strained to the breaking point by the consequences of wanting more for the next generation.
About the Author
MICHEL STONE is the author of The Iguana Tree, and has published more than a dozen stories and essays in various journals and magazines. Her work has appeared numerous times in the Raleigh News & Observer's Emerging Southern Writers series. Stone is a 2011 recipient of the South Carolina Fiction Project Award. She lives in Spartanburg, South Carolina.
Praise For Border Child: A Novel…
"Michel Stone has written a deeply moving tale that delivers a hefty emotional punch. Border Child is a compassionate, beautiful novel."
—Ron Rash, author of Serena

"A gripping and politically savvy look at the human impact of current immigration policy and an honest examination of the perils facing desperate immigrants as they travel north."
—Kirkus Reviews, starred review

"Reminiscent of Steinbeck . . . Stone shows us the inner lives of characters who are the victims of an unjust world, spun and redirected by fates beyond their control . . . I defy anyone reading Border Child to feel anything but compassion for these people who crossed the border only because they wanted a better life for their family."
—San Francisco Chronicle

"Stone is a great storyteller . . . There is never a dull moment in this lyrical, engrossing novel . . . Particularly important reading in our current political climate."
—Library Journal

"A poignant, action-packed read . . . Stone deftly draws readers into the heart of her characters' hopes and despairs, shining a humanizing light on the divisive subject of immigration."
—Charleston Magazine

"Border Child is a big-hearted novel, probing the reasons so many . . . have sought safety and success in the United States. It's full of suspense and concern for desperate people who believe that their lives will be better." 
—Counter Punch

"Border Child is an important and timely must-read! Michel Stone writes with confident authority about the heart wrenching experiences of a young Mexican couple desperately seeking their child, lost at the border. As the reader journeys with them, a deeper, meaningful appreciation of their culture, decisions, and humanity takes root in our heart. Border Child is a cross-cultural tour de force."
—Mary Alice Monroe, author of A Lowcountry Wedding
 
"Border Child does not disappoint. Michel Stone captures the rich textured voices of her characters on both sides of the border due to her boundless understanding of that most universal emotion—love. Unafraid to ask the hard questions, Border Child, explores complex family dynamics with great imagination, insight, and empathy."
—Tayari Jones, author of Silver Sparrow
 
"Michel Stone writes of the human condition in a way that brings to mind John Steinbeck. Her latest novel, Border Child, is powerful and poignant as much as it is daring and timely. Stone's gift of capturing Hispanic culture and the dreams and disappointments of the people shine in Border Child."
—Michael Morris, author of Man in the Blue Moon
 
"At a time when Mexican immigrants are being demonized or turned into nothing more than statistics, Michel Stone offers us a heartbreaking and profound story about the realities of the immigrant experience and the price that a family pays for a shot at the American Dream. Raw, painful, and illuminating, Stone delves deep into the humanity of her characters to reveal the true human cost of immigration."
—Reyna Grande, author of The Distance Between Us
or
Not Currently Available for Direct Purchase