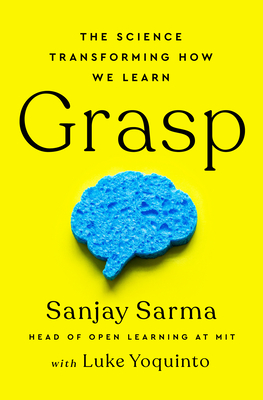 Grasp
The Science Transforming How We Learn
Hardcover

* Individual store prices may vary.
Other Editions of This Title:
Digital Audiobook (8/17/2020)
Paperback (8/10/2021)
Description
A groundbreaking look at the science of learning: how it works both in the mind and in the classroom, which teaching techniques are most effective, and how schools should (and absolutely should not) use instructional technology. This is an essential resource for teachers, anyone interested in cutting-edge research into learning, and parents considering the educational alternatives available to their children.

As the head of Open Learning at MIT, renowned professor Sanjay Sarma has a daunting job description: to fling open the doors of the MIT experience for the benefit of the wider world. But if you're going to undertake such an ambitious project, you first have to ask: How do we learn?  What are the most effective ways of educating? And how can the science of learning transform education to unlock our potential, as individuals and across society?

Grasp takes readers across multiple frontiers, from fundamental neuroscience to cognitive psychology and beyond, as it explores the future of learning. Some of its findings:

• For educators teaching remotely, online instructional tools have been proven to be a powerful ally when used appropriately—and a dangerous impediment when misapplied.
• By structuring its curriculum to better incorporate cutting-edge learning strategies, one law school in Florida has rocketed to the top of its state in bar exam passage rates.
• Scientists are studying the role of forgetting, exposing it not as a simple failure of memory but a critical weapon in our learning arsenal.
• New developments in neuroimaging are helping us understand how reading works in the brain. It's become possible to identify children who might benefit from specialized dyslexia interventions—before they learn to read.

Along the way, Sarma debunks long-held fallacies (such as the noxious idea of "learning styles"), while equipping readers with a set of practical tools for absorbing and retaining information across a lifetime. He presents a vision for learning that's more inclusive and democratic—revealing a world bursting with powerful learners, just waiting for the chance they deserve.

Drawing from the author's experience as an educator and the work of researchers and educational innovators at MIT and beyond, Grasp offers scientific and practical insight, promising not just to inform and entertain readers but to open their minds.
Praise For Grasp: The Science Transforming How We Learn…
"Grasp is an absolute pleasure to read...An important contribution to the literature on learning science and higher education change...Grasp can provide the foundations of what learning-science-informed teaching might look like, with some fantastic real-world examples."
—Joshua Kim, Inside Higher Ed

"Compelling...Delightful as well as convincing in its plea that educators place learning over winnowing and access over exclusivity."
—Kirkus (starred review)

"A remarkable book, both lively and scholarly. I strongly recommend it for anyone interested in the history of ideas about learning and who is interested in improving teaching and learning."
—Henry L. Roediger, III, coauthor of Make it Stick

"An amazing book...The authors provide an overview of the neural and cognitive processes that support learning…They make a convincing case that students have an amazing capacity to learn."
—Robert A. Bjork, Distinguished Research Professor of Psychology, UCLA

"Sarma's book may be the most important work on education written this century."
—Chris Edwards, The Skeptic
Doubleday, 9780385541824, 352pp.
Publication Date: August 18, 2020
About the Author
Sanjay Sarma is the head of Open Learning at MIT. A professor of mechanical engineering by training, he has worked in the fields of energy and transportation, computational geometry, and computer-assisted design, and has been a pioneer in RFID technology. He has an undergraduate degree from IIT Kanpur as well as advanced degrees from Carnegie Mellon and the University of California, Berkeley.
 
Luke Yoquinto is a science writer who covers learning and education, as well as aging and demographic change, in his role as a researcher at the MIT AgeLab. His work can be found in publications such as The Washington Post, Slate, The Wall Street Journal, and The Atlantic. He is a graduate of Boston University's science journalism program.
or
Not Currently Available for Direct Purchase