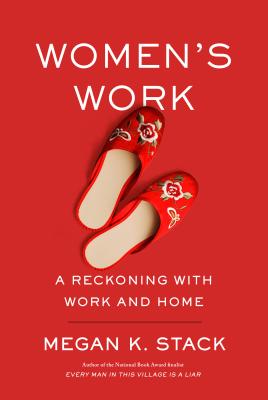 Women's Work
A Reckoning with Work and Home
Hardcover

* Individual store prices may vary.
Other Editions of This Title:
Digital Audiobook (4/1/2019)
Paperback (3/3/2020)
Description
A NEW YORK TIMES NOTABLE BOOK OF 2019

From National Book Award finalist Megan K. Stack, a stunning memoir of raising her children abroad with the help of Chinese and Indian women who are also working mothers

When Megan Stack was living in Beijing, she left her prestigious job as a foreign correspondent to have her first child and work from home writing a book. She quickly realized that caring for a baby and keeping up with the housework while her husband went to the office each day was consuming the time she needed to write. This dilemma was resolved in the manner of many upper-class families and large corporations: she availed herself of cheap Chinese labor. The housekeeper Stack hired was a migrant from the countryside, a mother who had left her daughter in a precarious situation to earn desperately needed cash in the capital. As Stack's family grew and her husband's job took them to Dehli, a series of Chinese and Indian women cooked, cleaned, and babysat in her home. Stack grew increasingly aware of the brutal realities of their lives: domestic abuse, alcoholism, unplanned pregnancies. Hiring poor women had given her the ability to work while raising her children, but what ethical compromise had she made?
     Determined to confront the truth, Stack traveled to her employees' homes, met their parents and children, and turned a journalistic eye on the tradeoffs they'd been forced to make as working mothers seeking upward mobility—and on the cost to the children who were left behind.
     Women's Work is an unforgettable story of four women as well as an electrifying meditation on the evasions of marriage, motherhood, feminism, and privilege.
Praise For Women's Work: A Reckoning with Work and Home…
"Stack is unflinching in her account. . .Her prose is beautiful as she shines a light on the contradictions of her position. . .A sharply observed, evocative reckoning with the ways her struggles intersect and diverge with those of the women she employs."
—Lauren Hilgers, The New York Times Book Review 

"A stunning and layered examination of gender, money, and power . . . Unflinching."
—Kate Tuttle, The Boston Globe

"Memoirs about motherhood are exceedingly common, but Women's Work dares to explore the labor arrangements that often make such books possible . . . Stack writes sharp, pointed sentences that flash with dark insight . . . [A] fearless book."
—Jennifer Szalai, The New York Times

"A painfully honest investigation. . .Stack pulls the curtain back on the truths of women's lives, especially the domestic part...[Stack is] a natural storyteller with an eye for detail." 
—Debra Bruno, The Washington Post 

"Probing and fascinating. Stack doesn't shy away from describing her own feelings . . . Stack's writing is sharp and lovely."
—Erica Pearson, Minneapolis Star Tribune

"Megan Stack is willing to confront hard questions that many of us flinch from: about the relationships between women and the women we hire to take care of our houses and our children, to do the traditional women's work that gives 'liberated women' the time to do traditional men's work. Women's Work is a book of vivid characters, engrossing stories, shrewd insights, and uncomfortable reflections."
—Anne-Marie Slaughter, author of Unfinished Business and president and CEO of New America

"Women's Work hit me where I live, and I haven't been able to stop thinking about it. Stack uses her reporting acumen to illuminate domestic workers' struggles, but also fearlessly reveals the most vulnerable details of her own life in order to make her point. The masterfulness with which she tells these intertwined stories makes this book not just a work of brilliant journalism but a work of art."
—Emily Gould, author of And the Heart Says Whatever and Friendship

"If Karl Ove Knausgaard himself were a woman and had given birth, he might have written a book a little like Women's Work. Megan Stack's mastery of language and attention to detail make magic of the most quotidian aspects of life." 
—Barbara Demick, author of Nothing to Envy: Ordinary Lives in North Korea 

"A fierce and furious and darkly funny book about the costs of motherhood: the psychological costs, the costs in time and energy and spirit, and finally the costs imposed on other women, most of them also mothers, who leave their own children so they can take care of ours. I can't think of a work that speaks more directly to our age of increasing inequality, starting with housework and child care, the oldest inequalities of all." 
—Keith Gessen, author of A Terrible Country

"Megan Stack obliterates the silence that upholds one of our greatest taboos: our universal reliance on domestic labor that women—women of color especially—are expected to supply freely or cheaply. With journalistic rigor, Stack centers the complicated lives of women who clean our homes and care for our children, but it's her willingness to shine a light into the dark, typically untouched corners of her own family, privilege, and ambition that makes this book soar."
—Angela Garbes, author of Like a Mother: A Feminist Journey through the Science and Culture of Pregnancy


Doubleday, 9780385542098, 352pp.
Publication Date: April 2, 2019
About the Author
Megan K. Stack is the author of Every Man in This Village Is a Liar, a finalist for the 2010 National Book Award. As a war correspondent for the Los Angeles Times, she reported from dozens of countries and was posted to Jerusalem, Cairo, Moscow, and Beijing. She was a finalist for the 2007 Pulitzer Prize in international reporting.
Coverage from NPR
or
Not Currently Available for Direct Purchase