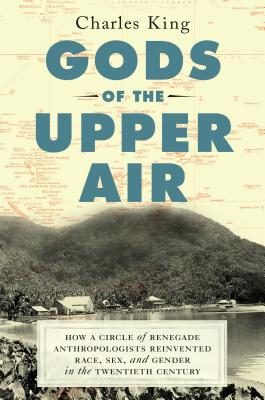 Gods of the Upper Air
How a Circle of Renegade Anthropologists Reinvented Race, Sex, and Gender in the Twentieth Century
Hardcover

* Individual store prices may vary.
Other Editions of This Title:
Digital Audiobook (8/5/2019)
Paperback (7/14/2020)
Description
2020 Anisfield-Wolf Book Award Winner
Finalist for the National Book Critics Circle Award

From an award-winning historian comes a dazzling history of the birth of cultural anthropology and the adventurous scientists who pioneered it—a sweeping chronicle of discovery and the fascinating origin story of our multicultural world.

A century ago, everyone knew that people were fated by their race, sex, and nationality to be more or less intelligent, nurturing, or warlike. But Columbia University professor Franz Boas looked at the data and decided everyone was wrong. Racial categories, he insisted, were biological fictions. Cultures did not come in neat packages labeled "primitive" or "advanced." What counted as a family, a good meal, or even common sense was a product of history and circumstance, not of nature. In Gods of the Upper Air, a masterful narrative history of radical ideas and passionate lives, Charles King shows how these intuitions led to a fundamental reimagining of human diversity.
     Boas's students were some of the century's most colorful figures and unsung visionaries: Margaret Mead, the outspoken field researcher whose Coming of Age in Samoa is among the most widely read works of social science of all time; Ruth Benedict, the great love of Mead's life, whose research shaped post-Second World War Japan; Ella Deloria, the Dakota Sioux activist who preserved the traditions of Native Americans on the Great Plains; and Zora Neale Hurston, whose studies under Boas fed directly into her now classic novel, Their Eyes Were Watching God. Together, they mapped civilizations from the American South to the South Pacific and from Caribbean islands to Manhattan's city streets, and unearthed an essential fact buried by centuries of prejudice: that humanity is an undivided whole. Their revolutionary findings would go on to inspire the fluid conceptions of identity we know today. 
     Rich in drama, conflict, friendship, and love, Gods of the Upper Air is a brilliant and groundbreaking history of American progress and the opening of the modern mind.
Praise For Gods of the Upper Air: How a Circle of Renegade Anthropologists Reinvented Race, Sex, and Gender in the Twentieth Century…
"Elegant and kaleidoscopic . . . This looks to be the perfect moment for King's resolutely humane book."
—Jennifer Szalai, The New York Times

"Thoughtful, deeply intelligent, and immensely readable."
—Alison Gopnik, The Atlantic

"King's comprehensive archival research illuminates intellectual giants . . . With a light yet unmistakable touch, King connects the dots from Boas's time to ours. He mentions President Donald Trump's describing of Mexicans as 'rapists' during the kickoff of his presidential campaign, and we get the point: The reduction of human beings to types—people stereotyped as inferior and menacing, deserving of being keep out or cast out—is a clear and present danger. Reading Gods of the Upper Air, though, provides inspiration. The anthropology of equality tells us that every population is as fully human as any other, and deserving of understanding and compassion."
—Barbara J. King, NPR.org
 
"[Gods of the Upper Air] offers a vitally relevant way to frame the ugly spectre of racism as it resurfaces in our politics . . . Now, more than ever, we need to recognise how Boas and others developed an alternative vision of humanity. Understanding this oft-ignored intellectual history is a first step towards defending it."
—Gillian Tett, Financial Times
 
"[King] succeeds in bringing Mead and her fellow travelers into sharp focus as they pioneered a new field and documented mankind's many-splendored diversity in a positive, rather than a divisive, light."
—David Holahan, USA Today

"An intellectual adventure story of the best sort—elegantly written, thought-provoking, and full of biographical riches."
—Sarah Bakewell, author of How to Live and At the Existentialist Cafe
 
"A masterful history of a group of maverick thinkers in the early 20th century who aimed to dethrone the eugenicists dominating racial thought. With eugenics ascendant again, King's story is a vital book for our times."
—Ibram X. Kendi, author of Stamped from the Beginning: The Definitive History of Racist Ideas in America, winner of the 2016 National Book Award
 
"Deeply thought-provoking and brilliantly written, Gods of the Upper Air is a walk in the shoes of giants. Charles King takes you on an unforgettable journey as daring anthropologists unravel the profound mysteries of culture and mankind, and discover that they, too, were only human."
—David Hoffman, Pulitzer Prize-winning author of The Dead Hand and The Billion Dollar Spy
 
"This exciting—even entrancing—story traces the birth of a new science in the early twentieth century, championed by a scrappy genius who trained a cadre of bold women for the work. Charles King writes with verve and authority as he follows the nation's first cultural anthropologists to far-flung field sites that suggested antidotes to the racism and xenophobia of American society."
—Dava Sobel, author of The Glass Universe and Longitude
 
"In any era, Gods of the Upper Air would be a scholarly masterpiece—an elegantly written, wickedly perceptive account of Franz Boas, the father of cultural anthropology, and his impact upon the key moral issues of his time and ours. Mentoring the likes of Margaret Mead and Zora Neale Hurston, Boas employed the skills of scientific observation to argue that all societies are part of a single, undivided humanity guided by circumstance and history, but none superior to another. In today's deeply polarized world, Charles King's stunning new book reminds us of the brilliance of these renegade anthropologists, and the work still to be done."
—David Oshinsky, Pulitzer Prize–winning author of Polio and Bellevue
Doubleday, 9780385542197, 448pp.
Publication Date: August 6, 2019
About the Author
CHARLES KING is the author of seven books, including Midnight at the Pera Palace and Odessa, winner of a National Jewish Book Award. His essays and articles have appeared in the The New York Times, The Washington Post, Foreign Affairs, and The New Republic. He is a professor of international affairs and government at Georgetown University.
Coverage from NPR
or
Not Currently Available for Direct Purchase