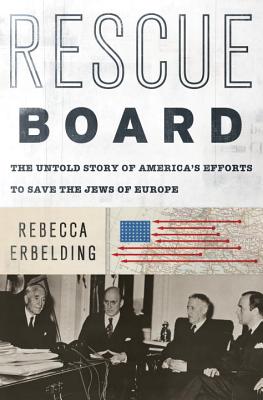 Rescue Board
The Untold Story of America's Efforts to Save the Jews of Europe
Hardcover

* Individual store prices may vary.
Other Editions of This Title:
Digital Audiobook (4/9/2018)
Paperback (3/12/2019)
Description
WINNER OF THE NATIONAL JEWISH BOOK AWARD

For more than a decade, a harsh Congressional immigration policy kept most Jewish refugees out of America, even as Hitler and the Nazis closed in. In 1944, the United States finally acted. That year, Franklin D. Roosevelt created the War Refugee Board, and put a young Treasury lawyer named John Pehle in charge. 

Over the next twenty months, Pehle pulled together a team of D.C. pencil pushers, international relief workers, smugglers, diplomats, millionaires, and rabble-rousers to run operations across four continents and a dozen countries. Together, they tricked the Nazis, forged identity papers, maneuvered food and medicine into concentration camps, recruited spies, leaked news stories, laundered money, negotiated ransoms, and funneled millions of dollars into Europe. They bought weapons for the French Resistance and sliced red tape to allow Jewish refugees to escape to Palestine. In this remarkable work of historical reclamation, Holocaust historian Rebecca Erbelding pieces together years of research and newly uncovered archival materials to tell the dramatic story of America's little-known efforts to save the Jews of Europe.
Praise For Rescue Board: The Untold Story of America's Efforts to Save the Jews of Europe…
"In early 1944, after years of indifference to the fate of European Jews, the U.S. government took the astonishing step of creating an agency whose only purpose was to save the lives of Jews not yet swallowed up by the Holocaust. With her magisterial research, Rebecca Erbelding brilliantly brings to life the gripping, little-known story of this transformative moment in American history and the crusading young government lawyers who made it happen."
—Lynne Olson, New York Times bestselling author of Last Hope Island
 
"It wasn't until late in World War II that the Roosevelt Administration finally made a concerted effort to save thousands of Jews in Nazi-occupied Europe—after millions had already perished. In Rescue Board, Erbelding has produced a richly detailed, highly nuanced account of this little known chapter in history. This is an invaluable addition to the literature of the Holocaust."
—Andrew Nagorski, author of The Nazi Hunters and Hitlerland
 
"A landmark achievement, Rescue Board is the first history of the War Refugee Board. Meticulously researched and poignantly narrated, Rescue Board analyzes policies and practices while never losing sight of the human beings involved: the officials who sought to help and the victims in desperate need. Top-notch history: original and riveting."
—Debórah Dwork, founding director of the Strassler Center for Holocaust and Genocide Studies, Clark University, and author of Flight from the Reich: Refugee Jews 1933-1946

"A brilliantly researched story, Rescue Board is also a disturbing reminder—especially relevant today—that anti-immigrant bigotry has vied continually with tolerance for control of our nation's soul. In Erbelding's retelling, the War Refugee Board is a historical lodestar for a future America trying, hopefully, to recover its role as a moral leader."
—Martin J. Sherwin, Pulitzer Prize-winning coauthor of American Prometheus: The Triumph and Tragedy of J. Robert Oppenheimer

"Erbelding writes vividly of intrigue and espionage, secret negotiations, money laundering, ransoming of victims, and rescue ships . . . Erbelding's history is an important contribution to understanding America's humanitarian efforts during and after WWII and a timely perspective, given questions about today's world crises."
—Booklist
 
"A fine work of scholarly detection, turning up a story that deserves to be much better known."
—Kirkus
  
"Engagingly written, Rescue Board homes in on the individuals who managed to save the lives of tens of thousands of Jews in Nazi-occupied countries. A must read for anyone concerned with the refugee crises of World War II and today."
—Marion Kaplan, author of Between Dignity and Despair: Jewish Life in Nazi Germany

"This first book-length history of the board marks an important contribution to the history of the Holocaust, particularly as it relates to America's belated but vital efforts to stop it."
—Publishers Weekly
 
"Erbelding's account—both infuriating and inspiring—reveals an unnervingly timely history. This important book, taut as a thriller and historically authoritative, deepens our understanding of the American response to the Holocaust as well as the excruciating obstacles and crucial opportunities confronting citizens committed to saving victims of war and genocide."
—Atina Grossmann, author of Jews, Germans, and Allies: Close Encounters in Occupied Germany
Doubleday, 9780385542517, 384pp.
Publication Date: April 10, 2018
About the Author
Rebecca Erbelding is an archivist, curator, and historian at the United States Holocaust Memorial Museum in Washington, D.C. She has a PhD in American history from George Mason University. She and her work have been profiled in The Washington Post, The New York Times, and The New Yorker, and featured on the History Channel, NPR, and other media outlets.
or
Not Currently Available for Direct Purchase